WORKOUTS THAT FIT YOUR LIFESTYLE
Unlimited access to 800+ high-energy, effective workouts anytime, anywhere.
"The variety, inspiring presenters and amazing music make it the best workouts on the planet!"
Hanna (Cardiff, UK)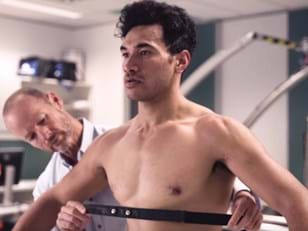 POWERED BY SCIENCE
Every LES MILLS workout is up-to-date with the latest moves and music, proven in the lab to deliver results.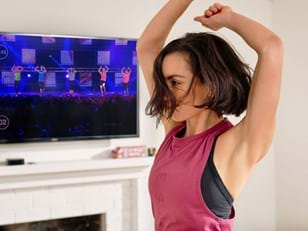 MOVEMENT TO MUSIC
Experience the most motivating and inspiring fitness experience with the perfect meld of style and technique.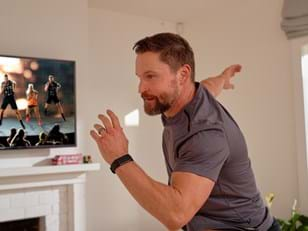 HIGH ENERGY INSTRUCTION
Keep motivated from start to end and become successful in reaching your goals with world-class instructors.
A FITNESS EXPERIENCE FIT FOR YOUR LIFESTYLE
800+ workouts, 13 exercise programs, 15 to 55-minute workouts, beginners to advanced training. New workouts each week.
GET IN SHAPE NOW
Unlimited access to all 800+ workouts
Free workout guides and plans
New workouts added each week
Download your workouts for iOS and Android devices
Access for up to 3 devices at any time.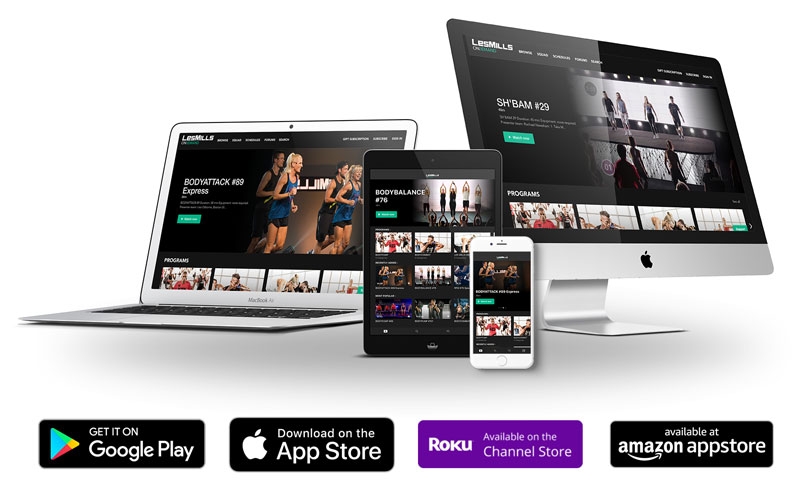 Following your 10 day trial period, you will automatically be signed up to LES MILLS On Demand, unless you choose to cancel prior to the expiry of the trial period.
FREQUENTLY ASKED QUESTIONS
LES MILLS On Demand is currently available in the following countries:
North America: United States
Europe: Bulgaria, Czechia, Denmark, Estonia, Finland, Ireland, Latvia, Lithuania, Norway, Poland, Romania, Slovakia, Sweden and United Kingdom
Asia Pacific: Australia, India, New Zealand, Singapore
We're making our way around the world as fast as possible, and will bring LES MILLS On Demand to your region as soon as we can. Let us know if you'd like us to drop you an email when you can sign up for LES MILLS On Demand.
Each and every workout on LES MILLS On Demand is included in your subscription. LES MILLS On Demand also offers workout instruction and fitness education videos to boost your workouts. Please note that some Les Mills workouts offered in your gym / club facility may not be available on LES MILLS On Demand.
Yes, you can use LES MILLS On Demand when you travel. There's a simple 3 step process to make sure you can access your favorite workouts, anywhere.
STEP ONE: Make sure you're all signed up for LES MILLS On Demand. You can register here.
STEP TWO: Download the LES MILLS On Demand app for your device before you leave home, then sign in.
STEP THREE: Connect to a good WiFi signal, choose your workout, and go for it!
You can download workouts to your Android or iOS device to work out without an internet connection. Work out anywhere, anytime with offline viewing, and downloads that never expire.
If you want to use LMOD when travelling, please use one of our apps, as you will not be able to access the website from an unsupported country.
LES MILLS On Demand offers a free 10-day trial to new customers to try out our entire portfolio of workouts. If you're not satisfied within the 10 days, you can cancel your account before your trial ends and you will not be charged.


*Free trial is not available to existing subscribers or past trialists.
You can cancel your LES MILLS On Demand subscription at any time in the My LES MILLS On Demand Subscriptions section of My Account. You will need to visit the login page to be able to access My Account. Select 'My Subscriptions' in the drop down under 'My Account' at the top of the page. Then click 'View' next to your subscription type.
One of the best features of LES MILLS On Demand is that it's suitable for you, no matter your fitness level. Instructors often provide variations - and you can workout at your own pace to ensure you're working hard in a safe environment.
LES MILLS On Demand lets you do your workouts on most popular devices. In addition to the website, LES MILLS On Demand workouts are available through our free apps on:
You can also cast your workouts to Apple TV from your Apple devices and Chromecast from your computer and Android devices. Simple search 'LES MILLS On Demand' in each device's app store to find our app.

Many of the LES MILLS On Demand workouts don't require any equipment at all. All you need is space to move safely (we recommend at least 6sq.m or 60sq.ft. of clear space).
BODYPUMP and LES MILLS GRIT Strength are weights-based workouts that use a barbell and/or weights plates, CXWORX requires a resistance band and weight plates and RPM requires a stationary cycle.
It's important that you hydrate before and after your workout. You don't need anything fancy, good old H2O will do the trick.