The best shape of my life
Struggling not only with his weight but self-esteem issues, yo-yo dieter Ron Alcott thought he'd never get back to the fitness levels of his Marine Corps days – that is until he discovered BODYCOMBAT™ at his local gym. These days he's running half marathons and passing on his love of fitness to others. Read his story.*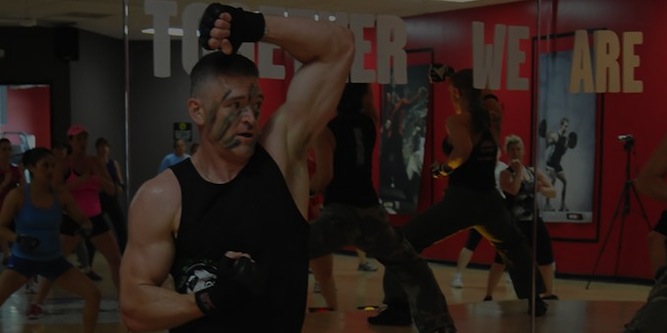 I first found out about BODYCOMBAT in February 2010. I was on the typical yo-yo journey of gaining weight and losing weight. At the time I fluctuated between 215 and 220 lbs. I'm 6'2" so I was easily at least 20 lbs overweight. It wasn't a lot, but it was enough to make me feel sluggish, and I didn't have a very good self-image. In fact, for pretty much all of my life I've had pretty low self-esteem.
I joined the local gym and started checking out the various cardio classes that they offered. I read the description of BODYCOMBAT and thought it would be something right up my alley.
I was instantly hooked and started attending the classes on average at least 2 days a week for the next eight months or so. Within just a few weeks I noticed that my cardio endurance was increasing so I started to add running to my weekly routine. I quickly lost nearly 25 lbs and went from a 36 pant size back to a 32 which I hadn't been able to wear since I first got out of Marine Corps boot camp in 1990. I'm 41 years old and I feel like I'm in the best shape of my life. The confidence and self-esteem that BODYCOMBAT has given me even allowed me to sign up and run two half marathons.
'' I want to share with others the same feeling of empowerment and success that I received from taking the class. ''
About a year ago I had several regular members of the gym that I went to start asking me when I was going to certify to teach Combat. They recognized the passion that I had for the class. I didn't really have the time to commit to it but it put a seed in the back of my mind. I thought about it for nearly six months before I finally made up my mind to sign up for the initial training. I had a fellow BODYCOMBAT instructor mentor me and encourage me the whole time which made it much easier.
I passed the certification on my first attempt.
I took the training and challenged myself because I think you should always seek self-improvement, however the reason I like to teach is because I want to share with others the same feeling of empowerment and success that I received from taking the class. I strive to be a great instructor and to motivate the members that take the class. My journey with BODYCOMBAT wasn't so much as a journey of weight loss as it was a journey if seeking to find myself and recognize my own true potential. BODYCOMBAT has changed my life.