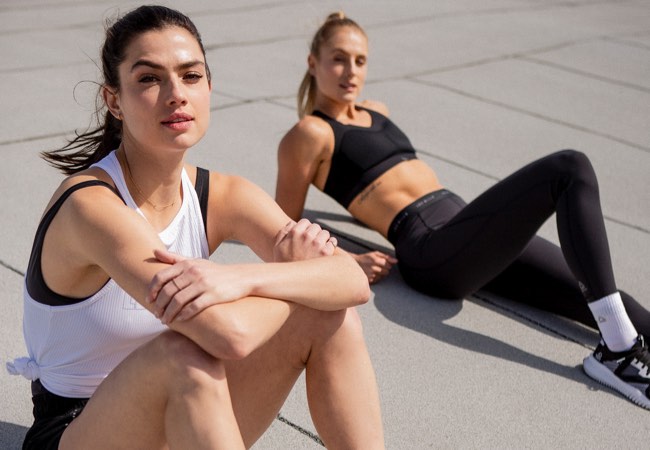 In an industry as notoriously trend-driven as fitness, it's essential to stay up to speed with the latest market movements and what they mean for your club.
No one wants to become another Kodak – or any other brand that's famously been undone by digital disruption – and that means constantly scanning the horizon for the opportunities and threats heading your way.
Trouble is, it's not always easy to know what to look for, or even where to look. In an age of self-proclaimed fitness gurus, influencers and experts – where anyone with a smartphone and a Twitter profile can shape opinion – the ability to separate relevant fact from dubious fiction has never been more important.
Most club operators have a list of tried and trusted sources they'll head to first in search of the latest insights, but there are other less likely places you can look to in order to steal a march on the competition.
One of the most reliable measures of which trends will take-off is the fitness habits of our youngest gym members. With Millennials and Gen Z now making up 80% of all people paying for fitness, the workout wonts of this cohort – dubbed 'Generation' Active for their unprecedented love of exercise – give a strong indication of how clubs will be shaped by consumers in years to come.
Another solid strategy for charting future trends is to extrapolate what is happening in the most innovative and mature markets to understand what the rest of the industry is poised to adopt. This is something we've seen particularly in recent times with the rise and rapid expansion of low-cost and boutique clubs.
Keeping these two tips for trendspotting in mind, it's therefore extremely timely that fitness tech platform MINDBODY has just released its 2019 Wellness Index Report: Fitness in America. The paper, which surveyed 17,000 US participants online, explores which trends are taking hold in the world's biggest fitness market, as well as how they're being received by various demographics, with a strong focus on 18-25 year-olds.
Here are five of the standout findings from the report:
1. Yoga stretches out in front
Yoga is the most popular group workout in the world by some distance, according to the report, with 25% of respondents reporting they'd been to a yoga class at a fitness facility in the past year.
This was named the most popular workout across all age groups surveyed (18-25, 26-45 and 46-65) but with 18-25 year-olds seemingly less enamoured with yoga than their elders: 21% of the youngest group had done yoga in the past year, compared to 26% of 26-45 year-olds and 25% of 46-65 year-olds.
Group dance classes were also cited as universally popular programs, holding similar levels of participation across all three age ranges (15%, 16%, 15%).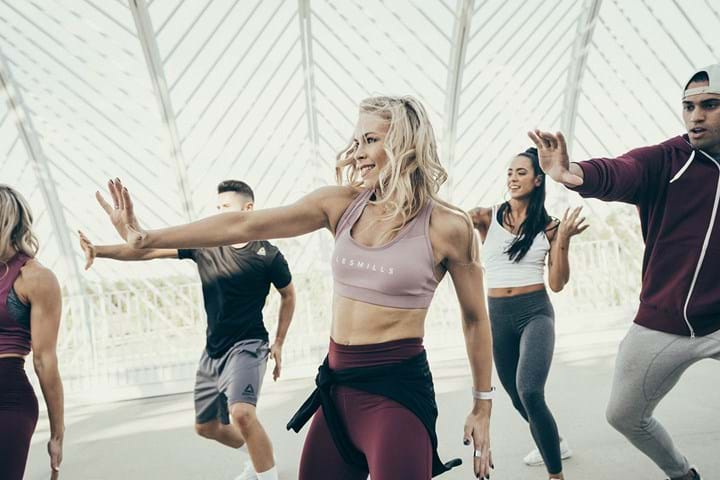 2. But strength training is making gains
Adding further credence to the notion that 'strong is the new skinny' weight/strength training was identified as the second most popular form of group workout, with 17% of respondents identifying as regular participants.
The figures suggest the popularity of weight/strength training classes like BODYPUMP™ is on the rise due to its appeal among younger demographics. 19% of 18-25 year-olds reported taking part in a weight/strength training class in the past week, compared to 13% of 46-65 year-olds.
Conversely, lower impact group workouts were seen to increase in popularity with age. In a similar vein to yoga, aerobics had only 5% of 18-25 year-olds participating in this activity, versus 12% of those aged 25-45, and 16% of 46-65 year-olds.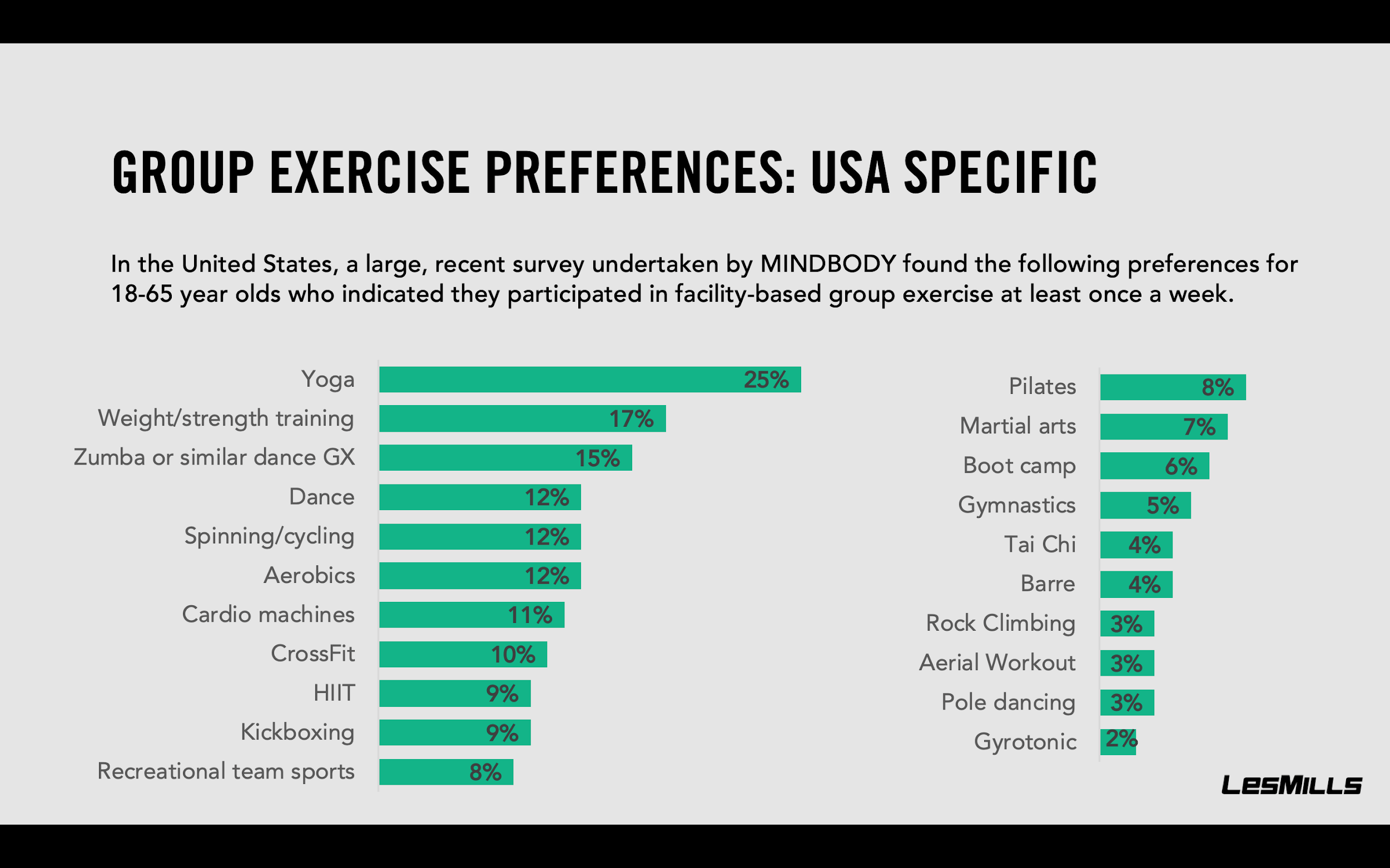 3. Combat classes are fighting back
As well as shining a light on the workouts people currently do, the report also explored which types of group exercise people would most like to try next – with surprising results.
Combat-themed group workouts were overwhelmingly the most popular classes for respondents want to try next for 18-25 year-olds and 26-45 year-olds. Both groups named kick-boxing as being top of their fitness to-do list, while martial arts also came close behind for both groups, suggesting combat-themed group workouts look set to trend strongly in the year ahead.
This pattern did not extend to the eldest group of 46-65 year-olds, however. Neither kick-boxing or martial arts classes featured in the top 10 types of activities they'd like to try next (yoga came top with 17% of the vote), although gentle martial arts (such as Tai Chi) was referenced by 11% of respondents.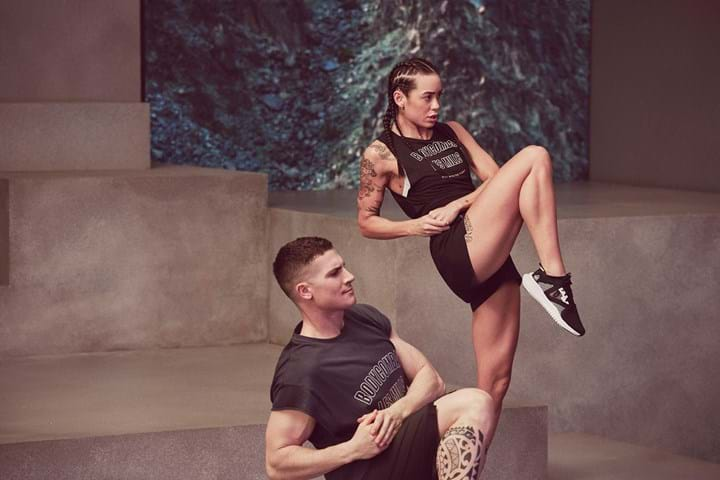 4. In with the old, in with the new
One of the most surprising activities to be tipped for a resurgence in the survey is swimming. Despite declining participation levels across most international markets over the past decade, swimming featured in the top 3 activities that respondents would like to try next across all three age groups, accounting for 14% of the vote overall.
But despite the potential revival of an old favourite, it also looks possible that an unlikely mix of new activities will shape group fitness timetables in years to come. Rock climbing and pole dancing are among the top 10 workout activities 18-25 year-olds would like to try next, while the presence also of biking and hiking in the list suggests a need for operators to accelerate plans to reach beyond the four walls of the club and find a way to facilitate growing demand for outdoor pursuits.
4 TIPS FOR MARKETING TO MILLENNIALS AND GEN Z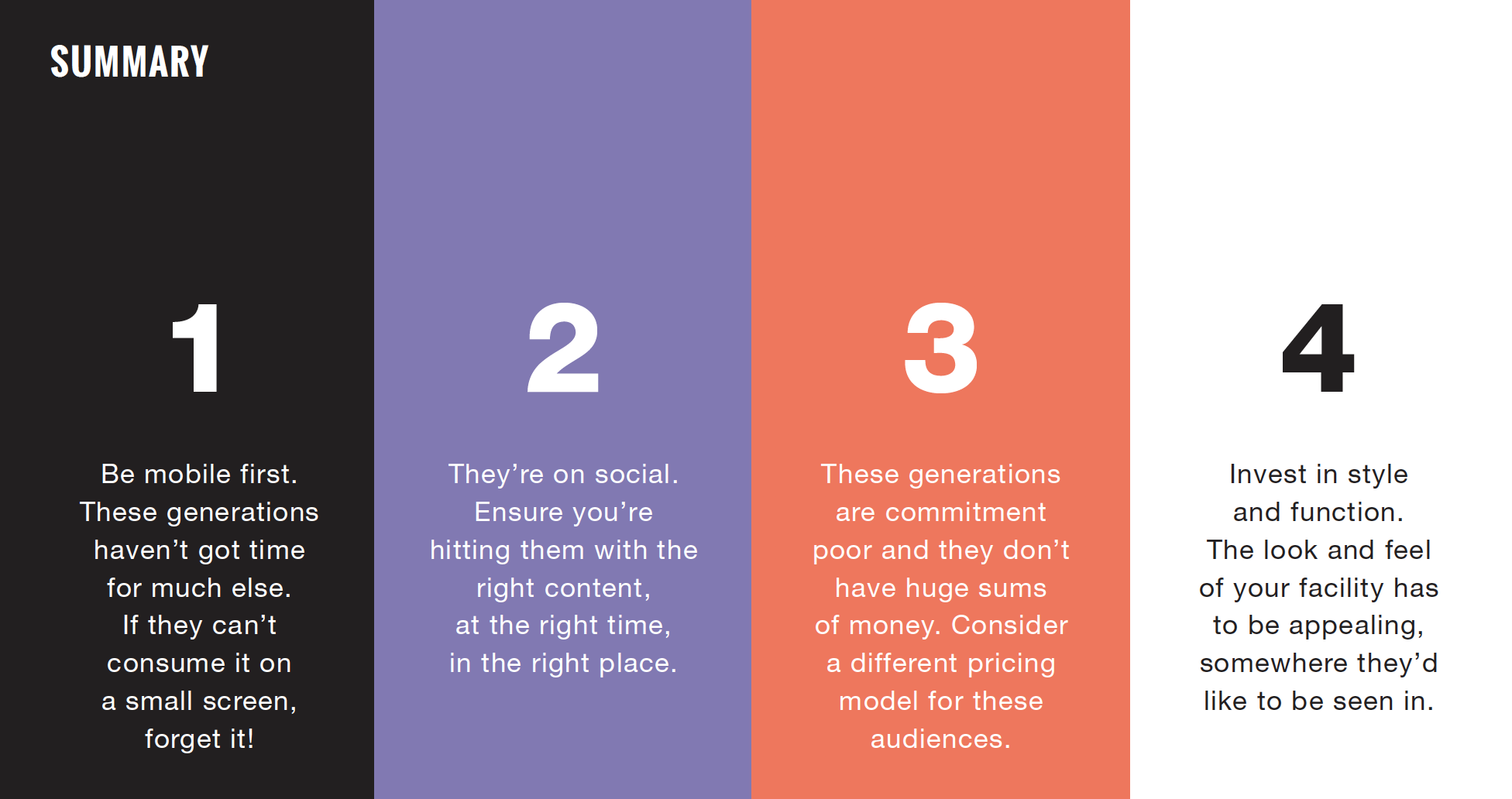 5. Regular workouts bring greater engagement in all areas of life
The report also reinforces the growing link between physical activity and the wider wellness movement. It notes that the more someone exercises, the more likely they are to have healthy habits and hold healthy attitudes across other dimensions of wellness including emotional, intellectual, spiritual, environmental, social, and occupational.
Specifically, it finds that those who exercise five or more times per week are more likely to show healthy behaviours and attitudes than those who exercise less often. Those who exercise least – less than once per week – are the most unlikely to display healthy habits across other dimensions of wellness, including spiritual and social.
This tallies with established industry principles around the power of physical activity – and particularly group workouts – to boost motivation and exercise adherence.
Members who attend group fitness classes visit their facility 4 times per week on average (2019 Les Mills Global Consumer Fitness Survey), compared to IHRSA's industry average figure of 1.9 member visits per week. Meanwhile, those who do 3+ Les Mills classes per week stay members of their club 50% longer than those who don't do classes – that's an extra 9.8 months of dues per member (ukactive Research Institute, 2018). Furthermore, group fitness attendees recommend their gym to 18% more people than gym-only members (2019 Les Mills Global Consumer Fitness Survey), while 10% of group fitness attendees recommend to 10+ non-members.
PUNCH ABOVE YOUR WEIGHT
Want to learn how BODYCOMBAT's constant reinvention can help your club win the battle for new members?
DISCOVER HERE