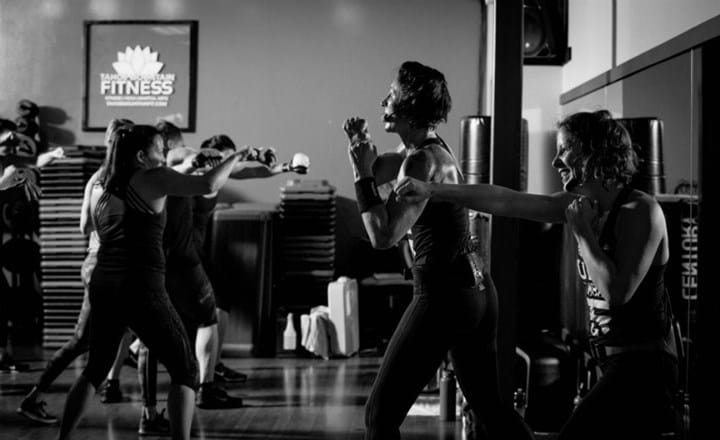 What's the story behind Tahoe Mountain Fitness?
Holly: We're based in beautiful Lake Tahoe, which is a small mountain resort town in Northern California. Jon and I have a background in martial arts and we taught exercise classes around town before eventually deciding it was time to get our own studio space. It's been all heart and passion right from the start – a friend recommended I look at BODYCOMBAT™ and that was a real gamechanger. Next thing you know, we're at a Les Mills quarterly rocking out to BODYPUMP™ and RPM™ saying 'We've got to do this at our club!'
What does the business look like today?
Jon: We've kept group ex as our core offering, and today we have around 450 members on monthly dues, with the same amount on class packages, which start at US$32 for a single session. Our club is 3,000 sq ft spread across three studios – one's a dedicated 22-bike cycle space – and we have 800 attendances per week, with average class capacity around 85 per cent. We're growing pretty quickly, adding around 50 memberships each month right now.
What's been the key to building a boutique club around Les Mills programming
Holly: Without a doubt, Les Mills has been a major part of our success. Today we've got seven Les Mills programs – I teach six of them and Jon does 5 – and we've always been really well supported by the business, particularly our lead contact Adrian. Les Mills has an awesome product and it's so easy to sell when people come in and view it. We've spent a lot on making sure our studios and instructors really bring the wow factor, and it all adds up to a great fitness experience that keeps members coming back for more.
You recently became only the third US club to install THE TRIP™, what persuaded you to take the plunge?
Holly: We were really intrigued by this new 'IMMERSIVE FITNESS™' concept so we travelled all the way to the Les Mills LIVE event in Amsterdam to experience THE TRIP for ourselves. Needless to say, the workout was wild and we were blown away – at one point during that class I was literally crying. It made me so happy! Emotions aside, it sits perfectly as a cycle package with the SPRINT™ and RPM programs we already offer, so it was an easy decision in the end.
What was the installation process like?
Jon: I wouldn't call it easy, but a lot of that was down to the fact we set ourselves a very quick turnaround! We planned a huge launch event at the beginning of March, so that gave just six-weeks for the prep, install and everything – we had technicians fly out from Germany to help with the set-up. During this period time we built a big buzz around the launch event with flyers, adverts, social media and PR, but then disaster struck.
We didn't have snow all winter and then the week of the launch we had a mega snow storm. This was really big because we're a mountain town and people hadn't skied all winter, so we feared the event would be a flop with everyone out on the slopes. But actually, it was an incredible launch and we filled every TRIP class we ran that day.
What's been the reaction from members since?
Jon: My favourite thing for teaching a TRIP class is seeing the look of awe on everyone's face. It's a great conversation starter when you're reaching out to prospects and local businesses so it's helped bring in a lot of new members. With THE TRIP we put it all over the schedule and it sticks everywhere, but the lunchtime class is off the chain and always sold out. Our big focus at the moment is on retention and it's here where the TRIP comes into its own. The program gives us such variety and it's an experience that you can't get at any other club, so we're attracting members and better still we're keeping them.
How else are you using technology to enhance the member experience?
Holly: We recently put in LES MILLS™ Virtual and that's been a big surprise. We had a tiny back studio – a glorified storage cupboard – and didn't know what to do with it, so we set up Virtual and it's been a hit with members. Numbers are growing steadily and we've got several regulars who like to come in off-peak and do their own thing to Virtual. It's also great for avoiding member disappointment if a live class gets cancelled for whatever reason. When we set it up people were scared we were going to cut down on live classes, but we were like 'No! Don't worry, this just means we can offer you even more options now.'
Any other tips for clubs looking to build their own boutique business?
Jon: Launch events are definitely your friend! Aside from THE TRIP, we've scheduled in one massive launch event each year and then run quarterly events around new Les Mills releases. We stage them like the masterclasses, with two or three instructors on stage together running classes and the members go wild for it. It's always a party atmosphere and a great driver of new memberships, while we always see a spike in attendances straight after an event – particularly around BODYCOMBAT where everyone is absolutely pumped!