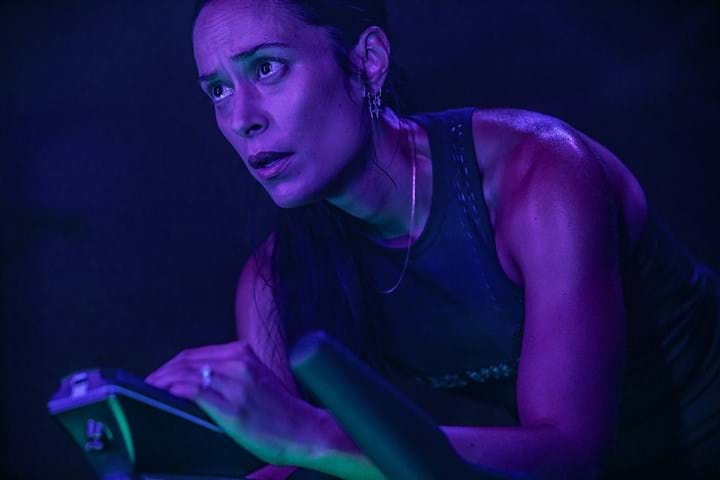 As the second wave of COVID continues to swell, forcing clubs around the world back into lockdown, operators are pulling out all the stops to survive the biggest crisis our industry has ever faced.
Times have never been tougher for club operators, but it isn't all doom and gloom. With every new challenge to the club model, comes fresh opportunity.
If there's a silver lining to the COVID-19 cloud that blighted our industry throughout 2020, it's undoubtedly the emergence of digital fitness solutions to complement our physical clubs.
Digital offers huge potential for clubs to reach beyond their traditional local catchment. Now, anyone with an internet connection is a potential target for digital memberships.
For those willing to be bold, the digital fitness boom can fast-track club growth and help operators thrive in the new age of fitness.
And there's no time like now to get started. Here are 10 ways clubs can combat the COVID second wave and come through stronger.
1. Level-up with livestream
Clubs have adapted with impressive alacrity to provide members with a suite of digital options to stay active and engaged, most notably livestream, which has proven to be a highly effective way to beam the buzz and community of group fitness classes into members' living rooms.
And far from being a simple stop-gap to tide the industry over during lockdowns, livestream is becoming a vital addition to clubs' long-term digital offerings.
In recognition of these new opportunities for clubs and the ongoing global uncertainty around COVID, Les Mills has made several important updates to help clubs ramp up their presence in the booming online fitness segment.
We've provided specially-created program releases as a short-term solution for clubs and Instructors to keep their members moving. Now, operators have a much wider choice of Les Mills classes for their Instructors to deliver if they want to tap into the fast-growing livestream market during lockdown and beyond.
Check out our 9 key plays to help your club nail its livestream offering and speak to your local market representative to learn more about the latest livestream offers. And for your Instructors, share these top tips from the world's leading presenters on how to deliver a quality livestream class.
2. Harness on demand solutions….
One of the prominent themes of this year for fitness operators has been the importance of adopting an agile mindset to fully capitalize on the opportunities that lie ahead post-COVID, particularly when it comes to technology.
With the likes of Apple, Google and Amazon all making moves in the fitness space, clubs that can bridge the gap between the digital and physical world to offer members an integrated fitness experience will be best-placed to thrive in the future. What the pandemic has demonstrated so far is just how quickly clubs can adapt when they need to.
Offering members digital workout content has rapidly become standard practice for clubs. According to a new ClubIntel report, 72 percent of global operators now offer on demand and livestream group workouts for members (up from just 25 percent in 2019), either through branded club apps or by teaming up with a partner.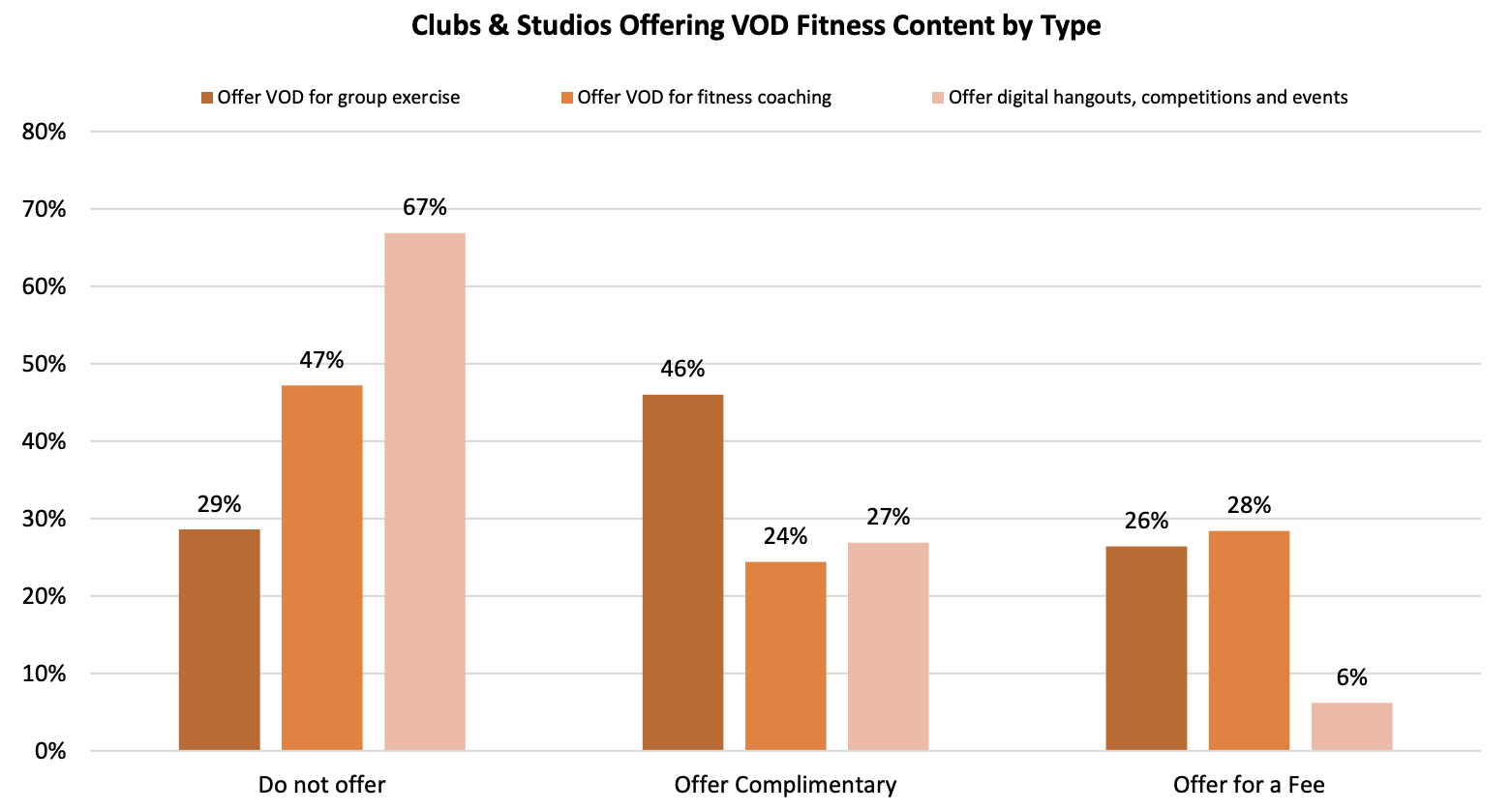 The report authors note that offering digital workouts to attract and retain members has quickly become a "necessity for fitness operators," with another recent ClubIntel report finding LES MILLS™ On Demand (LMOD) was the most popular third-party option used by clubs during the first COVID lockdown, with 31 percent of clubs choosing the platform to keep their members active and engaged.
One club that's harnessed the mix of livestream and on-demand to undergo a full digital transformation is Forsyth Country Club in the US, which is now reporting record group fitness numbers.
"Clearly fitness has changed enormously in the past few months and we're committed to embracing change and resisting the temptation to revert to old habits once lockdown lifts," says Forsyth Country Club Fitness Director Renate Van Staden.
"Modern members expect a connected fitness solution from their club and that's what we as operators need to deliver. Live fitness remains the pinnacle for everyone and the best experience that we can offer, but it's equally important to bridge the gap between live and online fitness, tapping into tools like livestream and LMOD to provide our members with a blended fitness offering that meets their every need."
3. ….Or build your own content platform
Another operator that's taken rapid strides to enhance its member offering and unlock new revenue streams is Everyone Active. As lockdown struck in March, the 190-site UK operator combined LMOD with four other fitness apps to create a temporary digital solution for members. This pivot to digital paid off substantially, with over 10,000 members subscribing to the new £9.99 a month service, yielding vital additional revenue during lockdown and supporting longer-term member retention.
Buoyed by the success of its temporary solution, Everyone Active has committed to a long-term digital transformation to future-proof its member offering. This saw the operator launch its own permanent digital fitness platform – Everyone On Demand – in July, combining LMOD with training content from WithU, Flex by Fitness on Demand, and EXi to bring members over 2,500 workouts.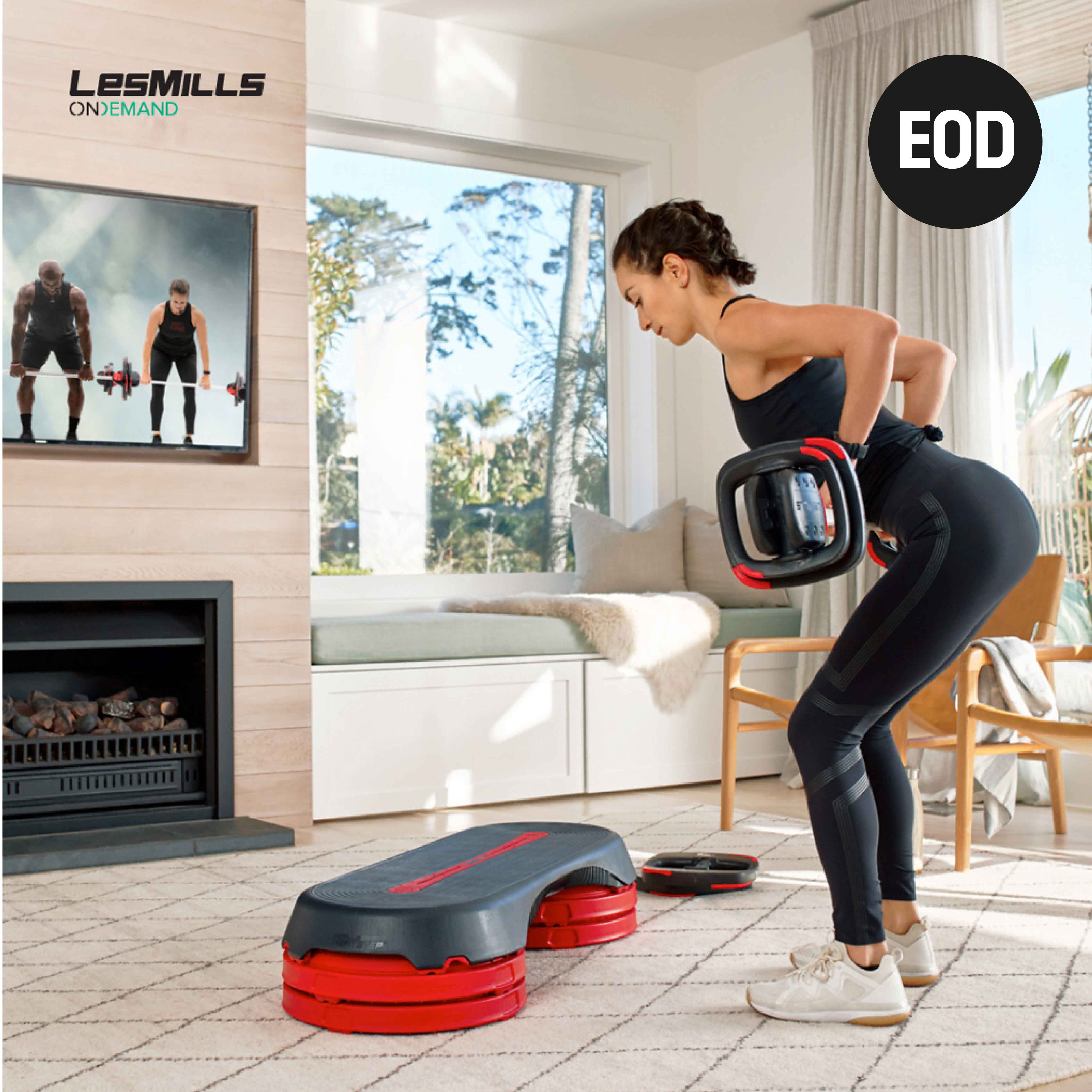 Everyone On Demand is being deployed to engage and retain current members – while also enticing new ones – by offering access to the platform for all new and existing Everyone Active facility members as part of their standard package. For those not yet ready to return to the gym, the operator is also offering Everyone On Demand digital memberships for £9.99 per month.
Standalone digital offerings – like the £9.99 Everyone On Demand package – can be a great way for clubs to win new fans online, build brand affinity, and then eventually convert them to becoming full members of the club. By taking the club experience into people's homes, operators have the chance to reach huge swathes of the population who wouldn't typically visit a club and help them start their fitness journey. There is clear appetite for such fitness progression among non-gym members using LMOD, with 53 percent stating they're interested in trying live Les Mills classes in a club (research from May 2020). Speak to your local Les Mills contact if you'd like to explore syndicating content for your club's platform.
4. Boost revenue through new products and coaching
While cutting overheads is essential during hard times, finding ancillary revenue streams can be just as helpful for keeping you afloat, as well as adding long-term value to your business. The expertise and soft skills of your team make them ideally suited to offering new products and services to members – and new online fans as well.
Chinese boutique operator Shape started streaming live workouts on the first day of China's lockdown and after building an audience (which peaked at 100,000 viewers), they were quick to monetize these eyeballs.
Shape launched a 12-day online fat-loss training camp, where Instructors hosted video training and coaching sessions with participants. Priced at 369 RMB (US$52), more than 1,000 people signed up, with many going on to purchase additional packages.
The instant revenue helped the business stay buoyant and brought another outlet for its Instructors. Shape planned to expand the personal coaching concept across its physical network by offering it in 90 percent of its sites by the end of 2020.
It's a similar story at Styles Studios Fitness – a new club in Peoria, Illinois, launched by IHRSA Board Member Carrie Kepple, Les Mills legend Amy Styles and industry veteran Jim Worthington. Styles has adopted the digital philosophy "If you can't be at the gym, we'll bring the gym to you".
In addition to live-streaming classes, the Styles team are providing virtual personal training sessions, as well as online sessions about nutrition, general health, and wellbeing to support members and foster a sense of community.
"Use the time your gym is closed to educate members and improve their workout experiences," Carrie advises. "And while they have a captive audience, can your Instructors do things like film technique videos and challenges? This is all content that can also be used for your marketing efforts when the club reopens."
5. Grow your online fans
With much of the world facing periods of isolation, people are seeking connections on a personal level with brands and like-minded consumers. They want to feel part of their community.
Standalone digital offerings can be a great way for clubs to win new fans online, build brand affinity, and then eventually convert them to becoming full members of the club. By taking the club experience into people's homes, operators have the chance to reach huge swathes of the population who wouldn't typically visit a club and help them start their fitness journey.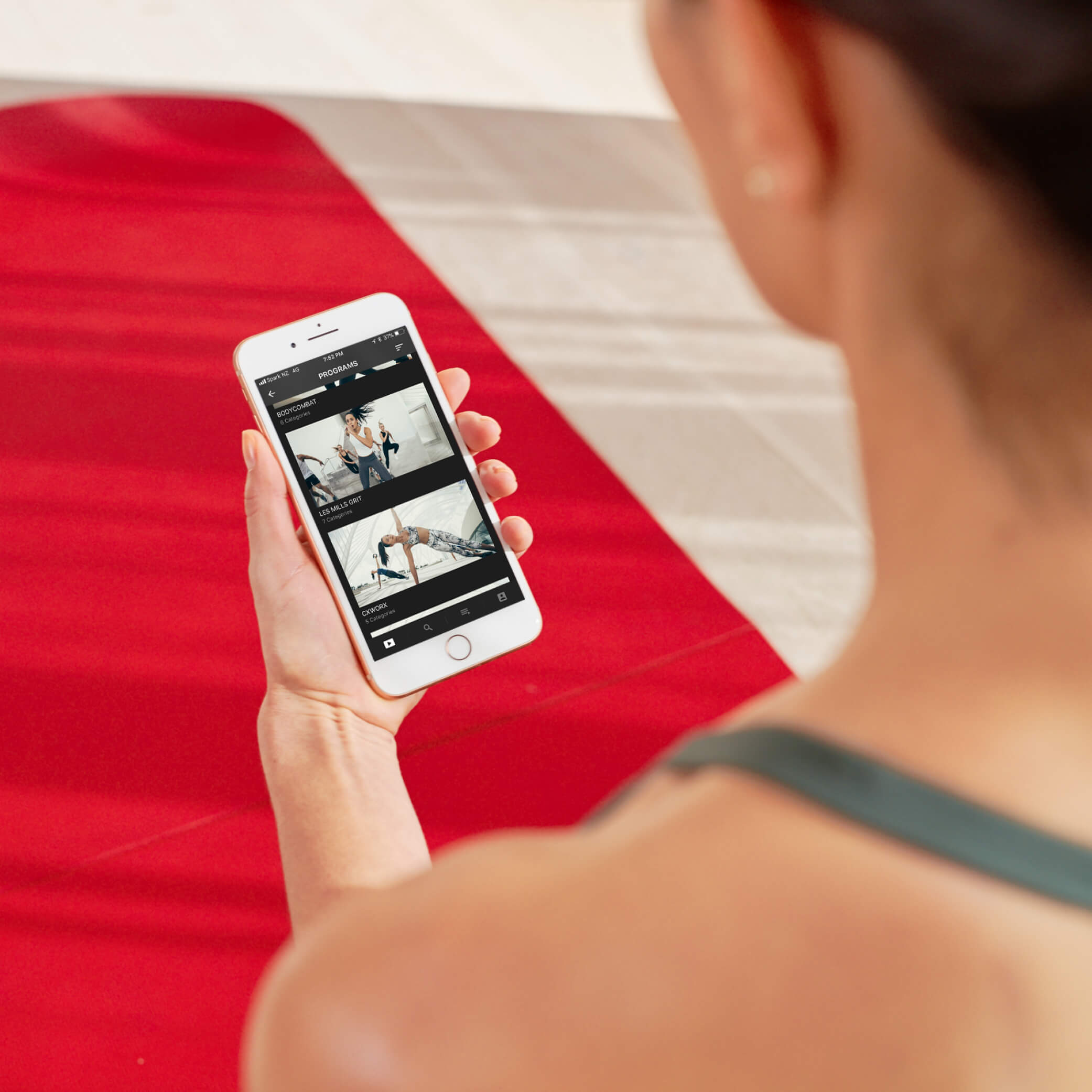 Test and learn to build your club's livestream audience – you'll get the best traffic and value from your livestreams if you track the attendance of your classes, and adjust your plans accordingly. Aim to timetable your livestream workouts as close to your live workouts timetable as possible (check out some examples of livestream timetables that worked for us) and seek your members' input to ensure you choose programs and timings which suit them.
Be sure to advertise your livestream classes, using your social media channels, mailing lists, and member app to keep everyone updated with your latest timetable. Over in Russia, operator World Class pulled out all the stops during the first lockdown to dial up its online experience and reach new fans through social media.
The premium chain had its Instructors leading a full timetable of livestream classes which the team refined daily, based on user feedback and timeslot metrics.
After adding live broadcasts of its group fitness programs, World Class saw a huge uplift in subscribers and engagement on its various social media channels. The club's Instagram account grew by 150 percent to surpass 200k followers, while the Youtube Channel's following has jumped 1,200 percent.
These efforts helped World Class to tackle the COVID-19 crisis and better still, the added reach is proving even more helpful for growing members and building a healthier business since reopening.
6. Foster your club's sense of community
The loneliness of lockdown and remote working has supercharged demand for online communities and shared experiences. Clubs have been quick to put their star players in the limelight on social media, driving discussions and interactions with their members, as well as setting daily challenges.
For Asia-based premium operator Pure International Group, which has seven clubs in Shanghai and two in Beijing, this meant mobilizing all of their team to communicate with members and send daily workouts through their member app.
"In our closed clubs in Shanghai and Beijing, the yoga teachers, the sales team, the PTs and group ex instructors would constantly keep in touch with the members," Pure CEO Colin Grant told IHRSA when reflecting on his approach during the first lockdown.
"You've got to get them engaging with members through social media, to make sure the members know we care about them, even though we're closed. Send them daily content through social media – home workouts and information on how to eat well."
7. Celebrate your Instructors
Throughout lockdown, technology has dominated the fitness industry discourse, and clubs have adapted admirably to rollout digital solutions to support their members. But technology isn't the answer to our challenges, our people are. Technology is still just a tool to help us deliver motivation to members beyond the club. It's our people – the faces our members know and love – who remain at the heart of these solutions.
In the same way that our rockstar Instructors and personal trainers deliver the most motivational experiences in-club, it's been the live-stream classes and virtual coaching sessions that have proved most powerful online and lit up our social media feeds.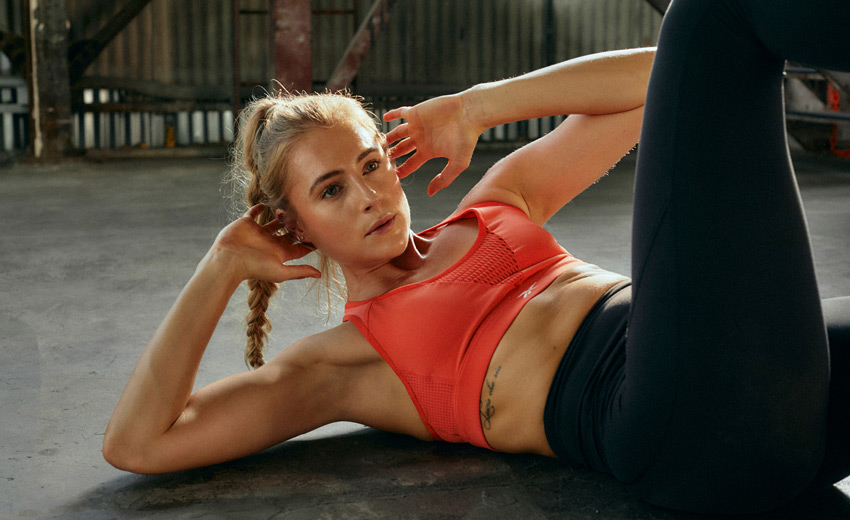 For all of the technology solutions now available clubs, great people are the only unique selling point that your rivals can't copy. We're all working to make the world fall in love with fitness, but it's the people delivering it that make members fall in love with your club.
As well as the operational impact your team can make to help get your club up and running, consider the significant emotional contribution they can make to help members feel safe again.
"Instructors hold the hearts of members more than anyone else in the club and this is needed now more than ever," advises IHRSA Acting Chair and Styles Studios Fitness MD Carrie Kepple.
"These Instructors are often the types who will jump right back in and do whatever it takes to get members feeling good again. They're likely to have lots of existing relationships with members and it's also important to ensure they make a real effort to connect and engage with members they don't know."
8. Sharpen skills
One silver lining of a second lockdown is that operators have a golden opportunity to upskill their teams and raise standards. In China, operators made the most of their teams' free time – as well as the efficiencies of educating online without large venue, catering and A/V costs – to run comprehensive upskilling programs during lockdown.
Pure Fitness put on large numbers of internal training sessions for its teams, while Les Mills China provided a raft of online training courses for Instructors, attracting close to 3,000 to some quarterly workshops.
But it was Chinese boutique operator Shape that really raised eyebrows, making use of its healthy cash flow to announce a recruitment drive for 200 new Instructors during the lockdown. With many clubs struggling to pay wages, Shape was able to acquire a squad of rockstar Instructors, with the expectation that many of their passionate class participants would follow them across.
Les Mills is offering free or discounted access to a range of Instructor and Group Fitness Management courses to help clubs during lockdown – speak to your Les Mills contact to find out more on what's available in your market.
9. Get ready for your relaunch
It's our people that drive members to join clubs in the first place, and it's our people who will be key to bringing them back once it's time to reopen.
Whether your club is completely closed, operating a limited service or gearing up to re-open, now is a great time to get your team thinking about what they can do differently (and better) to get your club back on its feet.
For Will's Gym, a premium operator of 170 clubs in China, the team spent time mapping the member experience post-lockdown. They looked at how members would walk through the club, what would they want to see when checking-in, and what measures could be taken by the team to provide the feeling of a safe environment?
Will's doesn't believe that online home workouts will replace the gym experience and wants their members' full focus to be on physical visits, so they took a number of steps to support this. Online workout offers were stopped to drive footfall to clubs as soon as they reopened, while they've also made the presence of their in-club Instructors and PTs a focal point of their website, resulting in 50% of PT and new membership revenue now being generated online.
10. Keep the heat on your local representatives
One of the brightest spots of 2020 was the renewed sense of importance that governments – and society in general – attached to health and fitness. Far from being treated as a niche segment of the leisure industry, clubs have been increasingly recognized as the backbone of communities, playing a vital role in supporting physical and mental health.
Strong lobbying efforts from the likes of IHRSA, ukactive, EuropeActive and HCM Magazine – working closely with clubs and Instructors – have resulted in many wins for the sector. Several countries in Europe – most recently The Netherlands – have exempted gyms and leisure facilities from their lockdown measures due to their role in keeping people fighting fit, as well as the very low COVID transmission rate in fitness settings.
The latest SafeACTiVE study (commissioned by EuropeActive and carried out by Sheffield Hallam's Advanced Wellbeing Research Centre (AWRC) and King Juan Carlos University in Spain) analysed more than 62 million fitness facility visits since September and found that the average infection rate is 0.78 per 100.000 visits – with only 487 positive cases reported from operators in Europe.
Buoyed by this study – and many others showing gyms to be extremely low risk for COVID transmissions – clubs and industry bodies are campaigning hard to keep facilities open in the face of new lockdown measures. Now is the time to support these campaigns and lobby your local elected representative for the right to stay open. Check out this article on why gyms are essential to society's comeback to COVID for a whole raft of reasons to put forward.
LEADING YOUR CLUB'S FIGHTBACK AGAINST COVID?
Check out our Club Recovery Hub, packed with tools, insights and resources to help your club get back to full fitness.
GET FIT FOR THE FUTURE