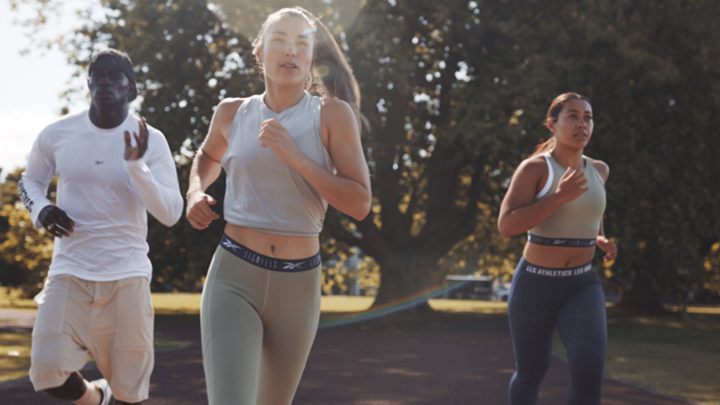 If there's one thing clubs have learned from the pandemic, it's that adaptability is essential for survival.
Across every industry, COVID-19 has forced businesses to re-think their go-to-market strategy. In fitness, the who, what, why, where, and how of delivering exercise have been severely disrupted by COVID-19, and in many cases, the effects will be permanent.
Whether it's been adding new dimensions to their digital workout offerings, growing an online fanbase, or helping their teams to develop new skills, clubs have turned challenges into opportunities that will help them to emerge from the pandemic with stronger, more sustainable businesses.
Another challenge that could yet yield long-term opportunity is the need to offer outdoor workouts. As clubs worldwide edge out of the latest series of lockdowns, ongoing restrictions mean many will need to consider outdoor classes as a bridging solution before they can get back to full capacity in their studios.
But is there a bigger opportunity at stake here? Could going 'beyond the four walls' in a more literal sense help clubs attract new audiences and elevate the member experience? Here are eight top tips for winning with outdoor group fitness.
1. Think outside the (big) box
With social distancing likely to remain in place for some time, optimizing space in and around your club is essential for getting members back into group workouts – particularly when gym floor capacity is greatly reduced. This requires an agile mindset and a willingness to adapt.
Relaunched clubs are running group exercise classes on basketball courts, training fields, and even rooftops – what could the opportunities look like for your club? Could you take your cycle classes poolside to create RPM™ with a view? Use the spaces in your car park as grid-markers for socially-distanced sessions? Or could you strike up an arrangement with nearby businesses or local authorities?
For Forsyth Country Club in North Carolina, making use of outdoor space to provide socially distanced classes has enabled the club to maintain physical touchpoints with members and create work opportunities for Instructors. The outdoor classes are filmed, so they also service the club's need for livestream content to support members still working out at home.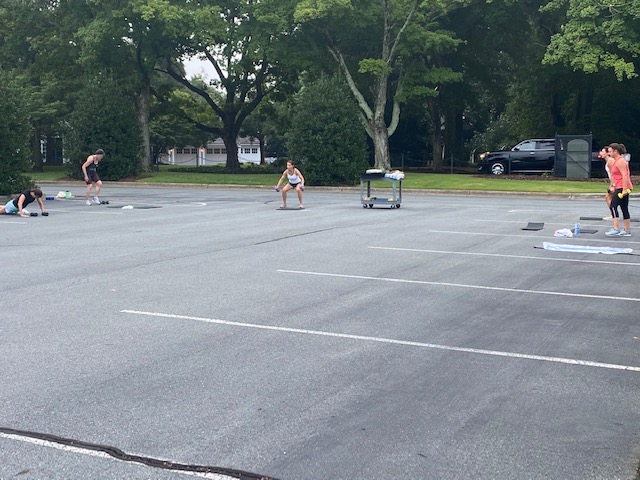 "We've got some really cool spaces around our buildings and pool, while group exercise is the beating heart of our club, so we've just run with it and set up classes wherever we can fit them in," explains Fitness Director Renate Van Staden.
"We've run as many activities as we can to keep these members engaged and give them some sort of normalcy in their life. It's going great and probably the most-asked question from members is 'can we continue with classes outside even when we're back to normal?'"
2. Target new demographics
One outcome of the pandemic has been the explosion of people taking up digital fitness offerings – and recent findings suggest this could yield significant opportunities for clubs. Research from Alliance Leisure found that 69 per cent of consumers who were inactive before the pandemic have since increased their exercise levels, while 96 per cent of those who tried a workout from a club during lockdown said they would use that facility post-lockdown.
Outdoor workouts offer clubs the opportunity to engage these fitness newbies earlier and entice regular exercisers who may have stayed away from clubs in the past as they prefer being outdoors.
"We're coming off the back of the biggest pandemic in a century and health is now everyone's top priority, so I think there are huge opportunities for clubs to play a more prominent role in getting people healthy and fit," says Eddie Tock, CEO of REX Roundtables, which works with 2,700 of the world's leading clubs.
"The key will be to make club activities more accessible, by offering more outdoor and digital workouts, as well as acknowledging that people will want to work-out in lots of different ways. This can help us to engage the other 80 percent of the population and go fully mainstream."
3. Prepare for everything
Whether it's the weather, conditions underfoot, or surrounding sights and sounds, outdoor workouts present a lot more variables, so it's vital to plan ahead.
Picking the right classes that suit your place is a great place to start – depending on where your space is, you may find it easier to start by moving your equipment-free classes outside, such as e.g. BODYCOMBAT™, BODYATTACK™, and BODYBALANCE™.
Then, it's a case of carrying out test runs with your Instructors and some willing volunteers to iron out any unforeseen issues. Remember – sound carries differently outside so make sure the music levels are well set and your Instructors are ready with the right head mics and equipment.
And even if you nail all of this, there's always a risk of the weather spoiling the party, so it's worth checking forecasts well in advance and taking steps to mitigate these issues where possible.
For Maxsport Attendorn in Germany, this meant installing a waterproof sun sail and durable flooring to create a weather-proof outdoor studio. Outdoor class capacity regularly exceeded 90 percent post-launch, with members indicating a preference for training outside and also feeling safer while doing so.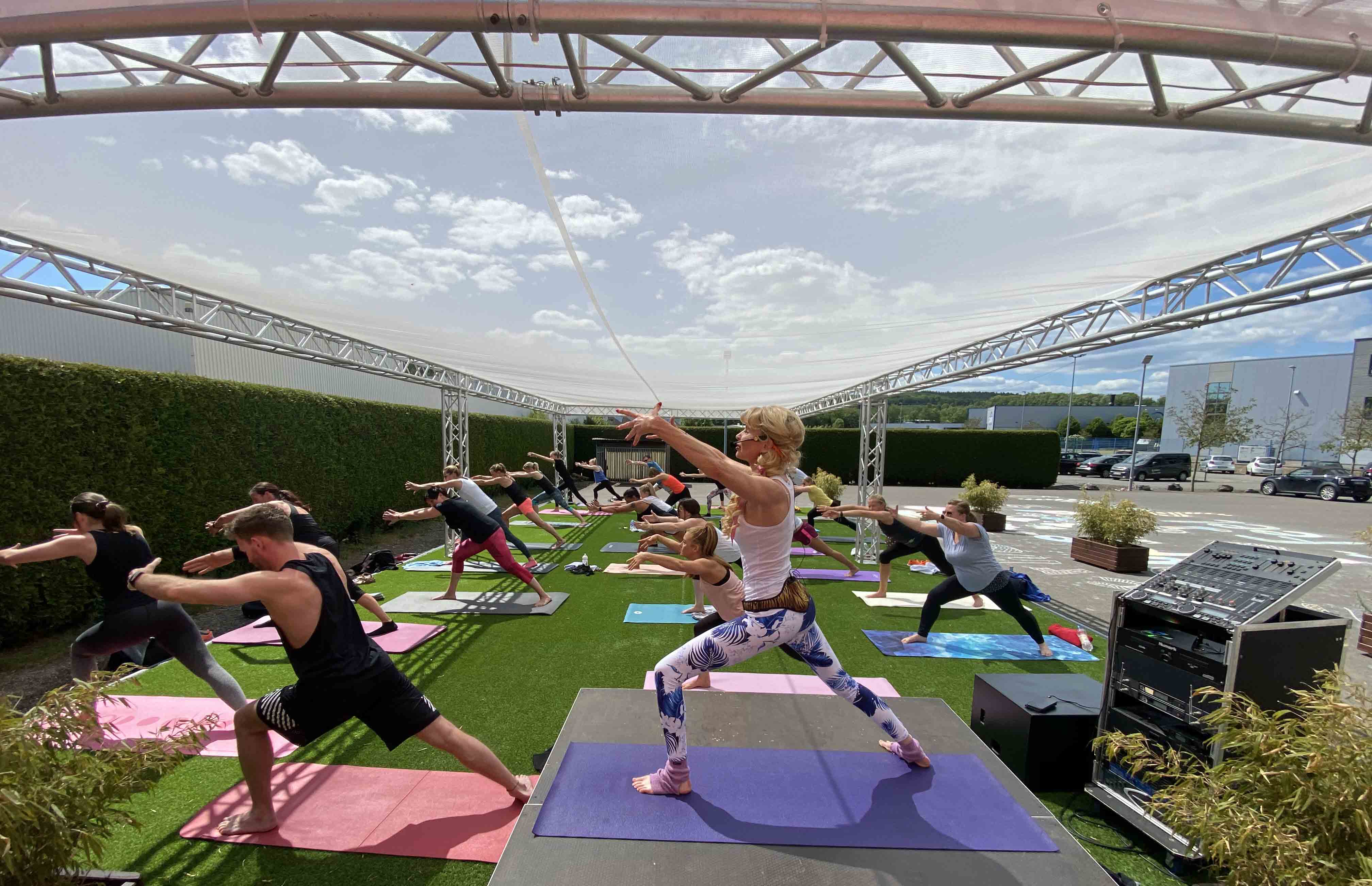 COVID may have been the short-term catalyst for outdoor workouts, says Maxsport Attendorn Owner Sebastian Hoffmann, but the category represents a long-term growth opportunity post-pandemic.
"This year is a test phase for me," he adds. "For me, it's not a question of whether it will continue, just how, now that we know outdoor workouts are sustainable and a real hit with members."
4. Create outdoor challenges
Up the ante on your outdoor workouts with a motivating challenge or competition to build members' confidence and camaraderie as a group. Evidence shows that the 'group effect' has a positive influence on a member's overall workout experience – and their intention to return.
But a challenge also drives loyalty simply by harnessing human nature: the desire to better ourselves, to prove our worth against others… to win. And to keep trying – that is, to keep coming back to the gym – until we do.
One club that's no stranger to an outdoor challenge is Germany's 20"20 facility, which aims to dissolve the boundaries between competitive sport and group fitness by appealing to sports enthusiasts, fitness beginners, and professional athletes alike.
To combat COVID restrictions, the club created a supplementary 120m² outdoor area for its classes, which has proved so popular with members they're now running 17 outdoor workouts per week.
"You notice how happy you make people by giving them the opportunity to do sports together again," says club Owner Tobias Unger, a former Olympian who named 20"20 after the time of his personal best in the 200m sprint – a German record that has stood since 2005.
"We're confident we'll see long-term success through our partnership with Les Mills, because people need community and they crave social experiences in a group."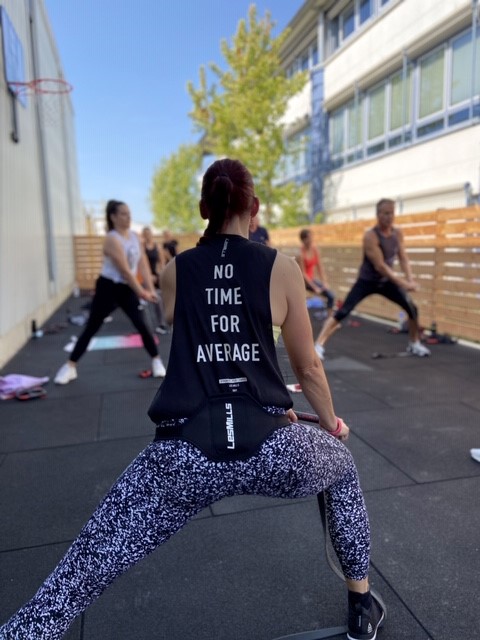 5. Map out the marketing plan
Every club has a hardcore following, but not everyone will be back right away, so it's important to be proactive across your club's comms channels, highlighting that outdoor workouts are an exciting new component of your club's offering.
Make sure outside sessions have a permanent spot on your timetable and communicate this out to members as part of your reopening strategy. For hesitant members that may be harder to re-engage, outdoor workouts represent an ideal stepping stone towards the full in-club experience.
And consider the exciting shop window you now have to attract new members. Outdoor workouts will be much more visible to passers-by, so consider key sightlines when deciding your set-up. By removing the mystique of the inner-workings of the gym and showcasing a bunch of people moving and having fun in the great outdoors, you might just create a few new converts. Be sure to have clear signage showing how they can find out more about your club and perhaps showcase some special offers for good measure.
6. Beef-up your booking system
With many clubs operating at reduced capacity, time and space are at a premium, so it's vital to optimize your club's footfall after reopening. This requires a well-thought-out booking system which is reliable and gives everyone a fair amount of access to your club's activities – including outdoor sessions.
It also means getting the right balance between continuing to service digital demand for your online workout offerings, while tapering this to drive people back towards the physical club.
"Members will like being able to plan again and schedule things in, so make sure it's easy for them to book classes so they can get a sense of routine and control back in their life," advises Carrie Kepple, Styles Studios Fitness Co-Owner and IHRSA Chair.
7. The power of events
Outdoor workouts are ideal for staging events to get people moving and feeling good about fitness again (in line with local COVID restrictions of course). One example of a powerful reactivation event came in China last year, where seven club operators in Nanjing partnered with Les Mills to stage a large outdoor event where 400 people took part in a mass workout doing BODYCOMBAT and BODYJAM™.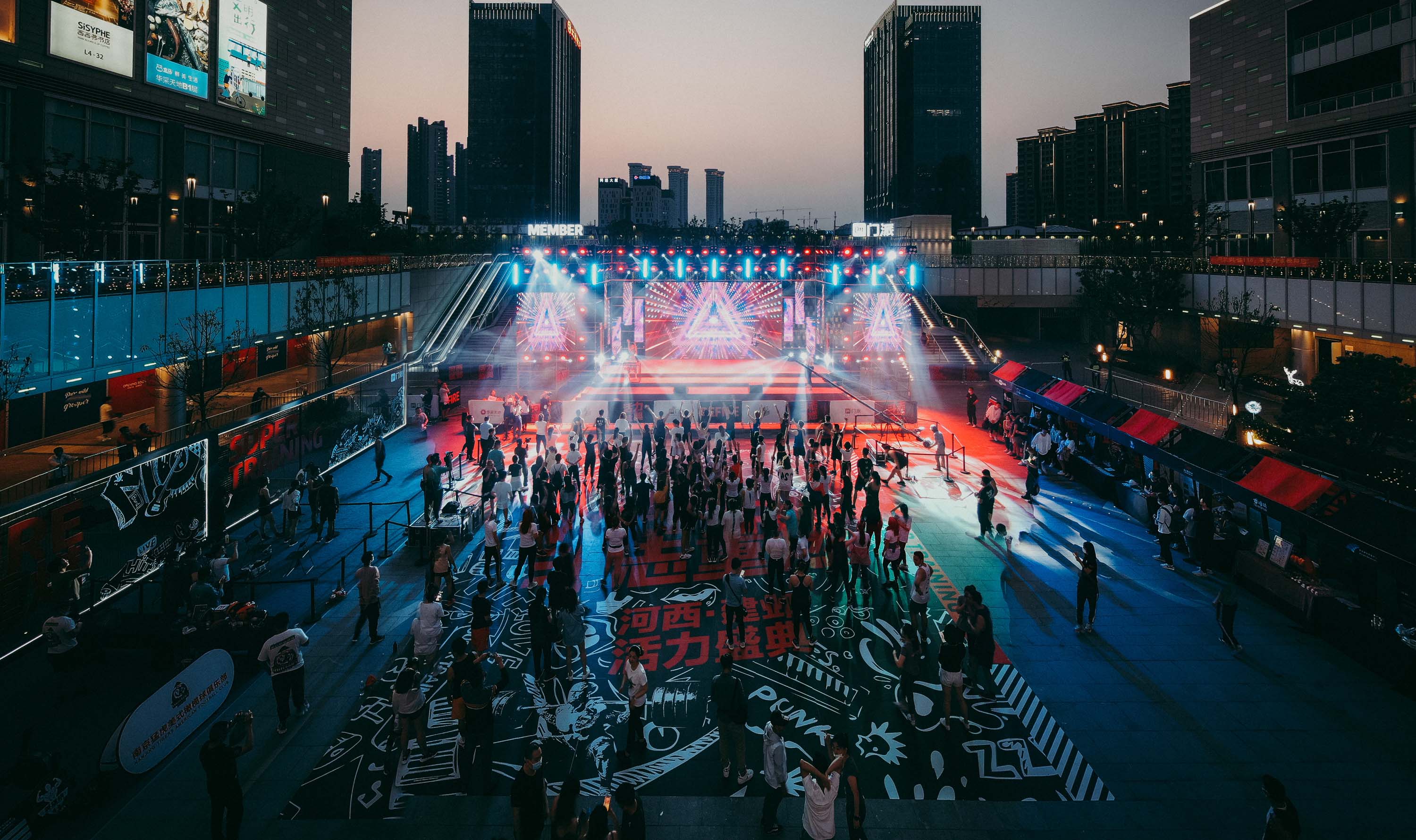 "Obviously, there hadn't been any big activities or events anywhere in the world for a while due to COVID, so it was incredibly exciting to bring everyone together again for a powerful live fitness experience – the atmosphere was electric," says Les Mills China CEO Jane Jiang.
"We wanted to inspire gyms in China to think big with their marketing activities to get fitness back on its feet and help bring more people into the club space. Obviously, we needed to show due care for social distancing requirements, so we worked proactively with the Nanjing city government to ensure the event supported the national strategy to boost public health, both physically and mentally."
8. Cover all bases
As with indoor classes, local market rules around health and safety, insurance, music and licensing still apply outdoors, so it's vital that clubs and Instructors take the necessary steps to be fully covered and compliant.
The good news is, if your club or facility already holds a Les Mills license for a certain program, this will allow for outdoor teaching at an appropriate venue linked to the club e.g. car parks, tennis courts, roof terrace, etc… Likewise, outdoor classes need to be taught by an active, certified Instructor in that specific Les Mills program on behalf of your club.
If in doubt or in need of assistance, contact your local Les Mills representative, who will be glad to support.
LEADING YOUR CLUB BACK TO FULL FITNESS?
We've worked with leading clubs around the world to develop a suite of group fitness solutions to help future-proof clubs by expanding their reach in both the online and live fitness space.
GET FIT FOR THE FUTURE