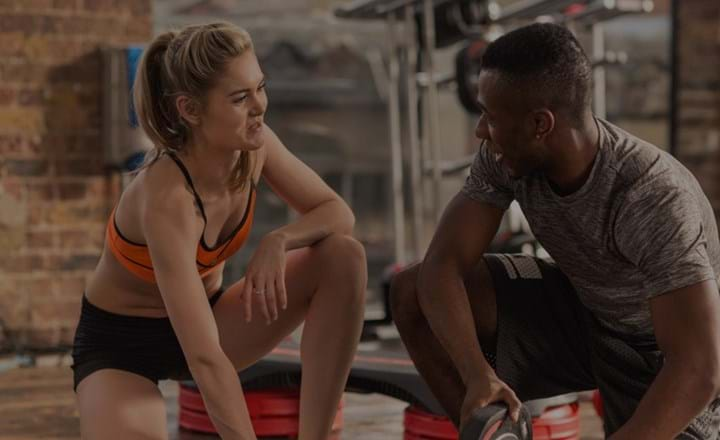 60-second summary
Look for ambitious people driven by a desire to improve the lives of others, as well as having great technical skills and the ability to inspire through great performance.
Find great prospects by asking your existing teachers, looking at class members with great movement and charisma, and networking with sports and dance groups.
Auditions can work, but you have to be prepared to turn people down, so consider the impact that rejection may have on some of your star members if they apply.
Players want to play for a team that is committed to winning the championship – make sure your club has a great studio that shows you mean business.
When it comes to group exercise, the Instructor is the single most important aspect of the member experience. This relies not only on their technical knowledge, but also their enthusiasm, their ability to perform to a crowd, to motivate, to inspire others with their passion.
This is why Les Mills Managing Director Phillip Mills talks so often about the need for "rockstar Instructors". A single great Instructor can attract and retain hundreds of members over time.
But it can be hard to find these people: where do you even begin to look for a rockstar?
We asked some of the world's best group fitness operators for their advice on how to identify top talent.
Tip #1: Know what makes a rockstar – and what doesn't
When you run LES MILLS classes, you already know your instructors will be high calibre. But the true rockstar comes from inside: what they're like as a person and how they take members on a journey. Importantly, it isn't about finding instructors who are technically good but who focus on themselves. They have to be there for the members: they have to be driven by giving every single member the best feeling ever while they're in the class. It's about kindness, charisma, positive energy.
The group exercise culture can be a little dramatic, egotistical, diva-like – traits not consistent with our goal of changing lives through a positive fitness experience. I can appreciate confidence, but arrogance has no place on our team. The key is having a heart for people, simple as that. Find the people who love to teach group exercise, but who love changing lives even more. You can always coach someone to be a better instructor when they're truly focused on the member experience. You can't coach those who can't see past themselves.
Our thoughts: Absolutely do look for people who are driven by a desire to improve the lives of others – they form great relationships with members and make wonderful members of your team. But there are other types who also attract big classes, and make people fall in love with exercise in different ways. It could be a highly qualified trainer who brings the technical expertise that many members value, or someone with a performing arts background who has X Factor on the stage. We have found that a teacher can achieve rockstar status through mastery of just one or two of the Five Key Elements of Successful Group X Instruction: choreography, physical execution, coaching, performance and communication.
Tip #2: Tap the right sources
Les Mills sends out recruitment emails on our behalf – a 'shout out' to local Les Mills instructors who can then get in touch with the club. We'll then hold an audition afternoon.
I quite often ask members who've been coming to the club for a while, who I can see have the right qualities if they might be interested in becoming a Les Mills instructor. We then pay for their Les Mills training.
Word of mouth and recommendations works for us.
I don't really seek out instructors; I wait
patiently for those who want to be part of our company. My #1 rule is that I will never compromise the program or team by hiring just to fill a [timetable slot] – I've found my teammates will come together to cover classes until I find the right person to join us permanently.
Our thoughts: Like any great coach, if you want to build a championship team you have to actively recruit A players. Start by asking your existing teachers who they know and looking at the members in your class to find one with great movement and charisma, but also network with groups like local PE and dance schools.
Tip #3: Run auditions
We want to recruit the complete instructor, so we invite all eligible instructors to an audition. We look not only for great technique, presence and an outward coaching style but also for enthusiasm and passion for the program they teach. We ask questions such as 'How has teaching BODYPUMP affected your life?' and 'Why would you recommend LES MILLS programs to our members?' From these insightful questions, we're able to piece together a more personal profile of the instructor.
When you audition for us, you'll be treated the same whatever your background or level of experience. First of all, I invite potential instructors to the club as my guest so they can get a feel for our culture, the level at which we teach, the expectations of our members. Once a potential instructor has been to a couple of classes and I feel they're ready to audition, I'll invite them to either team teach or teach an entire live class on their own. You need to see how they handle real-life class situations.
For a long time, though, our audition process involved applicants teaching a class of eight to 10 other candidates. I wanted to see how they engaged with each other – were they encouraging or did they see themselves as better than everyone else? It gave me a good insight into how they would treat each other as teammates; creating a strong team is so important for the success of your group exercise offering. However, all too often those in charge of recruitment compromise here, overlooking these important teamworking qualities because they're impressed with a résumé."
Our thoughts: Auditions can work, but you have to be prepared to turn people down, or you risk embedding mediocrity into your team. This runs the risk of offending members. We prefer an individual "scouting/headhunting" approach. On the other hand, if someone has enough desire they will often succeed despite having less talent to begin with. So be gentle. If someone has a strong desire but lacks experience, suggest they do some type of movement training (dance, martial arts, expert personal training) or simply attend a few hundred classes and work on their technique in the mirrors at home.
Tip #4: 'Sell' your club
We ensure our studio spaces are exceptional, built not only to wow the members but also to provide an amazing environment in which our instructors can teach. From our 13-foot immersive screen in our cycle studio to our 'GRITTY' L.E.D HIIT studio and our 70-capacity, staged, carpeted, 8.1 surround sound LES MILLS studio, each space has its own presence and delivers a unique experience. It makes instructors want to teach in our club.
Our thoughts: Hear, hear. Players want to play for a team that is committed to winning the championship.
Tip #5: Be willing to pay a premium
At our club in Milton Keynes, we pay at £30 per hour, where the average in the area is £22. We believe the improved member retention and word of mouth membership growth make the investment worthwhile.
We want instructors to be AIM 1 or even AIM 2 qualified, and we're willing to incentivize this: hourly rates are commensurate with your level of qualification because we know more highly qualified instructors provide a better member experience.
We pay our instructors well and believe they deserve every Euro. They are our face to the world. Without them we are nothing!
Our thoughts: Great comments from some of the world's best. The sad fact is that most GX instructors receive little more these days than they did in the '80s. It is crazy that we pay GX teachers a third to a half of what we do personal trainers and a testament to the altruism of most teachers that they accept this. But the industry is changing and the boutiques are paying much more, which we will need to do if we want to compete in the future. We need to recognize great performers and better reward them.
Tip #6: Look for those with ambition
We've created a 'good to great' campaign, whereby all our LES MILLS Instructors – internal and freelance – have to be AIM-qualified starting in 2018. We want to work with people who are inspired by this ambition to be the best we can be. We'll be creating a team of Village LES MILLS master trainers too, and we want instructors to aspire to make it into that elite team. But why stop there? Why not aim to become a Les Mills presenter? We make it clear from the outset that we want to work with ambitious instructors, and that we'll support their ambitions. Because it's good for the business too: we've already seen that higher levels of skill are driving higher occupancy levels in our classes.
We interview all our candidates, asking questions like 'Why did you choose VillaSport?', 'What will you contribute to this team?' and 'What are you looking for in a group exercise program/fitness facility?' Most won't know how to answer these questions, because they're just looking to pick up a class. However, I'm always looking for instructors who are excited about the career progression opportunities we offer, from roles in our Member Ambassador department through to promotion into management positions across our club group."
Our thoughts: We couldn't agree more. Good luck!