Bone marrow is alive with many thousands of cells necessary for building and remodelling bone minerals. What is less well known is its role in housing the stem cells that make red blood cells and important populations of immuneprotective white blood cells. Also lurking in the marrow, however, are fat cells – which is the main reason animal bone marrow is a delicacy relished by chefs.
The exact role of this fat in bone is not well known, but researchers have found that fatty bone is more likely to be thinner and weaker. Using the latest magnetic resonance imaging (MRI), the effects of exercise on fatty bone marrow have been investigated for the first time. Researchers have demonstrated (in mice) that a short term exercise program rapidly reduced bone marrow fat. The same imaging pointed to improvements in bone mineral density (BMD).
This research suggests for the first time that exercise cuts through bone marrow fat, helping bone density.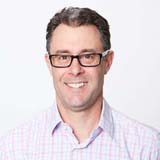 Professor David Cameron-Smith is a regular Fit Planet contributor. A transplanted Australian living in New Zealand, he obtained a PhD in nutritional biochemistry from Deakin University, and undertook postdoctoral training at the Royal Prince Alfred Hospital, Sydney. His research interests include the importance of nutrition in the maintenance of optimal health in an ageing population, and the impact of nutrition in regulating the function of muscles.