Jean-Michel Fournier is a Silicon Valley entrepreneur and Harvard Business School graduate who is leading digital fitness innovations as CEO of Les Mills Media. Check out his thoughts below on how emerging technologies are set to transform our fitness experiences in this ever-changing new world.
Digital workouts are not just a quick-fix FOR USE IN COVID-19 isolation, they're here to stay.
It's a well-known fact that 85 percent of gym members also work out at home and that the streaming of digital workouts has been growing steadily in recent years. But now, as COVID-19 has forced gym closures and restrictions, the uptake of digital workouts has exploded. Jean-Michel says there's been a 900 percent increase in sign-ups to LES MILLS™ On Demand since January. "Right now, the motivation for most people is to build and maintain essential health and fitness, so they strengthen their immune system to fight off COVID-19. The goal for us is to coach these people to stay motivated and maintain a consistent exercise routine that works during a stay-in-place lifestyle and in the post-COVID-19 world."
There's no doubt that the streaming of digital fitness was already taking off, but COVID-19 has certainly amplified things. "Fitness, in many ways, is following entertainment," says Jean-Michel. He explains how in recent years Disney, Amazon video, HBO Max, Netflix and Apple TV have all opened up access to shows and films on demand and people are now accustomed to having the entertainment they want at their fingertips. This is having a significant impact on fitness. Now, more and more are adopting digital exercise, and we're seeing huge leaps forward in development and innovation.
AI and holographic technology are just around the corner.
We're just at the beginning," says Jean-Michel. "On demand technologies are soon going to amplify their impact. The technology may migrate to an augmented reality capability and a holographic environment sooner than we think."
"Without doubt, AI will be transformative for fitness and wellness, particularly when integrated with wearable and ingestibles." This might mean wearing motion trackers or biosensing headphones to assess exercise performance and provide corrective feedback. Or using smart pills, which are tiny ingestible electronic devices that enter your bloodstream and beam back health information from within your body. Jean-Michel says this type of technology will be key to making data-driven decisions around how to work out, when and what to eat and how long to sleep. He adds that we should also expect experiential work outs, personalization, and smart lifestyle recommendations, "AI will soon have a huge role to play in supporting every wellness need."
In the longer-term, Jean-Michel predicts fitness will utilize technological advances in augmented reality and holographic telepresence. He explains, "A recent demonstration from Microsoft of its HoloLens 2 showed how the device can now spawn high-definition holograms of people that can translate speech instantly into any language, anywhere in the world. This unlocks the possibility that soon, our favorite instructors could become quite literally on-demand, able to appear wherever we wear our augmented reality headsets, in whatever language we require."
Instructors won't be replaced by robots.
Jean-Michel is adamant there will always be a strong aspect of fitness centered on human connection and in-person instruction. "Prior to COVID-19, it was already very clear to us that instructors are the rockstars of our industry," he adds. Jean-Michel says you only have to look at the social media following that certain instructors have to gauge their popularity. This crisis has made it clear that people really value – and miss – their favorite instructors. Which is understandable as there are some amazing instructors out there. According to Jean-Michel, in recent years the advent of virtual and on-demand services has driven up standards among live instructors, as they have raised their game in the face of fresh competition. "I strongly believe in the power of innovation – a rising tide lifts all boats," says Jean-Michel.
Technology will take your favorite group fitness classes to the next level.
Jean-Michel expects that in the near-term, traditional fitness classes will become a fusion of amazing, energetic instructors, plus tactile audio technology and augmented video to create immersive environments. He explains "Layering tactile music that users can feel, with an immersive visual experience through the use of augmented high-resolution video projected on huge screens is the first big step toward creating a more experiential live class experience."
He also hints at the idea of immersive experiences pioneered by group cycling class THE TRIP™ expanding into other class formats. "Imagine a dance workout set against the backdrop of a cheering crowd in a sold-out stadium, or a yoga class surrounded by screens showing an alpine vista in Spring. Expect to see these very soon!" he says.
Keen to dive into the future right now? Try the latest THE TRIP workout to land On Demand right now.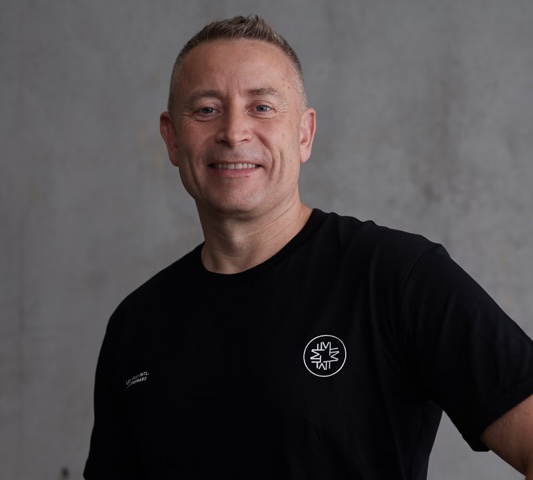 Jean-Michel Fournier, CEO of Les Mills Media.