IMPROVE CLASS ATTENDANCE
Club Goal

GROWTH THROUGH SMART START AND INDUCTION
PROBLEM
After analyzing data from across their 30 clubs and 87,000 members, SC Fitness identified members who attend group fitness retain their membership three times longer.
STRATEGY
AN INDUCTION PROGRAM PRESCRIBING GROUP FITNESS FOR 6 WEEKS
SC Fitness reviewed five years of data, detailing every reason why a customer left their club. They used 65,000 exit interviews, heat-mapped usage patterns and considered attendance patterns from 87,000 members.
Designed a new induction program that had touchpoints prescribing group fitness and regular check-ins
Implemented Les Mills' Smart Start program and created a group fitness loyalty passport for members
Set KPIs for all instructors for group fitness usage as a percentage of club visits
Invested €200k per year in instructor training
RESULTS
44%
of total club visits are now group fitness
Group fitness attendance increased 3% year-on-year, resulting in 3% more members and a 117% increase in total lifetime membership value
Group fitness attendance increased to 44% of total club visits
Group fitness Net Promoter Score (NPS) increased to 17% above average club NPS
Download the complete set of growth strategies
Interested in the other four proven strategies for group fitness attendance growth? Download our Guaranteed Growth guide and you'll get the complete set. This guide will give you a blueprint to tackle increasing class attendance from every angle. Each of the strategies has driven real results for our club partners around the world.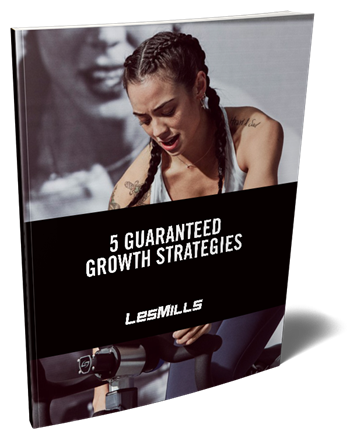 Het formulier bevat fouten
{{validation.errorMessage}}