Recent statistics also show that 60% of Americans don't take part in regular physical activity and 25% are not physically active at all. 
On a positive note, research tells us that statistics like these could be significantly improved if more people simply started exercising on a regular basis.
Physical Activity Guidelines
The American College of Sport and the United States Department of Health and Human Services has developed what's now known as the 'Physical Activity Guidelines'.  These recommend that adults should be engaging in:
Cardiovascular exercise of moderate intensity for 30-60 minutes, 5 times per week or
Vigorous intensity for 20-60 minutes at least 3 days per week
or
A combination of these moderate/ vigorous activities 3-5 days per week
 The guidelines also recommend that people introduce some strength and flexibility training to their workouts. These include:
Full body muscular strength routines twice a week
Flexibility exercises 1-2 days per week
A Nielsen survey1 of over 3000 participants of group fitness classes around the world highlighted that more than 85% of class members visit their club twice a week, specifically to engage in group classes. 43% of members visit their clubs 4 times per week for this purpose. 
As a result of this carefully-managed group fitness programme, all participants had become regular exercisers.
Les Mills believe that group fitness classes help enable your members to fall in love with fitness and want to exercise regularly.  The result of this change in attitude towards exercise - from feeling they have to exercise to wanting to exercise -  means they are much less likely to leave your gym if they are participating in these types of activities.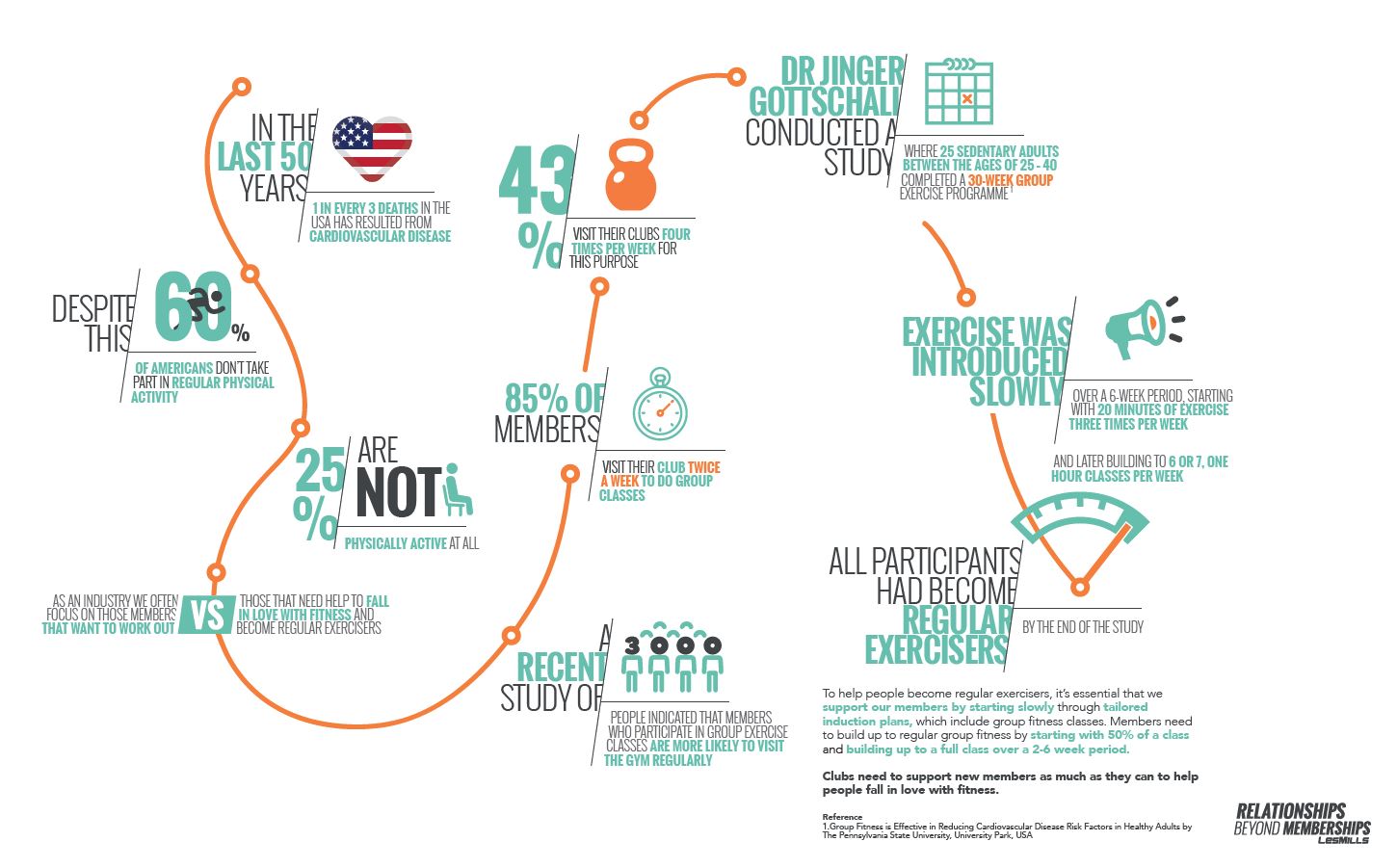 Download the infographic - PDF 
The Powerful Effect of Group Exercise
To find out what impact group fitness has on exercisers, a study by Dr Jinger Gottschall of Penn State University involved developing a group fitness regime which mimicked the Physical Activity Guidelines for Fitness.  At the heart of the research was a desire to draw a conclusion on the effectiveness of group exercise as a programming tool to help on-board members.                                               
25 sedentary (but otherwise healthy) adults (15 women and 10 men) between the ages of 25-40 completed a 30-week group exercise programme. This involved participants undertaking:
A 6-week familiarisation period (where fitness classes were introduced gradually and time spent exercising increased progressively to reduce injury risks as well as to optimise adhesion to the programme)
A 12-week block of 6 group fitness classes every week (3 cardiovascular, 2 strength, and 1 flexibility)
A 12-week block of 7 group fitness classes per week (4 cardiovascular, 2 strength, and 1 flexibility)
The participants were assessed both prior to, mid-way through, and after the 30-week exercise programme. At the end of the programme, each study participant showed significant reductions in areas such as body mass, fat mass, and cholesterol.  A gradual introduction to group exercise classes also enabled the participants' confidence and capability to increase week on week. 
As a result of this carefully-managed group fitness programme, all participants had become regular exercisers.
How you can help your members fall in love with fitness?
If gaining and /or maintaining member numbers is important to you, group fitness is an ideal way to engage with and retain your members. As a global industry we often focus on those members that want to work out versus those that need some help to fall in love with fitness and become regular exercisers.
Provide your details below to download our Les Mills Get Fit Together Toolkit.