BODYATTACK™ 107
Wow, are you guys in for a big treat this round! BODYATTACK 107 has some unique moves, exciting innovations, and the same fun, energizing, and challenging workout you expect. We start with the Warmup where you should have fun, enjoy the uplifting feeling but most of all, relax and smile. As you move into Mixed Impact, dial up the fun and the effort. Feel the contrast between the light and silly Runs and the athletic and strong Pulse Squats.
For the Aerobic Track, be ready to put on a show and let the music move you! In Plyometric, we have our first challenge. To achieve success, the focus is going to be on the Lunge sequences with and without arms. This will be quite the challenging track.
Athletic Strength has one serious burn for your legs as you work on strength, balance, and endurance. Let your team recover with an awesome Running track that emphasizes hip mobility and activation. This will take you to Agility where you get to focus on one move per block for max results. We teach the Interval track on the floor this release to maximise your connection with your members. As you step into the final peak, Power, embrace this nostalgic track and let your members get pumped up! The working portions of the track as well as the Mixed Training options will allow you to cater to everyone.
BODYBALANCE™/BODYFLOW® 87
This release starts with a simple Tai Chi Warmup with the most soothing sound of "Cheer Up My Brother" where we have an opportunity to explore the moves through range and breath. We have 2 Sun Salutation tracks: "Come Home" and "Go With The Flow", bringing us into dynamic Vinyasa flow. The first Sun Salutation is focusing on getting the whole body warm and open while the second one is about bringing more heat into the body through a series of upper body strength sequences. The Standing Strength track is a class favorite with the most exquisite feeling from Half-Moon Pose transitioning to Aeroplane – divine!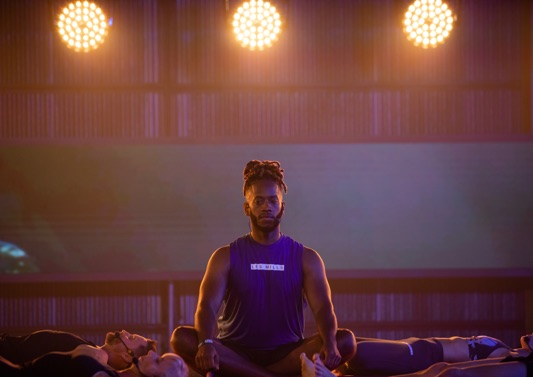 We have two short track 5s with different variations to explore hips/adductor stretch with side bends to get the body ready for the core tracks… plus we have a bonus track 5 so you can change up the musical feel of the class. The choice is yours.
"Don't Leave" Abdominals track is upbeat and challenging as we work the core in different positions that are not only good for strengthening the core but also the whole body. Core Back involves a series of moves that work on spinal and hips stability that will contribute to building strength around our postural muscles. Jackie's favorite is Twists and you can certainly linger in the sounds of "Better" – quite simply what feels better than this?
You will also find that this release provides coaching through pregnancy options for all relevant tracks and a bonus Yoga Warmup.
BODYCOMBAT™ 82
Release 82 has some smart striking combinations that are designed to enhance the efficiency of power and speed.
The combinations in this workout are based on creating space. Short pockets of 2/3 hit combinations allow our participants to create both power and intensity.
BODYCOMBAT 82 has multiple tracks with rhythm changes, which provides both a challenge and authenticity. What will be your standout moment, the dynamic rhythm combination in the track 3, the kicks in the track 4, the fun playful striking in the 6? Or even the split jack combo from the MMA circuit track in track 9? Whatever stands out, release 82 is sure to make you feel invincible.
BODYJAM™ 91
Are you ready for truly inspired innovation?! I TOOK A CLEAN & PRESS AND MADE IT COOL!!! BODYJAM 91 is here and I'm guessing you can already feel the STYLES, SASS, HIPS, FEELS. Track 1 is a brand-new banger remixing those beautiful sad sounds, RIP. This song is gorgeous. Track 2 will have your chest very, very warm. Total upper body isolation before Track 3 takes you straight to Rio for A LATIN TRACK! DID YOU HEAR ME – IT'S A LATIN TRACKKK!! Then mucho Hip Hop-oh, and we go haaaard… I mean listen to that first track Back (baby got a back on her back – I mean what does that even mean?), before we learn actual magic tricks. Then the first of Slay Queen's two amazing songs makes this release stunning – I love Soulmate, and Tempo goes haaaard. And all the drums in the middle@#$! Bring the heart rate down with some authentic Dancehall autotune – you're gonna love the Reverse Hip Wave. Then we remix it up for possibly the bounciest song of all time?? No, not a ?? It should be a !!! STYLES. A huge remix of the song Clarity, which you've heard a million times at your favorite fast-fashion stores, but you ain't never heard SASS like this. Then get your grind on to the nasty nasty sound of Flip The Beat – thank you HIPS. Followed by over 6 minutes of stunning vocal top lines, flyingsky synths and a thunderous drop FEELS to take us home with a K-Pop super group remixed to within an inch of its life. THEN YOU GET TO PLAY LITTLE IMAGINARY BABY DRUMS LIKE A DINOSAUR. Wait… what? BODYJAM 91 has everything you need for a successful life.
BODYPUMP™ 112
BODYPUMP 112 is an inspirational release that both powerful and uplifting with a deliberate training focus so grab your barbell and let's train together!
The Warmup, "So Close", sets the scene to be smooth and engaging – simple compound single movements gets the body warm fast. "Starry Eyes" is the paradigm shift for this release: a Squat track with a new combination that redefines BODYPUMP training. A single squat and then a squat calf raise not only engages more leg muscles but adds a cardiovascular component not yet experienced in BODYPUMP; we get stronger and fitter all at once! Retro is cool, and "Killer Queen" is pure isolation for the chest. Muscular tension is generated by working from the 'bottom up'.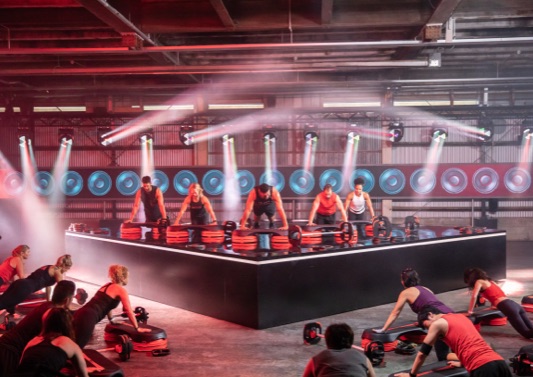 "UCLA", our powerful Back track, uses a new combination: single Deadlift and High Pull which builds into the Clean and Press. This simple innovation will improve your efficiency in the Clean and press. Plank Jumps in "Hustle" add a functional component to triceps training, "Dies Irae" for the biceps is simple, uplifting an amazing piece of music and "Do it again" will lock your shoulders in for a burn that guarantees muscle tone and shape.
BODYSTEP™ 118
We warm the body and wake up our stepping muscles to the songs "Good Morning" and "Secrets", then it's straight on to our first Cardio Peak, and my personal favorite track, "Bad Guy". The highs and lows in this track are a sensory and physical overload!
We work the full body to a challenging burpee and pushup combo in the Mixed Strength track, and also have a bit of fun with the Pharaoh Squat combo, that adds some ancient Egyptian themed flava to the workout.
Peak 2 has us training laterally and behind the step to the Kiwi song "Renegade Fighter", another personal favorite of mine.
You requested some K-Pop music, and we have 2 amazing songs. "Kill This Love" for Conditioning 1, where we focus on the posterior chain, and 'DDU-DU-DDU-DU' in the Athletic Circuit.
The Party Step has us striking some fun 'Bouncer' poses to "I Don't Belong In This Club", then we lift the intensity as we cross train in the Athletic Circuit.
Then we're off on a high energy and sassy adventure to find our final Cardio Peak to "Maneater".
We find length in the body, and work the triceps, lower body and the core in Conditioning 2 to "Giant", and then finally, we stretch out and cool down to another of my personal favorite songs, "Better".
CXWORX™ 37
Release 37 will develop the muscles of your core through innovative exercises and fantastic music. We begin the workout with simple uplifting combinations. Track 2 showcases a unique variation of the traditional plank where we connect the shoulders to the abs with a lateral weight shift. The standout moment is the integrated feel of the Single Arm Row and Wood Chop Combo, is a brilliant way to train the muscles of the back, arms and abdominals whilst focusing primarily on the obliques.
In every release there should always be one track that offers a massive challenge, and in CXWORX 37 it's the new Deadlift pattern in Track 4, which uses the LES MILLS SMARTBAND. Get ready for a whole new level of strong!
LES MILLS BARRE™ 09
Release 09 is here to guarantee your participants achieve the beautiful burn! In track 2 The Greatest Showman meets LES MILLS BARRE – and we've put on a show for you in this track. In track 3 we experience athleticism through extension in our Arabesques sequences, and then in track 4 participants can choose whether to experience an explosive cardio peak or a powerful strengthening peak. In track 5 we experience and understand how the breath can assist stability and control to generate a beautiful burn.
LES MILLS GRIT™ 31
Here we go, another EPIC round of releases with fresh concepts and incredible results to get our heart rate pumping to the max.
LES MILLS GRIT Strength 31 is packed with innovation and challenge, and for the first time we are introducing Advanced Options. These options provide you and your members the freedom to take on the extra challenge of working up a level without the pressure of feeling like you have to. Remember to teach to everyone in your class, giving options where necessary and ensuring your members push their own fitness levels – whatever that may be. Always be super encouraging and remember to set up at the start what's expected in a GRIT workout.
LES MILLS SPRINT™ 18
We FEEL IT ALL in this high volume high-intensity workout. We have an amazing playlist to keep us energized and use a simple structure that provides a randomized feel.
An uplifting Accelerated Warmup sets us up for two identical Mixed Conditioning tracks that train Power, Strength, and Sprints. These identical tracks lift our intensity with long work intervals that are split with short rest phases. This allows us to get through a massive amount of work in a limited amount of time and provides a HIIT workout that builds our fitness engine and enhances our athletic ability.
The first time through our body is shocked as our body's ability to adapt is tested. Then the second time through we know what to expect so our focus shifts to enhancing our workout to ensure we don't get comfortable in the Training Zone. We finish it off with an 8 round Tabata – you're welcome!
LES MILLS TONE™ 08
LES MILLS TONE 8! Another phenomenal 3 in 1 work out! Cardio, Strength and Core! So many choices and options have been included to cater to the differing demographics in your clubs. 16 tracks that are sure to please, accommodate and challenge all fitness levels. The flexibility to mix and match tracks enables you to create a unique class for your participants. This is what LES MILLS TONE is all about: variety and options to incredibly inspiring music! The release is very well balanced with a focus on the posterior chain, integrated strength, moving in different directions and planes, all leading to longevity and athleticism, setting you up for optimal performance and functional training for life.
TONE 8 has a superb athletic feel with smooth moves and exercises mixed throughout. The new moves and innovations will keep your class members challenged, stimulated and inspired to get fitter and stronger. In the cardio tracks you will find amped up bursts of intensity with rest periods to achieve and develop a stronger cardiovascular system. The strength and core tracks deliver functional strength at its best.
Highlights include: Track 3's Punch Combo to the tunes of "Like That", floor excitement with Standing /Floor Mountain Climber and "SOS" for the Halo and Woodchop. The music is uplifting, riveting, driving, smooth, sassy, fun, hip and chilled, enjoy!
RPM™ 85
RPM 85 is a fun yet challenging workout with amazing music to match. There is a subtle shift back to steady state endurance training, especially in Tracks 3, 6 and 7 where we build our aerobic fitness. Musically, there is a real contrasting feeling within the class, from uplifting and fun in Tracks 1, 2 and 4 to phases of steadiness and control in Tracks 3, 5, 6 and 7. When we teach this release, we want Tracks 1 and 2 to be connective, uplifting and to have fun in these sing a long tracks. In Track 3, we dial down our excitement and energy into strength endurance with a more technical approach, allowing the coolness of the song to be felt. In Track 4, we pop out, reconnect and have fun again using lots of connection with both the class and the music; your heart will be ticking like a "Timebomb". In Track 5, we are working steadily through the 4 identical intervals. In Track 6, we are teaching with a balance of coaching of speed endurance and class connection. In Track 7, we dial back the connection and increase the coaching of feel and technique, similar to Track 3!
SH'BAM™ 38
SH'BAM™ 38 is brought to you by the SH'BAM fam of Caley, Alex and myself, and introduces the lovely ladies Mooky and Grace! There are a few chart hits in this class that you can really sing along to, some first time sounds that are a wee bit sultry or moody ha ha and a great recognizable supped up banger to bring it home. It's a journey for sure! There is something for everyone in this class.
THE TRIP™ 19
We travel to three worlds…
A simple story not needing much explanation, so we can focus on connecting to our riders and coaching the workout, which leaves plenty of space for the Music & Visuals.
We ride a series of tunnels to each world, and these tunnels progressively build in speed. Each are tastefully designed using elements from the world we are about to encounter.
Our Water World uses wood mixed with movement and illumination. The lack of landscape allows for some unobstructed views, and when we take our eyes off the road we see a new perspective.
Next up is Colour World and the fluid, slick nature of the surfaces, mixed with the moodier dark nature of the environment, contrast nicely from the first world. The three tracks in this world are completely different in feel, and have their own challenges – especially the Jump track!
Finally it's Crystal World with a mix of organic and manufactured textures to create a multi-faceted space. This is our most intricately designed and detailed world with plenty to discover. Don't expect to see everything at once.
THE TRIP workout continues to evolve with some notable inclusions this round – longer blocks up to 4 minutes which cater to all fitness levels – a wide range of speeds including a slow climb which allows us to stretch and recover – some intricate choreography which provides wonderful musical interpretation.