USING THE TEAM'S AMAZING ENERGY FOR CHARITY
You may have heard about the BODYPUMP100 charity launch events taking place across the country this January 14th. Every BODYPUMP™ Instructor who raises £100 for Les Mills Fund for Children on the launch of BODYPUMP100 will be entered into a prize draw to win a trip to New Zealand to see the filming of an upcoming release. So, lets talk about why else you should get involved this January, or in another charity event. We caught up with Hannah Taylor to find out why she feels so passionately about harnessing her awesome Instructor energy to create inspiring charity events.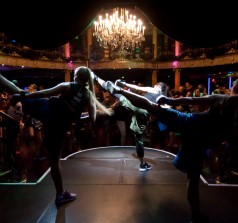 Last August, Hannah hosted an entire day of back-to-back Les Mills workouts at Café de Paris. She pulled out all of the stops with 200 attendees raising almost £6000 for the Les Mills Fund for Children. Despite being rushed off her feet, Hannah presented every single workout!
"I had a presenter team of 10 instructors. They travelled from all over the country, even France, to come and teach for us. We had about 200 participants turn up. Without them this whole thing just isn't possible.
The thing I love most on the day is the vibe and the energy. You walk on that stage and you see the participants giving so much because they want to help these children and the charity. There is nothing quite like that feeling.
There was a moment in the second BODY JAM class that I stood there on stage and just said to myself - this is incredible. I had goosebumps."
Hannah runs a charity event every year, raising money for charities such as Les Mills Fund for Children, British Heart Foundation, Parkinson's UK, and Cancer Research UK. Hannah says: "I feel so lucky to be in a job that gives me the freedom to be able to help so many people. I just want to make the most of that."
With BODYPUMP100 charity launch events taking place all over the UK this January 14th there's lots of opportunity to get involved, whether you're a BODYPUMP instructor or class participant. Find out how to enter here.
Plus, we've recently partnered with Cancer Research UK Race for Life and SH'BAM™. We aim to bring a great deal of the fun, entertainment and energy that exists within our Instructor Team and club partners to support their fantastic work and raise even more funds into 2017 and beyond. A charity fundraising toolkit will be shared with Instructors looking to get involved. Read more about the partnership here.