Meatless burger patties were not the first product Seth Goldman produced to satisfy his own demand. In the late 90s he came up with Honest Tea because, as a keen runner, he was looking for an alternative to sugary drinks. "I always thought there was something missing in the beverage aisle," he says.
Leaving his job in the investment world he launched Honest Tea from his home "with five thermoses and an empty bottle".
He's taken the same approach with Beyond Burgers. Having been vegetarian for 14 years, he says what passed for "vegetarian burgers" could be pretty dismal. "I joke that if you were trying to come up with a strategy to discourage people from being vegan or vegetarian, the vegie burger would be a pretty good tool."



Goldman's company Beyond Meat took a scientific approach to recreating the texture of meat, which makes up so much of its taste, he says. They took an MRI scan of a hamburger and looked at its interwoven protein and fat structure.
"Most of the veggie burgers out there basically say, 'Let's put a bunch of grains together and find a way to bind them, and not really focus on what happens when they get heated – which is usually that they dry out."
In Beyond Burgers, fats and protein are bound together through an extrusion process to create a patty that has no cholesterol, half the saturated fat of a hamburger, and is soy-free.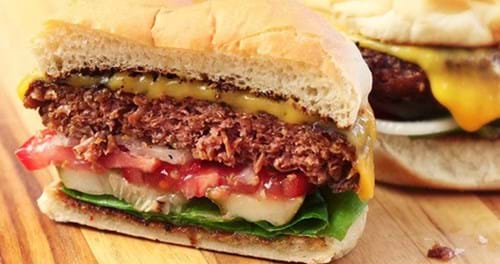 The burger's main ingredient is Canadian yellow pea. It also contains canola oil, beetroot juice for color, bamboo fiber and potato starch for binding, and some flavoring.
It was a real coup when the meat buyer from retail giant Whole Foods agreed to put the burgers in the meat aisle – a first for a plant-based product. "If you're in the freezer section, which is where the veggie burgers are, you're only reaching five percent of the audience," says Goldman. "When you're in the meat section you're reaching the other 95 percent of people who buy their protein there."
The number of vegetarians in the US hasn't moved from five percent for decades, he says. "If we can get it into people's diets so they have one more plant-based meal every week … it would effectively be the same as doubling the number of vegans in the country."
This content is published under licence and in partnership with Radio New Zealand, one of the world's foremost public broadcasters. To learn more go to radionz.co.nz
If you want more health and fitness inspiration simply sign up to Fit Planet and get the freshest insights and advice straight to your inbox.