LES MILLS LIVE USA
Connect, work out and share your energy at the ultimate fitness event.


Buy your tickets
June 28-29, 2019
In partnership with IDEA World Convention at Anaheim, California
WHAT IS LES MILLS LIVE?
LES MILLS LIVE is a global group fitness experience like no other!
Join thousands of fellow fitness fans, trainers and instructors in an incredible
all-day fitness festival that'll leave you feeling breathless and inspired.
With workouts led by rock star presenters and instructors from around
the world paired with cutting-edge music and a concert-quality sound system,
you'll be immersed in the best fitness party on the planet.
Bring your friends, connect with new ones and take your favorite workout to
the next level at the ultimate fitness experience of the year!

"This was my first LES MILLS LIVE experience and it was fantastic! The programs, the classes, the ENERGY!!!! I couldn't get enough and I will DEFINITELY be making these events a part of my summers for years to come!" – Sonya H, Iowa
FEATURING YOUR FAVORITE PRESENTERS & PROGRAMS

"It was so much more than just attending my favorite Les Mills classes. I got to meet people from around the country and around the world, who share a common interest and love."– Michael F, Connecticut
Essentials
What to expect: Expect to have fun and to sweat! Our workouts are designed for all ages, abilities and fitness levels. Whether you're coming with a group of friends or attending solo, you'll be surrounded by an entire community of like-minded fitness enthusiasts. If you're new to Les Mills, find a class at a gym near you, or try one of our LES MILLS On Demand workouts and check out the recommended exercise schedules to get an idea of what the workouts are like so you can build your own schedule for the day!
Staying Here
IDEA World has secured room blocks at the nearby Marriott and Hilton hotels in Anaheim. Special room rates are based on availability and are valid until June 4, 2019. For more details or to book your room, click here.
Getting Here
LES MILLS LIVE will be held in the Anaheim Convention Center (800 W Katella Ave) and the neighboring Hilton Anaheim (777 W Convention Way).
Flying in? There are 4 area airport options to choose from:
John Wayne Airport – Orange County (SNA) – 14.1mi
Long Beach Airport (LGB) – 18.2mi
Los Angeles International Airport (LAX) – 35mi
Ontario International Airport (ONT) – 36mi
Venue Map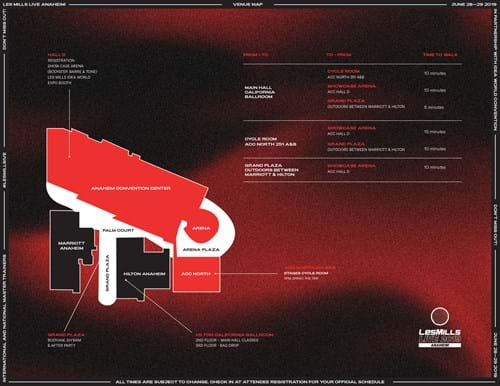 TICKET DETAILS AND OFFERS
Early Bird 5-Class Pass: $219
Available from February 20*
_
Regular 5-Class Pass: $229
Available from May 17*
_
3-Class Pass: $139
Available from April*
_
1-Class Pass: $49
Available from May*
_
After Party: $25
After party proceeds will be donated to UNICEF's Workout for Water fundraising
campaign, providing clean, safe and sustainable water for vulnerable children.
*Subject to availability
LES MILLS LIVE 2018 - USA
LES MILLS LIVE 2018 - SHANGHAI

"What an amazing experience. Every instructor and every class was top notch."– Kristen L, Louisiana
LES MILLS LIVE USA
June 28-29, 2019
In partnership with IDEA World Convention
Anaheim, California
Sign up now
Sign up to stay in the loop with the latest on
LES MILLS LIVE