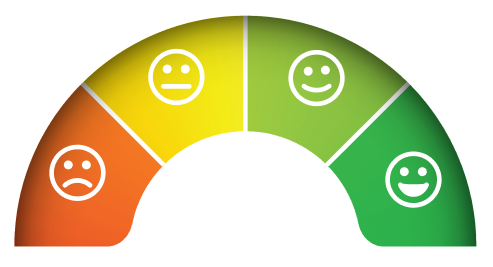 ---
Average visits per member per week
Poor
Average
Good
Excellent
Average members per #longmetric
---
Immediate Opportunities
Your averages are below the standard – so there's so much opportunity! You could improve results by optimizing your group fitness timetable and prescribing it to your new members.
Research has found that group fitness attendees visit twice as many times per week as those who train only on the gym floor. Floor space dedicated to group fitness also contributes 73% higher membership value per sqm than the cardio or weights floor, as more members are using it more often. Enlist the advice of our experts to help tweak your timetable to set your averages soaring.
Your higher than average visits are masking a lot of wasted space that isn't giving you a return. Imagine what you could achieve if you optimized it! Research indicates that in the typical gym, the group fitness areas deliver $3,300 per sqm – a significantly higher contribution than cardio ($1,900) and weights floor ($1,800).
We recommend a detailed analysis of your floor space utilization and effectiveness with one of our team. This will help you unlock several ways you can optimize with minimal investment.
The good news: you've done an excellent job of achieving total membership numbers which optimize your space and ensure your floor space delivers good ROI.
The bad news: your average visits per week indicate a lower than average active membership. This is a lead indicator of lower than average retention – which is costing you money!
For your members to love your club and stay loyal they need to see the value in it and use their membership regularly. Group fitness is one of the easiest strategies for making this happen, as the average group fitness participant visits their club four times per week. There are a few group fitness genres that outperform others, so contact our team to find out the right mix for your members.
Congratulations, your numbers indicate that you're already running a successful group fitness program! But don't rest on your laurels, it takes constant vigilance to stay ahead of the competition.
Advanced Training for instructors can transform high achievers into world beaters and take your group fitness from good to great. After implementing Advanced Training, one chain saw their best performing club lift (and maintain) average class occupancy from a very respectable 78% to a phenomenal 96% in just months!
---
BUSINESS GOALS
GROUP FITNESS GOALS
CHALLENGES
EXISTING BUSINESS STRATEGY
RETENTION GOAL
CURRENT MEMBERSHIP LIFESPAN (IN MONTHS)