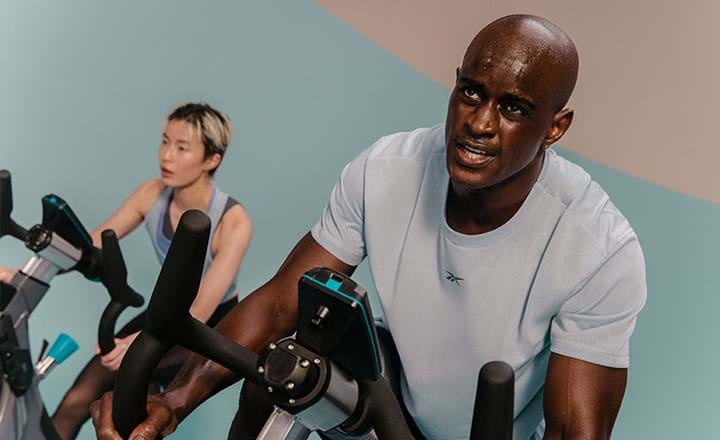 After a decade of growth driven by the boutique studio boom, the past few years have been tricky for indoor cycling.
The close proximity of bikes in a cycle studio makes it the most profitable area of the club per square foot. But this strength became a weakness when COVID struck and exercisers suddenly couldn't (or wouldn't) work out close to each other any more, causing many to take their cycling outside.
Meanwhile, several big brands linked to the category have hit the skids. Peloton has announced several rounds of cutbacks over the past 18 months, while boutique studio operator SoulCycle recently shuttered 19 studios and laid off 75 employees.
In a market where fitness studios and home workout providers are both stumbling, nailing your proposition is essential, but many operators still see opportunities in the cycle category. Barry's (of Bootcamp fame) is launching a new chain of indoor cycling studios, while Xponential has now grown its CycleBar boutique chain to over 260 open studios, with plans to further expand into Japan, Australia and New Zealand.
So what does the future hold for indoor cycling? Is time to reinvent the wheel or will we see the category crank it up a gear in 2023? Here are five key areas where indoor cycling can help keep your club on track for success:
1. A new member magnet
The nature of indoor cycling – static bikes in intimate surroundings – offers an exciting blank canvas for innovation, meaning the cycle studio is often the most stylish and dynamic section of the club.
Whether its nightclub-inspired lighting and design, pumping sound systems, or sexy screens, creating a show-stopping cycle studio is a great way to pull in prospects and persuade them to join.
For Gold's Gym Newburgh and Middletown in New York – two of the largest Gold's in the US – creating an Immersive cycle studio with giant screens and world-class programming has proved a masterstroke for packing the studio.
"We've embraced Immersive Fitness and the value that THE TRIP™ has brought to our facility has been enormous – our members are raving fans of that program," says owner and managing partner Don Murphy.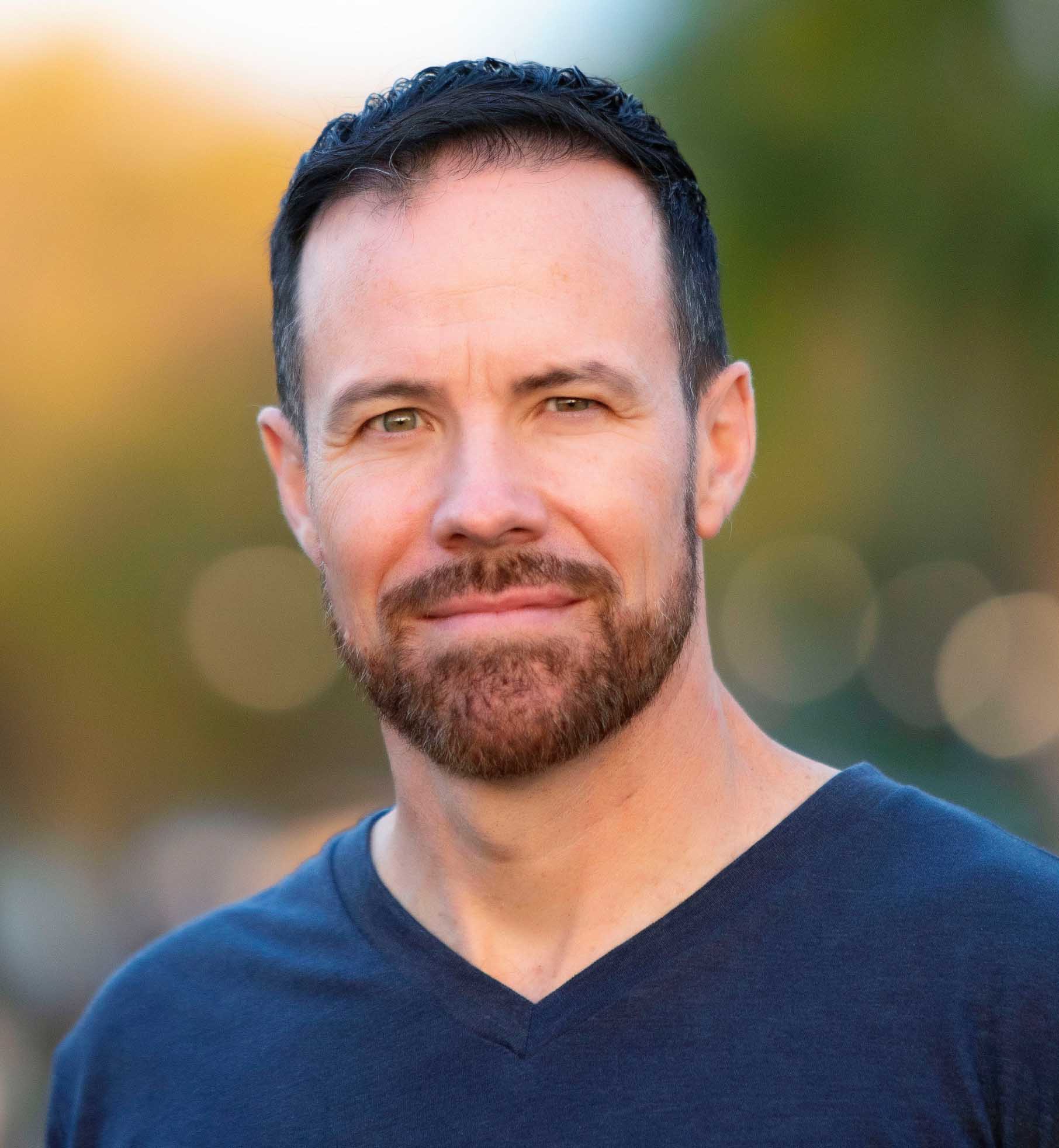 "My advice is go big or go home – you've got to be bold with the set-up and fully commit. Gold's Gym Middletown has the biggest TRIP installation in the US, it's a 56-foot screen with a three-projector system. Anyone who sees it is completely blown away – it's a real crowd-puller!"
2. Appealing to everyone
The pandemic has spawned a new generation of fitness fans who have taken tentative first steps into exercise (many through cycling) and are now scoping out gyms, with 27% of regular exercisers describing themselves as 'absolute beginners'.
Opportunities abound for operators who can appeal to this substantial group and ensure they feel welcome in their facilities. Once they're in, helping beginners find intrinsic motivation to exercise will be key to ensuring long-term adherence.
And with its pumping music, motivating Instructors and adjustable difficulty, indoor cycling has proven to be a particularly effective way to get people of all abilities hooked on exercise.
This was highlighted by an eight-week study where exercise newbies eased into fitness with three RPM™ indoor cycle classes a week – and the vast majority didn't miss a single workout.
Bryce Hastings, Les Mills Head of Research, says the 95 percent compliance rate is almost unheard of for a fitness trial: "It speaks volumes about the enjoyable nature of the workout and its positive effects."
"Riding a static bike is easy on the joints and requires little skill, so by offering a variety of different cycling programmes, clubs can accommodate people of all levels of fitness and exercise experience."
The broad appeal of cycling was evident at Pennsylvania's Newtown Athletic Club (NAC), which launched THE TRIP in October 2022. Over 100 members attended the launch day workouts – where 68% of riders were completely new to group workouts – while every TRIP class since the event has had a waiting list.
3. An Omnifitness category
The explosion of cycle-based offerings in recent years – spanning experience-led boutique classes, Video On Demand (VOD) and home workouts – has broadened indoor cycle's appeal and demonstrated the scale of the opportunity for clubs that can deliver it well. Offering top-class programming, motivating Instructors, inspirational spaces and high-quality bikes gives in-club cycle workouts the edge over all other options, but operators still need to meet modern consumers' demands for flexibility.
We've entered the age of Omnifitness, where members expect to find fitness solutions everywhere, through all channels. With 80% of members planning to continue using digital workouts post-pandemic, tech giants like Apple are betting big on digital fitness, but clubs remain uniquely placed to meet consumer demand for a 60:40 blend between live and digital workouts.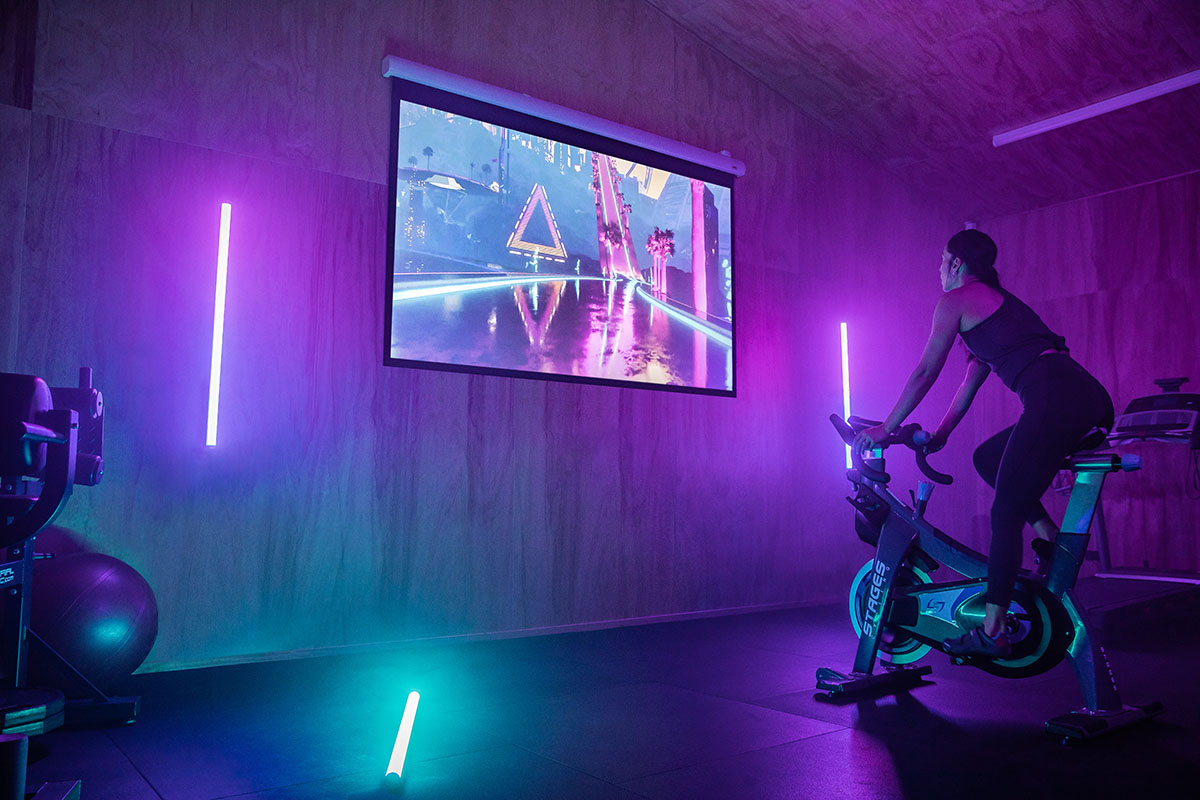 High-class digital cycle offerings can help clubs win new fans online, build brand affinity, and then eventually convert them to becoming full members of the club.
The ability of digital fitness to funnel more people into live workouts was fully evident at the October 2022 LES MILLS LIVE London event, where over 5,000 consumers came together for a thrilling weekend of fitness. Whereas pre-pandemic Les Mills events would typically see an audience split of 80:20 between Instructors and club members, LES MILLS LIVE London comprised 40% Instructors, 20% club members and 40% LES MILLS+ users who were attending their first live fitness event. These people were new market entrants who had taken baby steps through digital fitness and are now keen to ditch the nappies and dive into live fitness experiences – both at events and in clubs.
4. UNLOCK UNTAPPED POTENTIAL
Given the growth of indoor cycling over the past decade, there's huge potential for clubs to convince more members to try group cycling – particularly those who wouldn't normally take part in group workouts.
When you look at the indoor cycling numbers of high performing clubs compared with the industry average, it becomes clear that many clubs significantly underestimate the scale of opportunity around group cycle.
In a typical health club, the cycle studio sits empty for 80% of the time, costing up to US$180,000 per year in lost revenue. These clubs invariably offer the same indoor cycling class a couple of times a day, and it attracts the same people.
But the most successful clubs understand that just like other group workouts, different type of cycle programs appeal to different target audiences. Take West Wood Clontarf in Dublin as a case in point. By taking an holistic approach to its indoor cycling offering, the club has turned the tables on studio optimization to reach an impressive 80% occupancy rate.
"We used to have the normal bike classes that worked well, but we felt the studio needed rejuvenating because the numbers were dwindling," says West Wood group fitness legend Tine Bogsted.
"So we brought in the cycle package from Les Mills – and since then the studio has gone from strength to strength. We now have four different offerings in one studio, which is in use for 80% of our opening hours with either live or virtual classes. So when we show potential members around the club, there's always activity in that room and it's a strong selling point."
5. A recipe for retention
There are plenty of ways for clubs to make 'exercise on a bike' appeal to a broad range of members – provided they are scheduling programs that have specific differences, and cater for different member needs.
During their opening presentation on the findings of the European Health & Fitness Market Report 2022, EuropeActive Ambassador Herman Rutgers and Deloitte's Karsten Hollasch illustrated the changing expectations of clubs in the eyes of consumers.
Based on insights from 11,000 European fitness consumers, they identified the presence of specialist equipment and the social experience of working out with others as the two standout USPs that clubs retain over other workout settings, with indoor cycling being an obvious example of when these USPs combine (as evidenced in their slide below).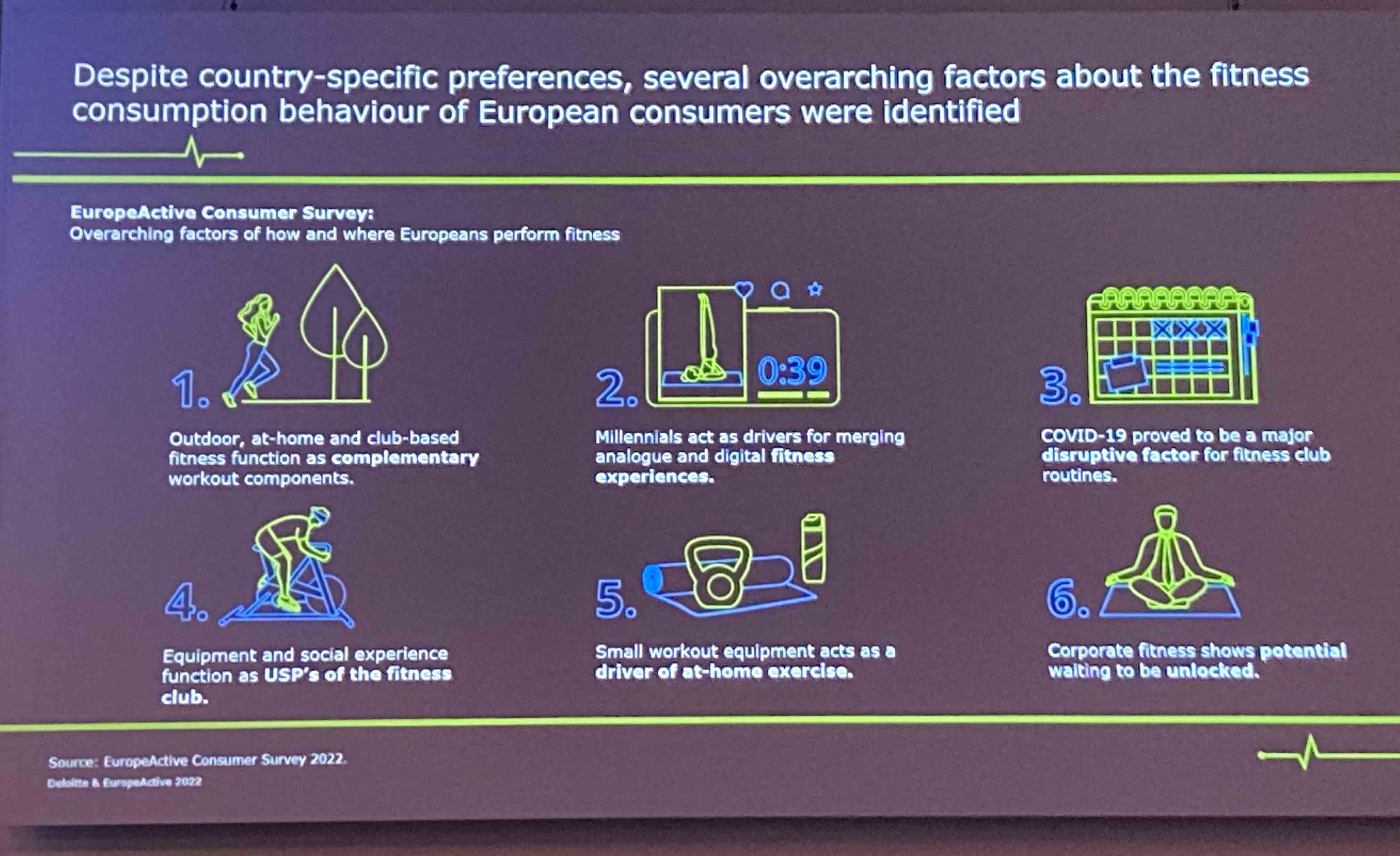 As markets have reopened from Covid restrictions, dialing up the social experience has been key to re-engaging members and building back better. How operators leverage these advantages and double down on creating a sense of community in their clubs will be key to staying ahead in the post-pandemic fitness landscape.
GIVE YOUR CLUB THE EDGE
As the world's first Omnifitness app, LES MILLS+ bridges the gap between digital and live workouts by signposting users towards your club.
FIND OUT MORE