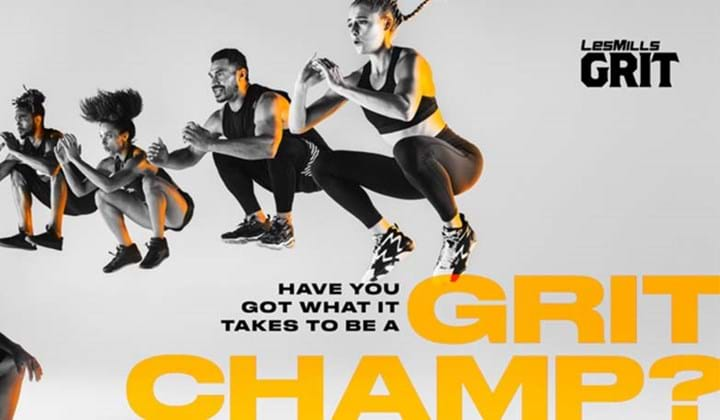 Nuffield Health's initial objective for 2018 (particularly after acquiring 35 Virgin Active sites in 2016) was to 'Increase member engagement and club interaction' - much like the Les Mills value proposition 'getting members to fall in love with fitness and their clubs'. Upon seeing this alignment, Charlie Banfield, National GX Commercial Manager for Nuffield Health and the Les Mills UK Experience team started to brainstorm.
Nuffield Health already has a great member base of fitness enthusiasts, so how could they increase the club interaction of these members and help others fall in love with fitness? As they say, there's nothing wrong with a bit of healthy competition, and with that the Les Mills and Nuffield Health LES MILLS GRIT™ championships were born.
What is the LES MILLS GRIT championships?
The LES MILLS GRIT Championships put participants to the ultimate test of stamina, fitness mental determination and teamwork. The challenge was to complete a team relay of 6 exercises (10 reps each), with every team member completing the full set before the next team member could start. The exercises included Push Press, Push Ups, a 2 metre Lateral run, Overhead plate squat, Barbell Row and Box jumps.
As a team, members also had to complete 20 reps of each exercise, choosing which member was best suited to each exercise. Any combination of team members could be used and not all team members were required take part, as members were encouraged to #BeStrategic with who they selected.
Nuffield Health Members could enter in mixed gender teams of 4, captained by either a PT or Instructor. The 6 regions were Scotland, The North, Midlands, North London, South London and The South. With no age limit and being free to enter, clubs were encouraged to get together as many teams as possible for their chance to become the fastest LES MILLS GRIT team.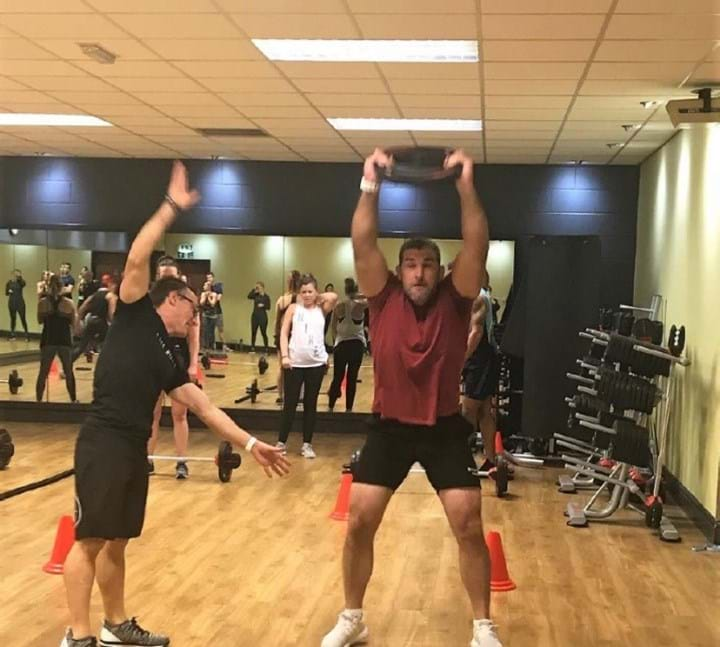 Individual clubs held finals for the fastest team, the top 9 fastest were then put through to the regional finals. With the final winning team to be announced at the Huddersfield Tribal Gathering in December 2018.
The winning team would receive 3 months of Les Mills On Demand (LMOD), a full set of SMART TECH™ each and 3 months Nuffield membership, runners up would receive a SMART BAND™ and 1 month of Les Mills On Demand (LMOD). The 6 Nuffield Regional champions who supported would also receive the online Advanced Training course from Les Mills.
Nuffield took the promotion of LES MILLS GRIT champs under their wing, adopting the #GRITchamps hashtag on Instagram and posters and flyers being distributed both in clubs and online.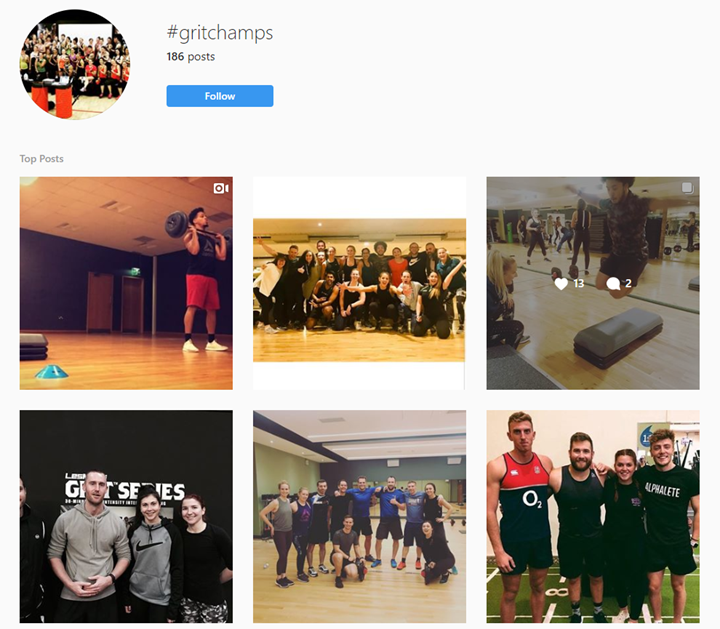 THE RESULTS
Nuffield Health saw phenomenal results from LES MILLS GRIT champs with over 800 members participating from over 50 clubs. 120 of these participants were then put through to the regional finals and 24 put through to the National Finals.
As well as this increased engagement it increased the social aspect of their clubs as members who didn't know each other were now socialising outside of the club.
"When we saw the competition, we thought it would be a bit of fun to enter, and it really was! We have been training together for a few years doing CrossFit so had a good idea of what our strengths and weaknesses were. When we got through to the final we were driven to do our best, at the regionals there were a few little mistakes that we made with regards to transitions so leading up to the final we made sure we knew what we were doing, and we managed to ace it on the day to become the champs." – Thomas Davenport, LES MILLS GRIT Champs winner 2018
It also boosted the club's awareness of the LES MILLS GRIT programme, with members asking when the next championship would be taking place. The competition also helped to debunk the myth that LES MILLS GRIT and HIIT workouts are only enjoyed by a millennial audience, as one of the finalists was a 64-year-old BODYATTACK™ and LES MILLS GRIT Instructor who even missed his Christmas party to the attend the final!
The success of the first LES MILLS GRIT champs in 2018 has meant it has now become an annual event with high levels of interest nationwide.
"2018 was a great year for Group Exercise at Nuffield Health. With clear objectives defined, we were seeking to increase member participation and club interaction in Group Exercise, which aligned with a wider Nuffield Health customer engagement initiative. By leveraging our credible Les Mills partnership, the LES MILLS GRIT Champs did just that and ultimately built camaraderie and cohesion to all involved: members, staff, clubs and regions. Following the success of our first LES MILLS GRIT Champs, we foresee this partnership being a reoccurring event to enhance and align both our brand positioning and values." – Charlie Banfield, National Commercial Manager – Group Exercise and Swim.