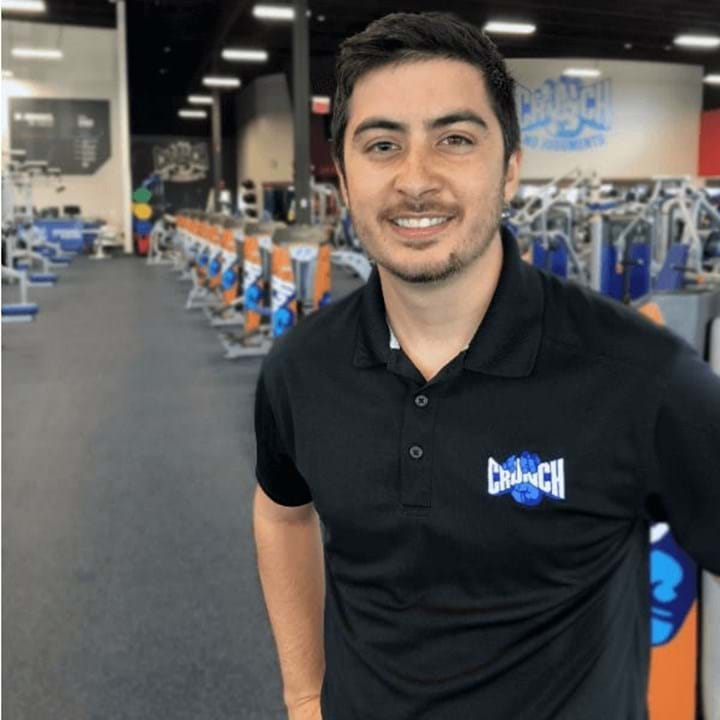 What's your background in social media Christian?
My career in social media began with an agency, where our main client was Visit Florida and my role was Social Coordinator. Our mission was to inspire Floridians to travel in-state through branded and user-generated content and the whole approach was based on building relationships with people in our community. So 99% of my day was engaging the community online, curating user-generated content and building relationships between people, as well as setting up real-life encounters, which we would call an "InstaMeet". Our client would sponsor an attraction or a restaurant and we would basically flood these attractions and restaurants with Instagrammers. We were really successful in building our following across Facebook, Twitter and Instagram which exceeded 200K at the time I left. At one point we reached a billion impressions and had stars like Pit Bull getting involved and advocating for us – it was a really fun time.
How did you set about replicating that early success in the club space?
My father Geoff Dyer was starting his Crunch franchise and having a lot of success, so three years ago I decided to join up with him as the opportunity to have my own team and lead out a project was really attractive. Our Crunch business was nine clubs at the time when I joined, we had a small social media following and what was happening was that all the general managers and staff had their own thing going and were pulling in different directions. One Facebook page might have 1,000 followers, another might have 3,000, but really there was no structure to it all. We needed to bring the more interpersonal connection between our social media presence, our members and all aspects of customer service.
How would you describe the philosophy that underpins this?
Our main goal was to bridge the in-store and online experience and facilitate the customer in any way possible in between. The way we look at Facebook now is that it's not just a social media site where we're trying to entertain members. For clubs today, social media is our digital front desk, fielding queries, supporting members, generating leads and serving as the face of our business. It's like the window display in the mall, people are forever walking by, so you need to look good and treat them just the same way as you'd treat them at the front desk.
What were the practical steps you took to embed this philosophy?
We started putting in some structures and strategy, basically to give us a more organised approach to content. Thinking about what we're putting out there, instead of just saying, 'Oh, here's a nutrition tip' and 'here's a training tip'. Our strategy now revolves around re-posting hyper-local user-generated content and tapping in to our staff more than ever. We're approaching our bi-weekly content calendar with a content marketing mindset, trying to promote our amenities through member content, and make our marketing more trustworthy, rather than trying to disguise it. I read a stat somewhere that said 'User-generated content is trusted seven times more than branded content' so that was the sort of lens we were looking at it through.
How did this new approach to content play out and evolve over time?
We really knuckled down and started to build a much more meaningful relationship with our members and wider social media following. The real gamechanger for us was when we integrated #CrunchTV. It's a social advocacy initiative whereby members who share their workouts on Instagram and Twitter with the #CrunchTV hashtag are featured on in-gym TV screens – thus encouraging them to share their successes and, crucially, tell their friends. Plus, we get all sorts of valuable insights from the platform.
Before, we were trying to activate staff by asking them to submit a couple of photos by the end of the week to use for social media content and just hoping that members would hashtag, stuff like that. Whereas now, we can count on our members to drive content, because they have this incentive where they can get pictures on TV. So the members have become this huge content source, and it's working really well for us.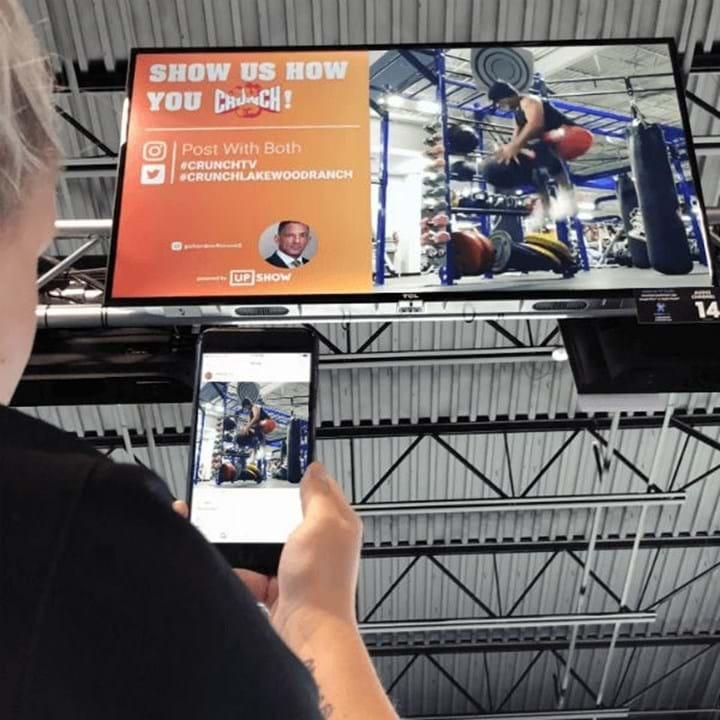 What have been the results from Crunch TV and how did you roll it out?
#CrunchTV is hosted on this licensable platform called Upshow and Geoff was referred to it by his friend Steve Schwartz, who runs a very successful club operation in Chicago (Midtown Athletic Clubs). So we gave it a test pilot, and it was wildly successful – when we integrated it into our model it just took off. Members absolutely love it.
Looking at our numbers as we speak, I can see that #CrunchTV right now has 34,000 posts on it, and that's over the course of about eight months. In our pilot month we had just over 2,000 posts from our 4 test locations – so that's a 1550% increase in posts. When we started #CrunchTV we had about 89,000 followers total, and we've grown that audience to 125,000, so that's an increase of about 40% and it's growing by the day.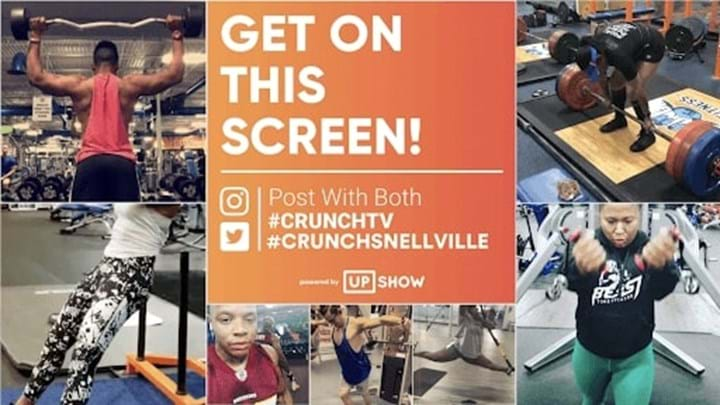 How has your approach helped you to drive member acquisition?
I'd say perhaps the biggest shift has been our interactions with potential members. We track something called 'Social Media Enquiries, and those have been fantastic for us –we've seen them uptake like crazy. In a nutshell, a Social Enquiry is just when someone enquires about membership online – sort of like a telephone enquiry. We've definitely seen those ramp up. In fact, we ran a promotion where we encouraged all our. staff to take photos with a stand-up banner in-club and we had an incredible 800 membership enquiries that month on social media alone. One of our main strategies is utilizing sharing at the front desk, and we are firm believers that the staff are our biggest tool, and our most important people. So we try to incorporate at the point of sale some social interaction, and that's really been a big cornerstone of what we've been doing.
And how does this engage existing members?
Focusing on user-generated content has translated into a much more engaged membership who are much more willing to share about themselves. More than anything, #CrunchTV functions better as an identification tool for influencers and your most loyal members.
We see people that have hundreds of thousands of followers who might post once or twice and we'll never see them again, which is great for reach. But then there are these other people, these smaller Instagramers with 500 to 2,500 followers, and they'll be posting constantly twice day. So, we've really made a point to establish a relationship with those people, and really make them feel at home. We put a note on their account in our CRM, to make sure our staff know who they are. The whole idea is to have all these micro-influencers advocating on behalf of our brand, creating as much noise as possible on a consistent basis.
Are there any major pitfalls that clubs need to be mindful of with user-generated content on social?
Well, I definitely think that in terms of CrunchTV, we have to be wary that you're giving people access to your tv system really through a hashtag, and so we try and monitor it maybe once or twice a day, to remove content that I would deem unwanted. Normally this is external companies promoting on there – competing clubs have tried to hijack it for example. They have their fun and get that one post out, but I'll just ban them instantly. I don't mean to be a hard person with that, but I have a one strike policy, just because we don't have the manpower right now to do a three-strike policy. But, in terms of nudity and swear words, all of that's automatically filtered, so we don't ever see anything like that, it's more just like the context of the message that you have to be careful of. Also, for Facebook live and Facebook in general, this is kind of obvious, but that person is representing your brand, so you need to make sure that whoever you're giving access to is a good representation of the brand and that they can speak with the brand voice.
Any final tips?
I would say just do your research – I think one of the best things that we do as a team is just trying to stay on top of what's new. It could be as simple as reading an article a week, and we switch it up – we try to cover industry trends, statistics, we even use Google Scholar to find relevant scholarly articles. Sometimes there's a little too much information but making sure everything has been written within a year so it's all new and accurate. It just allows you to be a bit more proactive than reactive when it comes to leveraging trends to give your clubs the edge.