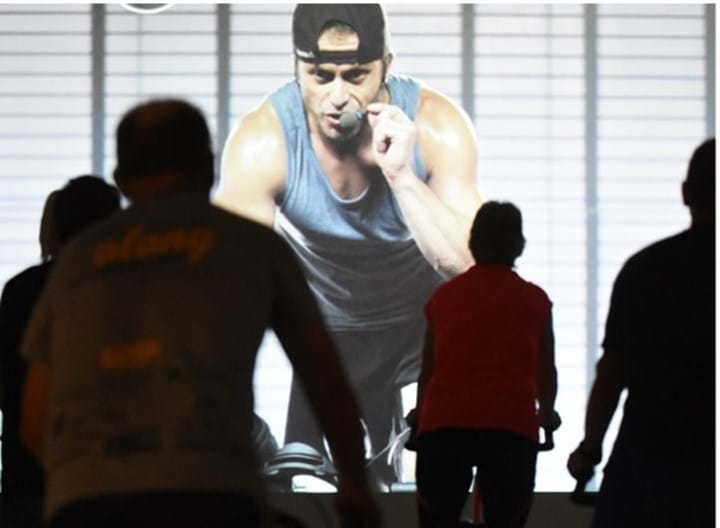 Operated by South Tyneside Council, Haven Point's Virtual offering included BODYPUMP™ BODYCOMBAT™ BODYBALANCE™ CXWORX™ SH'BAM™ RPM™ and went live in June 2018. To complement these new programmes, the Local Authority leisure facility installed a 5x4 metre screen in their studio, offering a real cinematic experience for its members. "In an attempt to keep our members longer and maintain customer satisfaction we wanted to provide them with a vibrant, energising place in which to exercise." Paul Tompkinson, Leisure Programme Officer for South Tyneside Council says.
The Virtual offering was immediately a hit with members, with 2,488 individual Virtual fitness visits from 507 different members in the first 6 months – 8% of all Group Exercise visits.
Having previously only offered live group exercise, like any gym they saw peaks and troughs in studio usage. What Virtual enabled them to do is drive their studio usage during these 'troughs', eliminating studio downtime.
Prior to the introduction of LES MILLS Virtual the studio was in use 23 hours per week out of its available 94 hours per week (24.46%). This has now increased to 56 hours per week with the introduction of Virtual (59.57%). Therefore, a growth in studio utilisation of approximately 35%.
"Our reason for investing in Virtual was never to save money on instructors or replace the instructor led programme. Instead, it was to offer a wider range of activity across a variety of timeslots, offering more choice and convenience to our membership base. We saw it very much as a retention tool in order to keep our customers happy and give them opportunities to access group exercise which our instructor led timetable could not satisfy." – Paul Tompkinson reveals.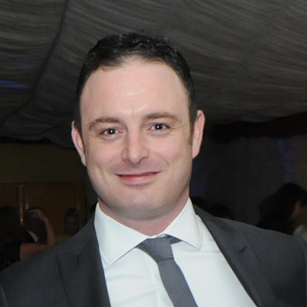 Paul Tompkinson, Leisure Programme Officer for South Tyneside Council.
Haven Point's annual membership retention rate over the past 12 months is 53.19%. Looking back to 2017 when they had no LES MILS Virtual provision, their retention rate was just 36.1% - indicating a much greater churn of members. Virtual has therefore contributed to a staggering 17% improvement in retention rate."After going a little stale, virtual classes have renewed my interest in fitness training. The classes are excellent and of a constant quality" Mr Eggenton, Haven Point Member explains.However, Virtual didn't necessarily offer up the younger audience they had been expecting, with the average Virtual attendee being 42.5 years of age, whereas the average age across Live Instructor led classes was 42.7 years.
Prior to the introduction of Virtual fitness, Haven Points BODYCOMBAT™ classes were operating at 85.6% of maximum capacity. Following the introduction of LES MILLS Virtual BODYCOMBAT™, live class attendance is now up to 90.3% - therefore resulting in nearly 5% uplift in live classes because of Virtual.
South Tyneside Council now have over 800 visits per week to Les Mills classes across their 3 facilities which offer them – 600 to live and 200 to Virtual, which accounts for a quarter of all their Group Exercise visits.
Given the success of Virtual at Haven Point, South Tyneside Council wanted to expand on their offering and offer a full package at their new Jarrow Focus facility, including disciplines new to the service such as LES MILLS SPRINT, THE TRIP, GRIT & BORN TO MOVE. In addition to this they took the unprecedented step of offering RPM as a live, instructor led discipline following its undoubted popularity in the Virtual format.
South Tyneside now run 160 classes a week across 3 of the 6 facilities that offer Les Mills – allowing members to join one facility and use them all.
Not surprisingly, Haven Point are now experiencing heightened interest from Instructors, all wanting to teach at such an innovative centre that's investing in technology.
The success continues to grow for South Tyneside Council with another milestone being reached, "We have recently just tipped over the 7,000 members mark which is a bit of a landmark for us. Once more, we can attribute some of this to our recent developments of which Virtual Fitness is a key one." Says Paul Tompkinson.
LES MILLS Virtual has proved that investing in innovative technology improves member retention, increases live classes and boosts member morale.
"I definitely attend more because of the virtual classes. They are on more suitable times for me and I find them really enjoyable, particularly RPM" - Miss Surtees, Haven Point Member.
"Les Mills RPM is now vital to my fitness week!" - Mr Beresford, Haven Point Member.
"The additional virtual classes allow me to attend more often, therefore they are a huge benefit to my overall fitness levels" - Mr Cunningham, Haven Point Member.
Transform your club with Virtual
Learn more how Les Mills Virtual can transform your clubs group exercise offering and drive new memberships
Discover Here