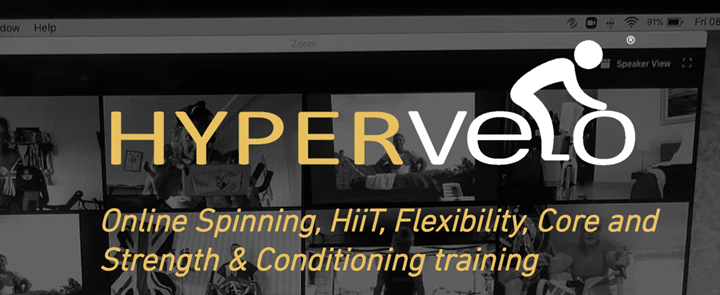 Is it possible to launch a digital-only club concept with limited resources, in the midst of a global pandemic?
For Hypervelo founders Jane and Sharron, necessity has proved the mother of invention, helping them to create a thriving online business that brings the club experience into people's living rooms.
In a bid to stay sane and active during the first lockdown, Jane and Sharron began teaching free online classes from their own homes to a small group of participants.
While some operators were still working how to pivot their club model into the online space, the two LES MILLS Instructors with over ten years' experience each began doing what they do best. Teaching, motivating and inspiring.
As the number of participants quickly grew through word of mouth, Jane and Sharron established a business plan to Livestream LES MILLS classes through zoom, involving a partnership with Les Mills, the same as any club would which allows them to Livestream the original and newest releases. With over 156 members, Hypervelo now charge a monthly rate from 4 classes at £15, 8 classes at £21 or even unlimited for £31 per month.
"We essentially wanted to replicate a gym environment, but online. For us, that meant a comprehensive offer of weekly classes just like you'd get with a club timetable," says Jane.
"The transition from free classes to charging fees was surprisingly simple. The people who had been attending our classes got to the point where they said, you know, we want to pay you for this.
Hypervelo is an online Club community, offering over 33 LES MILLS classes per week from the click of a mouse or tap of the phone. The team use a combination of social media marketing and e-marketing, finding that investing in LES MILLS classes has added significant clout to the concept.
"We chose Les Mills because it gives the company kudos. We know other people who are doing online classes, and they're doing it with cheaper alternatives. But it's not Les Mills. That for us, gives Hypervelo the quality of programming and a strong brand with an edge."
Once the initial foundations of the website were created, Jane and Sharron were able to create monthly membership bundles depending on individual demand, starting from 4 classes per month right up to unlimited class attendance.
"There are lots of advantages," adds Sharron. "From a practical point of view, each car journey to teach for myself and Jane was a 25-mile round trip. That's something we've heard from our members too: whether it's a 5-mile or 20-minute journey – it's all time back. And now, our members will sometimes roll out of bed and workout.
It's convenient, nobody is rushing back from the office and members can transition seamlessly into a class… Because moving from one room to another still counts!
The online UK Club now has over 150 paying members from Worcester, London, Birmingham, Devon and even across continents; Hypervelo have members tuning in from the UAE.
"What's really lovely is when they take us on holiday with them. Members like the fact they can take their laptop with them anywhere and they're not missing out on a workout." Sharron says. She adds that the portability of digital club concepts help overcome many of the traditional engagement challenges clubs face when members go away on holiday or for work.
A recent Les Mills On Demand survey shows that digital fitness is here to stay, with most users intending to carry on with digital fitness even when their gym reopens (84%). And with COVID uncertainty continuing to challenge the fitness industry, what does the future look like for Hypervelo?
"Well, we've actually had a consistent rise in members, whether we've been in lockdown in the UK, or not," says Sharron.
"Hand on heart, when gyms reopened I thought we'd see a lot of members disappear, but they didn't. People have invested in equipment now, businesses have said they won't be going back to an office environment five days a week and their lives have changed.
"For good or bad, maybe we needed to adjust how we live in the UK. We were always chasing our tails as a country, and maybe, people now have a better work-life balance."
READY TO DOUBLE DOWN ON DIGITAL FITNESS?
We've worked closely with leading clubs around the world to develop a suite of new digital solutions to help future-proof clubs by expanding their reach in the booming online fitness space
GET FIT FOR THE FUTURE