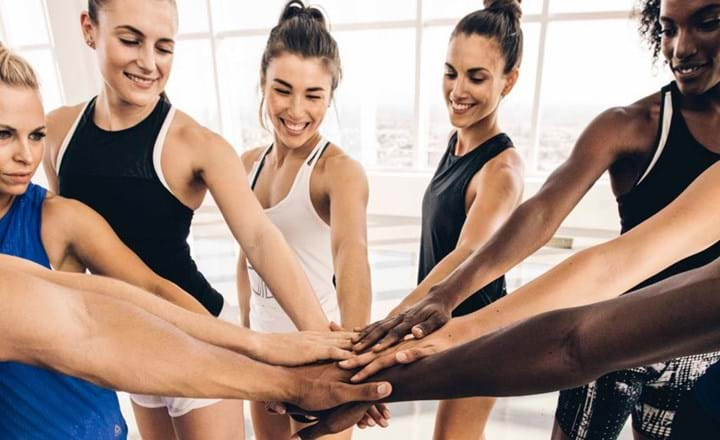 The classic Phillip Mills mantra that "Nobody ever left their health club because they had too many friends," has clearly struck a chord with TribeFit in Dubai, where the community is at the heart of everything the club does.
Serving as a fitness space cum social hub for Dubai's sizeable expat community, TribeFit forges strong bonds with its members through its unique blend of fitness and fun, reflected in the club's motto: Socially Active.
Boasting spectacular views from its sundeck overlooking Dubai Marina, the club is positioned as a premium offering, charging AED4,000 (US$1,100) for an up-front annual membership. In addition to the sundeck, which doubles as an outdoor space for classes, the club has three studios, a combat area, plus a PT Zone and sizeable gym floor. The café and chill-out space serve as the focal point for events, while members are also frequently led outside the club for socials such as brunches, camping and beach volleyball.
Group fitness focus
At its core, TribeFit Dubai's exercise offering revolves around a focus on high-quality group fitness. The club emphasises social methods of exercise by dual-training all fitness staff to encourage a mixture of personal training and group exercise among club members.
"Our group exercise community is massive, with 60-70% of our 2,000 active members regularly attending classes," says General Manager Sarah James, whose decade of experience in group fitness has also encompassed the role of Group Fitness Manager in several Gold's Gym Clubs.
"By insisting that all of our fitness team are hybrid instructors, we've been able to overcome misconceptions around group fitness from members who have previously only focused on strength training, helping them to incorporate group classes into their routine. It fuels our club's feeling of community, while it's obviously a no-brainer in terms of boosting retention and spreading capacity throughout the club floorspace."
Solid foundations
The substantial group exercise operation is centred around Les Mills programs, which account for 105 classes a week on the timetable. LES MILLS SPRINT™ and RPM™ form the backbone of the club's strong indoor cycling offering, with 21 weekly cycle classes driving 26% of all group exercise attendances.
"We chose SPRINT and RPM as there's a huge demand for cycle classes in Dubai," Sarah explains. "Both suit our members and are extremely popular thanks to the music, choreography and the awesome instructors. Price wasn't the biggest consideration for us, we want the experience and service to be better. That's what makes people happy."
"Our cycling studio is pretty much dominated by Les Mills cycle programming and we now enjoy average occupancy of 76% in these classes," Sarah adds.
"We trialled Mossa Group Cycle before, but it wasn't successful. Les Mills provides great programs, awesome instructors and a great community – everything we need to give our members an incredible experience that they'll keep coming back to."