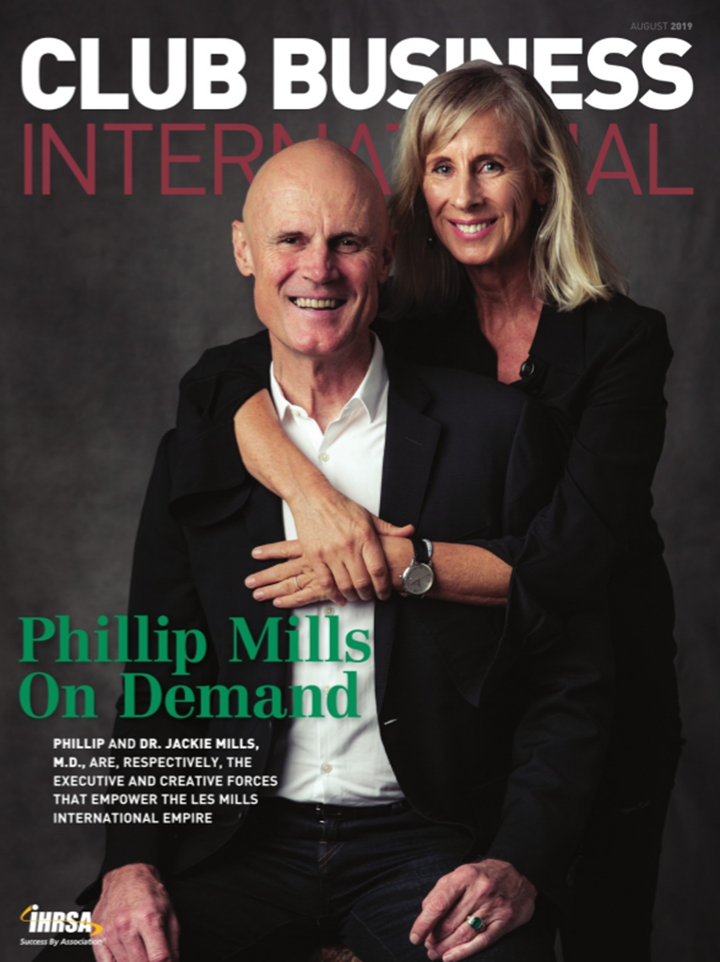 Club Business International: Legend has it that Les Mills, which recently celebrated its 50th anniversary, was born in a garage in Auckland. True? A few details, please.
Phillip Mills: It's a little more complex. My great uncle had two clubs in the 1920s when the fitness industry went through its first boom, which died out during the depression and the Second World War. In the '60s my Dad became New Zealand's national track and field coach and we lived on the side of a running track. Half of our house – a large garage – was a weightlifting gym for athletes from various sports. My parents opened their first, small (4,500sq ft) public club in February 1968 in downtown Auckland.
CBI: Obviously, a great deal has changed since then. To help set the stage, could you provide us with a thumbnail overview of the club component? [E.g., number of clubs, employees, members, annual revenues]
PM: Our family owns and operates 12 premium mainstream clubs across New Zealand, with a big emphasis on group workouts, as you might expect, but also a substantial equipment and PT offering. There are 90 PTs working in our flagship Auckland City facility. We have 58,016 members and 1240 people (including contractors) working across the club business.
We're currently in the midst of an NZ$80M (US$50M) modernization and expansion of the chain. Our son Les and the Les Mills New Zealand (LMNZ) management team are incorporating boutiques, branding and decor aimed at Millennials and Gen Z. I think this is where the industry will go next, with traditional multi-purpose facilities cannibalizing the movement the boutiques have started, as they did with aerobics studios in the '80s.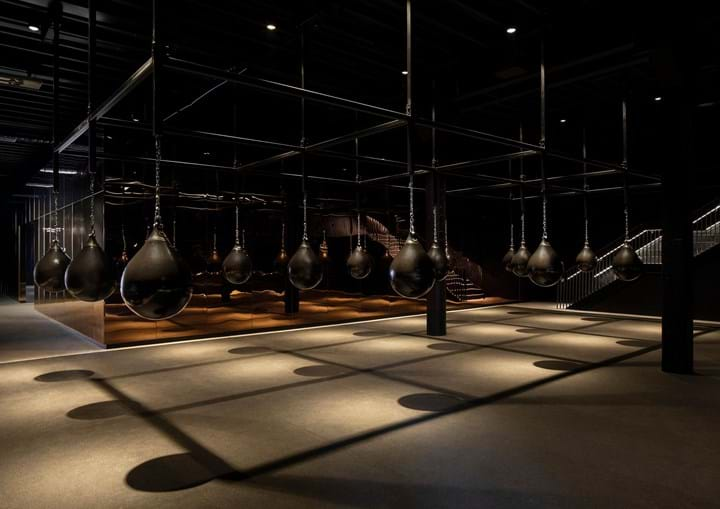 CBI: …and, if you would, a description of the program licensing business. [E.g., number of programs, instructors, clubs, countries, members participating on a weekly basis, and annual revenues]
PM: We offer 23 different programs across live, virtual and our digital streaming platform Les Mills On Demand (LMOD). The best-known are BODYPUMP™, BODYCOMBAT™, BODYFLOW/BODYBALANCE™, THE TRIP™ and LES MILLS GRIT™. The programs are updated every three months with new choreography, music, marketing assets and Instructor training. It's a complex process led by my life and business partner Dr Jackie Mills MD, our Chief Creative Officer and a team of 2,437 people. Les Mills workouts are licensed by 20,316 clubs in 110 countries, with 140,000 accredited Instructors delivering group workouts to seven million per week.
CBI: As one of your newest innovations, LMOD, utilizes a unique shared-income model that allows clubs to stream your content to their members. A description of the program, please?
PM: Clubs can offer an LMOD subscription to their members at a discounted rate and we split the revenue with them – Netpulse are partnering with us in this offering. It's also a retention play: our 2019 Global Consumer Fitness Survey (which covered 13,000 participants across 22 countries) shows that 85 per cent of those who have gym memberships exercise at home. At-home memberships enable clubs to own their members' fitness journey, boosting loyalty and keeping them in the habit of exercising when they can't make it to the gym.
CBI: Les Mills is the only industry supplier we're aware of that also operates its own chain of health clubs. What sort of synergy, cross-pollination, has that provided?
PM: It gives us a perspective on the needs and challenges of our partners because we're in the same boat. We exhaustively test and refine every quarterly class in-club before it is released. We never release a new program until it's been shown to deliver results scientifically in the lab and commercially in our own chain, plus pilot clubs around the world. It also gives us a test center in which to try new things and this has been key to innovations like THE TRIP™, which took years to get right.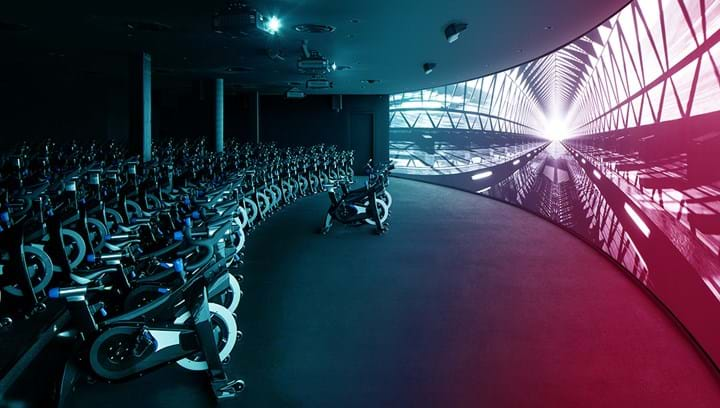 CBI: People who aren't familiar with the company's history might regard it as an incredible overnight success. Not so, correct? What major challenges have you faced? What did you learn from them?
PM: We've battled through a share market crash (Les Mills gyms were publicly listed in the '80s), debt mountains and many failures including global PT licensing, two clothing firms, an organic food distribution business and two nutritional supplement companies. We've made more mistakes than I care to count over the years, but you learn from them and you try again.
CBI: The last time we spoke, you said, "We don't ever plan to stop innovating," and that still seems to be the case. Attempting to be more "inclusive," you're now focusing on the Millennial and Gen Z markets. Why?
PM: We believe clubs that fail to win their share of this demographic will soon be an endangered species. The standout finding from our 2019 Global Consumer Fitness Survey was that 80 per cent of people paying for fitness in some form are Millennials and Gen Z! We refer to them as Generation Active.
The fitness industry grew up with Baby Boomers and Gen X. But the game has changed and so must our approach. While the average age of a club's total membership might be 35+ (dragged by a long tail), analysis of 5,000 global clubs (see graph below) shows the majority of new joiners are in their 20s. Generation Active have different tastes to their predecessors and it's necessary to adapt club offerings to win their business.
Boutiques and low-cost clubs have been best at appealing to Generation Active, seizing wallet and market share from traditional clubs. Many people say the latter are a dying breed, but I believe we're well-placed to fight back. I operated successful, standalone aerobics studios – similar to today's boutiques – in New Zealand and Australia in the early '80s. When our family's big box clubs added aerobics, their income doubled, but my standalone studios became untenable.
CBI: You've also been doing some innovating with respect to management, having recently restructured your senior leadership team. The objective? The details?
PM: It was our 50th-anniversary last year, but I believe the biggest opportunities are still to come. We're building a new team of leaders to ensure we're able to capitalize on those opportunities. I've shifted myself to an Executive Director role and appointed our CMO Clive Ormerod as CEO of Les Mills International, supported by an outstanding senior team. We've also made changes to our US team, where recently-appointed CEO Sean Turner and COO James Graham are spearheading our efforts to drive deeper club partnerships in what remains our most important market.
CBI: We're intrigued by the fact that you're one of the few industry leaders who's identified "reduced human touchpoints" as a serious concern. Your thoughts on the trend? Your suggestions?
PM: Digital technology is important, but the human touchpoints eroded by it means the social interactions clubs can provide members take on greater significance. Inspirational individuals remain one of the few things in the gym that rivals can't copy.
CBI: One of the things you've done is strongly reemphasize the fact that instructors are the "key to success," and publish a new white paper on the topic. What sort of conclusions did it reach?
PM: One of the biggest issues is around Instructor pay. This is where boutiques have stolen a march on traditional clubs. US$27 is still the average Instructor fee per class in a traditional club (IHRSA) – this has barely changed since the 1980s. It's difficult to recruit a new generation of Rockstar instructors when personal training and boutiques pay 2-3 times as much.
I believe it's necessary for traditional clubs to pay more to attract great instructors who can compete with the boutiques and low-cost clubs. This can be done on a win-win basis in which pay is linked to qualifications and results. We've created detailed systems for that – along with non-financial incentives - in our new Group Fitness Management (GFM) training that launches in August.
A mistake I see clubs making is replacing live classes with virtual ones. Executed well, virtual classes are a great way to optimize studio use and induct people into group workouts. But live classes create retention, referrals and boost members' perception of value.
CBI: Speaking of innovation: apps, wearables, virtual, AI, biometrics, Apple's and Google's entry into the market, Sony's walking personal trainer robot—where do you think all of this will lead?
PM: Most of these developments will support at-home workouts and create a more knowledgeable and independent class of fitness consumers, so clubs will have to work harder than ever to provide value to members. Those who can bridge the gap between the digital and physical world to offer an integrated fitness experience will have the best of both worlds.
But technology is also going to enhance live experiences. THE TRIP is the best class Les Mills has ever created. We're about to launch a new range of similar digital content to play on people's virtual screens during live classes of almost every genre. Combine that with a rockstar teacher and we start to look more like the live music industry, which is booming. I just paid $500 each for U2 tickets!
CBI: Contemplating the rampant proliferation of technology: What about it pleases you? What about it concerns you?
PM: Through smart use of technology, we can grow the fitness market, reach new audiences and ultimately drive more people into clubs. Already, we're seeing a third of LMOD users migrating from home workouts to their local gym.
On the other hand, technology has made it easier to flood the market with poor-quality content and provide experiences that switch people off from fitness.
CBI: Les Mills—50 years and running strong. What are your goals—both personally and professionally—for 2020? And, dare you hazard a guess, for the 50 years to come?
PM: Professionally, I love my work and would like to still be doing it in my 90s; my team get a little bit nervous when I say they'll have to drag me out barking. Personally, I have four grandchildren and I'd like to help ensure the world is a habitable place for them in 50 years' time.
This is a shortened extract of an interview that was originally published in the August 2019 edition of Club Business International. Read the full version.