If you had a magic Instructor lamp with a choice of three wishes, what would they be?
Were any of them "make finding work easier"?
Let's face it, none of us got into teaching to spend hours searching for classes to teach. We want to do the fun stuff! Connect with members, get the workout pumping, create incredible experiences for the people in our classes. The Les Mills Instructor team knows this and that's why they've created Les Mills Connect – a multifunctional platform that is going to make finding work so much easier.
A 'one stop shop' for your Les Mills needs
Les Mills Connect is a single digital platform that has been created to help both clubs and Instructors. For those familiar with the current Instructor and club portals, Les Mills Connect will eventually replace the existing digital portals with one single platform that delivers improved functionality and a better user experience.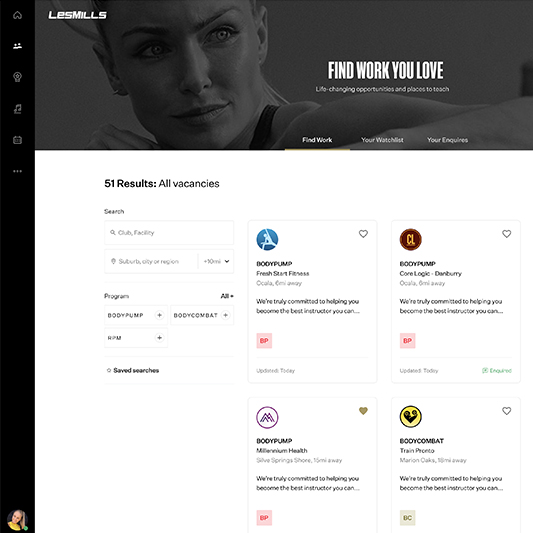 Find work faster
The team have heard your frustration around finding places to teach, and that's why the first piece of functionality being launched on Les Mills Connect is 'Find Work'. This is a tool designed to match clubs seeking Instructors with those seeking classes to teach.
This new functionality will allow you to tell clubs what, when and where you would like to teach. For example, if you would like to teach BODYCOMBAT™ on Wednesday morning within a 5-mile radius of your home, you'll be able to search for clubs that have those positions available. You will then be able to enquire about the class and message the club directly to express your interest!
Similarly, we know that clubs can find it challenging to source Instructors for specific programs or timeslots. This new functionality helps both parties do what they do best: deliver incredible fitness experiences for members
Showcase your talents
A cool new feature of Les Mills Connect is Your Profile, which allows you to build your personal page in the same manner as other social media platforms. You'll be able to upload photos and videos of you teaching, list your certified programs and qualifications, and add your affiliated facilities. Preferences and privacy settings will allow you to tell clubs if you're actively looking for work, open to opportunities or not looking for classes right now. You'll also be able to get onto substitute lists. It's a great way to show your personality, tell clubs about your experience and feature your skills in action!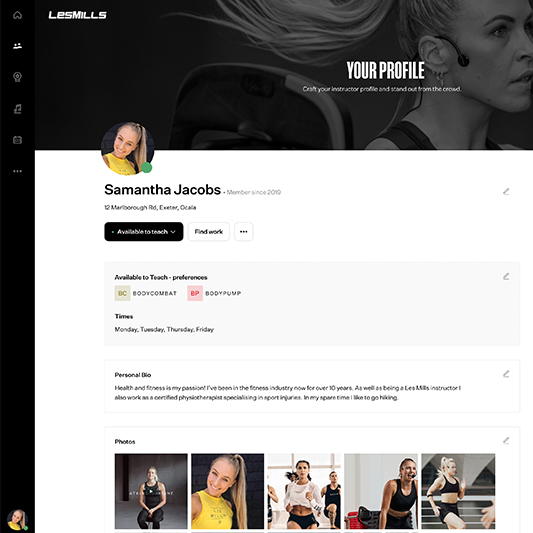 Launch begins this summer
Transferring the functionality from the existing portal to the new functionality is a significant piece of work, which is why the new platform will be launched in phases over the next 12 months. The phased approach has been chosen to enable Les Mills to deliver value to you faster. The intention is to deliver a solid foundation in the first phase of the project, with new features being added on a quarterly basis.
Les Mills Connect will initially be rolled out in the UK from August 2021, with other countries following suit in the ensuing months.
Watch out for updates on when Les Mills Connect will be launched in your country.