When did your Les Mills journey begin?
My Les Mills BODYPUMP™ journey began at university when my mum convinced me to come along to a 'really good class', even though she had never tried before! My brother dodged it! Despite being petrified walking into the class, the members made me feel welcome right away.
Wow, that burn! Don't get me wrong, I was very fit - I was a track athlete competing nationally UK-wide at the time, but this felt different, the time under tension was unreal! The class became a weekly occurrence, and we later convinced the rest of the family to come along. I became immersed in Les Mills workouts, particularly RPM™, BODYATTACK™ and GRIT™, and of course keeping up with my favourite class, BODYPUMP. I became so engrossed that I even found myself in my spare time learning the choreography!
Life was busy and the classes really helped bring a sense of community during my university days. Looking back, my fitness has seen a steady and successful improvement over the years. I even made sure to track down LES MILLS classes on my working travels so I could continue to progress.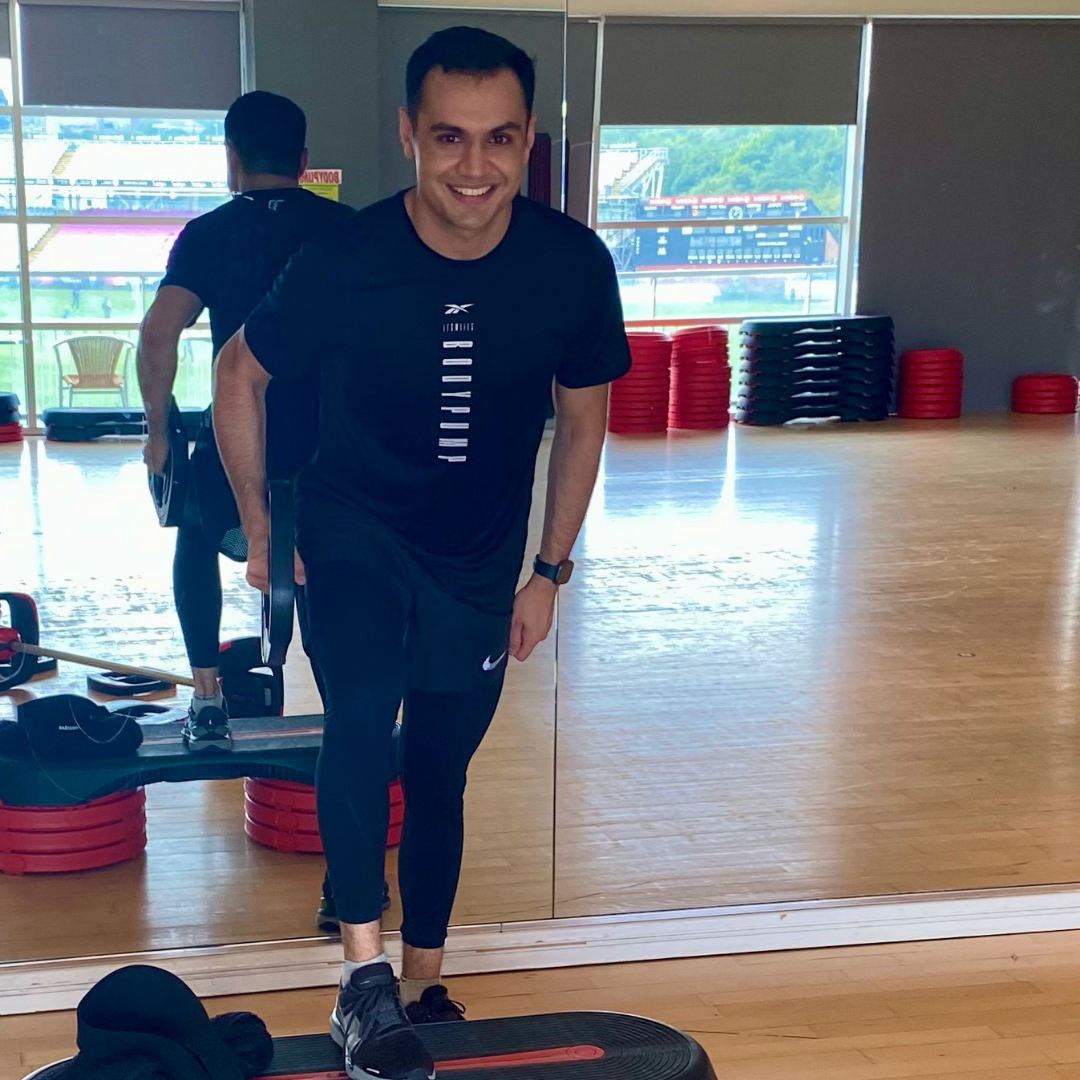 Tell us about the moment you decided to take the plunge and become a Les Mills Instructor.
Along the way, certain Instructors grabbed my attention. Their passion and encouragement made me want to push myself but also made me wonder if I could join them by teaching one day.
Fast forward a few years, the pandemic hits and I'm working as a doctor in hospital and keeping up with my workouts from the garden or the kitchen before and after work. Les Mills+ was a fantastic asset around my 13-hour shifts, but I was dreaming of getting back into the studio, and not just to attend this time; I knew I wanted to teach. The pandemic allowed many of us to reflect, and I began to learn there was no time like the present.
I took the leap of faith and signed up for the online BODYPUMP Initial Training - and I loved it. As gyms reopened, I was able to receive encouragement and advice on my teaching skills from fellow Instructors. I've started to balance my shifts with regular teaching slots and the buzz of connecting with members by delivering pulsating workouts never gets old. I love seeing new and familiar faces and creating the sense of community I first experienced when my own Les Mills journey began is a real privilege.
Do you have any recent highlights of your moments with Les Mills?
I recently had the pleasure of meeting some of the UK Trainer and Presenter team and while attending the May Masterclass Roadshows I met Les Mills Ambassador, Ben Main from New Zealand... There, I was encouraged to attend Advanced Training and improve my coaching and development skills with through the Les Mills Grade Reviews, which has certainly helped me hone different skills.
Where do you see your Les Mills BODYPUMP journey going next?
I cannot wait to see where my BODYPUMP journey takes me next. Every day is a learning day, with consistent support from Les Mills via regular Webinars, and the fantastic Quarterly Releases that I look forward to sharing with members. One thing I do know for sure is that BODYPUMP is really what I love doing and has changed my life for the better…
If you're inspired by Amil's story, find out how Les Mills Qualifications can also support you on your Les Mills journey. From Initial Training to Advanced Training, Les Mills is here to help you become a life changer.