Women who have just had a child are much more likely to suffer anxiety and other mental health issues than others – and recently their suffering has been amplified. Postpartum mental health issues have seen a sharp increase since the start of the pandemic, with 40 percent of new mothers now reporting depression, compared with 15 percent pre-pandemic. Anxiety is also a growing issue, with 72 percent of new moms facing moderate to high anxiety, compared with 29 percent previously.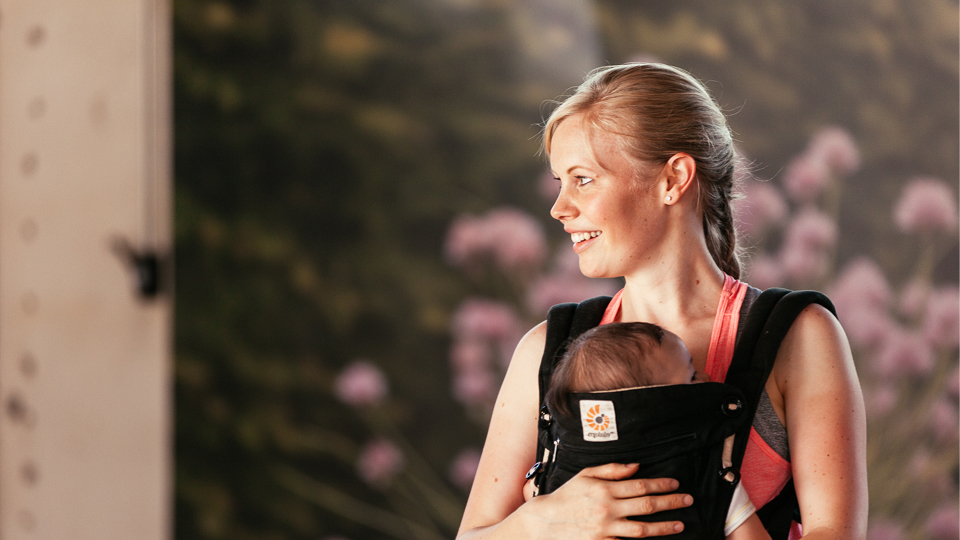 Exercise is well regarded for easing anxiety and stress and providing neurological benefits across the board, and this is certainly the case for new mothers. Research shows postpartum women who gradually return to exercise four to six weeks after delivery report lower depression and anxiety than those who do not meet the guidelines for physical activity. And now, thanks to a pilot study led by researchers at the University of the Fraser Valley in Canada, we can pinpoint one fitness formula that can make a remarkable difference.
Over eight weeks, 21 new mothers participated in bi-weekly LES MILLS TONE™ workouts. The short 45-minute sessions are considered a 'Neapolitan workout' with a blend of cardio, strength and core training.
Immediately after each session, participants reported a significant decrease in state anxiety (that is anxiety in the current moment). On average the anxiety dropped by 55 percent after each workout. At the end of the eight weeks, their general state anxiety levels had dropped by an average of 42 percent. There were also improvements in depression and perceived stress. And, as well as feeling more motivated to exercise, the mothers found the classes contributed to their basic psychological needs by increasing feelings of autonomy, competence and perceptions of bonding and relatedness.
"At a time when women face significantly increased risk of postpartum mental issues, our research found group exercise proved effective in boosting mental wellbeing for new mothers, helping particularly with acute anxiety and meeting the basic psychological needs that are especially important after childbirth," says Lead Researcher Dr. Gillian Hatfield, Associate Professor at the University of the Fraser Valley.
Bryce Hastings, Les Mills Head of Research, believes new mothers need to make a gentle and sustainable return to exercise, and identifying the right type of exercise is key.
"What you might call 'Neapolitan workouts' that give a flavor of three key training disciplines like cardio, strength and core are ideal for new moms, as they offer variety and a broad range of benefits," adds Hastings. "These workouts also feature plenty of options to increase or decrease the intensity, giving mothers the flexibility to find their level and continually progress." He adds that the social element that comes from training in a group is also key to reinforcing a new fitness habit.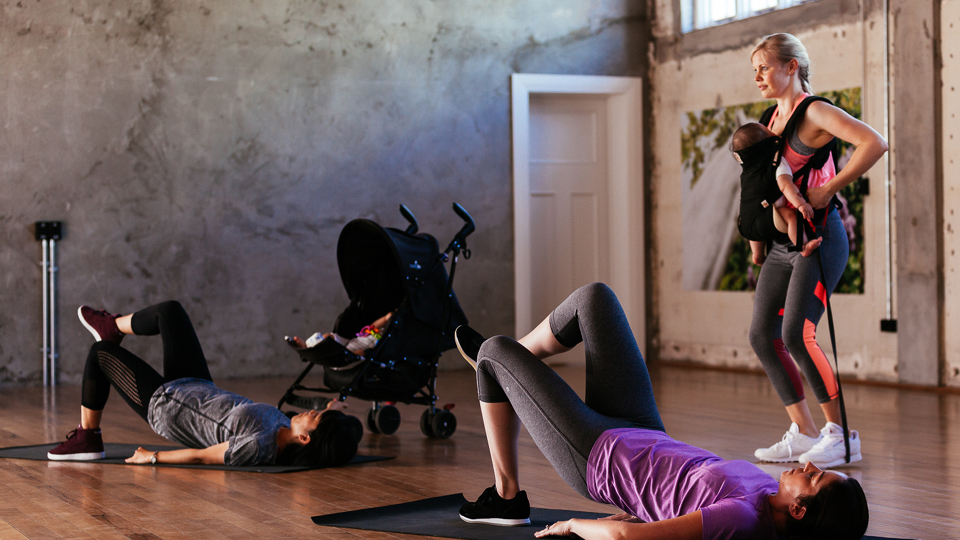 Getting together is key to overcoming exercise barriers
For new moms, the barriers to exercise are plenty. During pregnancy, physical activity levels and exercise self-efficacy are reduced, and this can often continue into the postpartum period. Add the additional challenges of physiological change, childcare constraints, and a lack of an exercise partner and support, and it's easy to understand why many new moms don't make exercise a priority.
This is why group exercise can be so valuable. Science shows when you work out with others, you work out harder, you enjoy it more, and you're more likely to stick with it. Although the mothers in this most recent study exercised outdoors (at the time this was due to Covid restrictions) there was still a strong element of groupness during each workout. This is reflected in their improved feelings of bonding and relatedness – and the fact they stuck with the regular workouts.
Being outdoors, the mothers were also able to bring their babies to the group fitness class, which eliminated one of the key barriers to exercise engagement. Earlier studies had shown no significant difference in anxiety outcomes when 45-minute aerobic exercise sessions were completed, with or without the baby present. The Instructor provided options for using the baby as weight if the mother had to hold or attend to the baby during the workout.
Taking options and tailoring training to suit your physical (and mental) capabilities is key, says Dee Rowell, a Les Mills Presenter who recently gave birth and found her return to exercise took longer than expected.
"No one should feel pressure to bounce back or recover quickly after birth. Our journeys during conception, pregnancy and postpartum are all different, so we just need to do what feels right.
Dee now has a new appreciation for moving slower. "I made a promise to give myself time and grace and remember what my body has been through. An aesthetic goal has never been in my mind. I just want to be fit and strong."
Read more about Dee Rowell's postpartum journey here.
HOW TO SAFELY RETURN TO EXERCISE POST-BIRTH
The American College of Obstetrics and Gynaecology recommends new mothers gradually return to physical activity four to six weeks after delivery (working towards 150 minutes of moderate to vigorous physical activity per week at some time after this time point).
Seek advice from your doctor or midwife before returning to exercise.
Take things slow and listen to your body. If you don't feel right exercising, stop straight away, and if you don't feel like exercising one day (or one week, or even one month!), it's okay. Just get back into it when you feel ready.
Ease back into exercise at home with our range of post-pregnancy sessions or find a group workout near you.