Wow… what a year it's been!
Firstly, thank you SO much for your hard work and passion this past year – we appreciate it so much. You've really gone above and beyond to help change the world and make it a fitter planet.
Over £10,000 raised for Workout for Water
This year, so many of you have selflessly completed challenges, marathons or held your own Workout for Water fundraising events to help change children's lives.
Below are just a few examples of those who have raised money, thank you to absolutely everyone who has taken part. The Les Mills UK total currently stands at £10,051 meaning 353 children will now have clean water for a lifetime because of you – amazing!

Remember, it's never too late to get involved with Workout for Water. Register to fundraise here.
Investing in your development
You've invested in yourself this year by taking full advantage of the new development opportunities available.
We've had some epic times at Tribal Gatherings, working out and connecting with the Tribe. Even a few special guests flew over to join us like Glen Ostergaard, Rene Vogel and Rachael Newsham.
Check out the video from Tribal Gathering Manchester here.
An incredible amount of you logged on and learnt through the new addition of Quarterly Webinars, and they sure were interactive with over 3,000 questions asked during the webinars.
Many of you also revolutionised your teaching by going through Advanced Training this year.
We want to celebrate those of you who took time to invest in yourselves this year and we hope you're excited for 2020.
Click here to view a larger version of below image.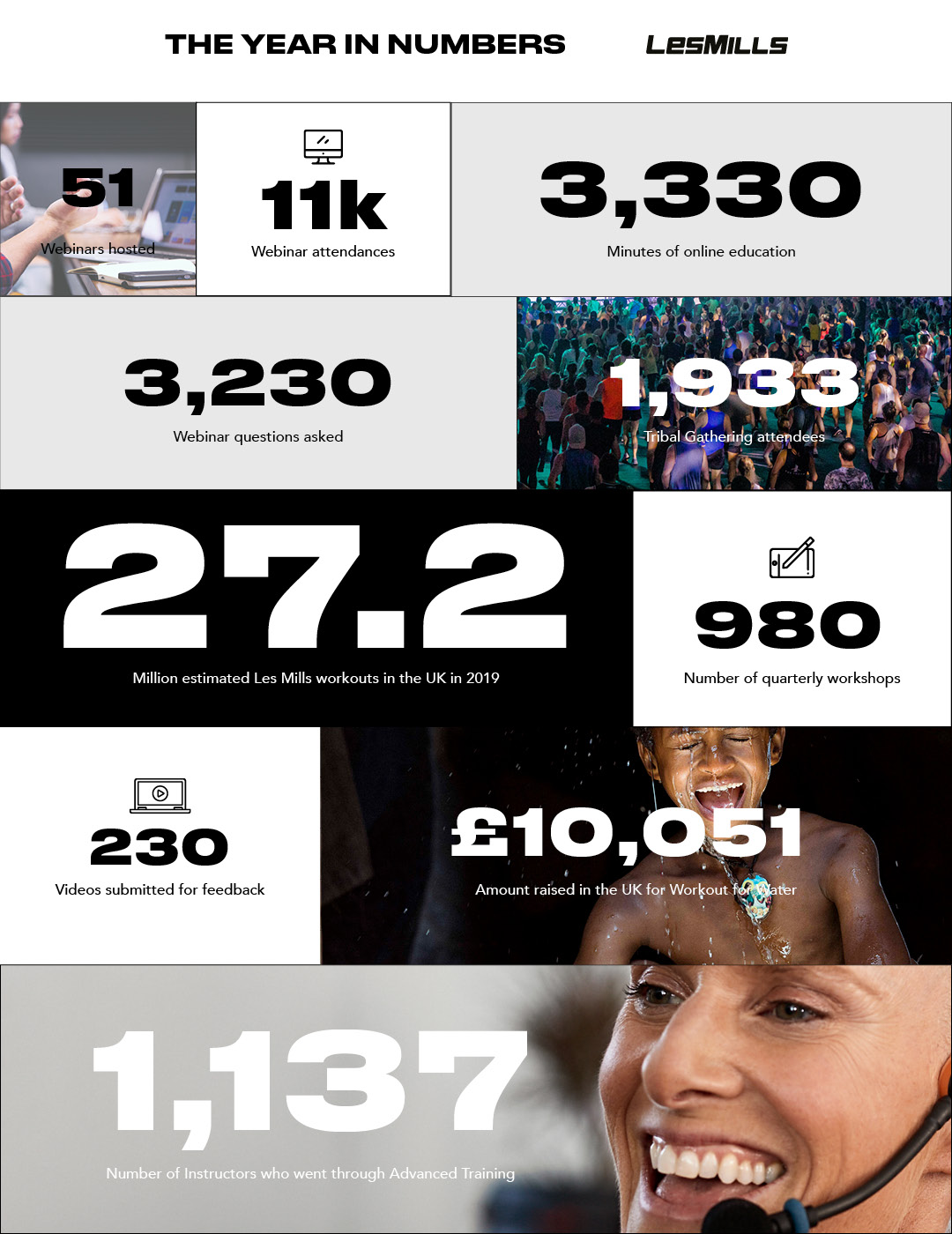 Looking ahead to next year:
How is your planning for next year going? Be sure to check the online Instructor calendar and add those important launch and release dates to your diary. Also, keep an eye out for Tribal Gathering and Quarterly Workshop dates as we move into the new year.
Treat yourself with our Back Releases Christmas Gift
We are super excited to tell you that Back Releases are now even easier and affordable to purchase! They have been reduced to £25 per Back Release (previously £29). And as a Christmas gift to you we are giving you an extra 10% on Christmas Day and Boxing Day! Purchase as many Back Releases as you like during this time for only £22.50 – no code needed, discount will be applied automatically at checkout. Purchase them on the Instructor portal.
Your first challenge for 2020?
Do you currently have a certification paused or on hold? Remember, there's no assessment needed to reactivate a certification and we offer mentoring and support throughout your return to the stage. Click here to un-pause your certification or call the LMUK office on 0207 2640 200 to come off hold.
Thank you again and Happy Holidays from Les Mills UK!