LES MILLS LIVE
LOS ANGELES
28 - 30 JULY 2023
LOS ANGELES CONVENTION CENTER

Together with adidas, LES MILLS LIVE is taking over Los Angeles.
The schedule? Set. The lineup? Large. The experience? Unforgettable.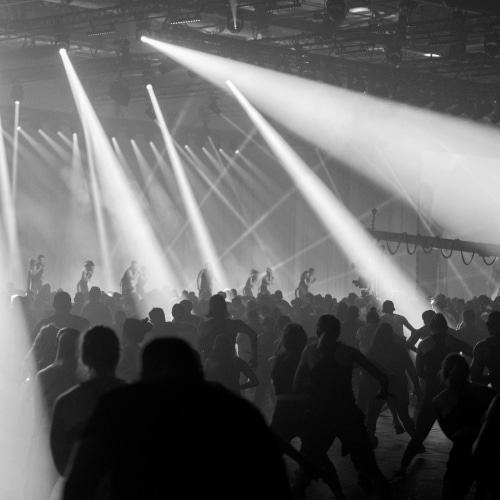 About LES MILLS LIVE Los Angeles
Three days going rep for rep, set for set with thousands of fellow fitness fans and a handpicked selection of the world's most inspirational trainers at Los Angeles Convention Center.
This is your chance to soak in the limelight and pioneer unreleased workouts that will move millions around the globe in this live filming production.
Who's coming with us?
TICKETS ON SALE
Single sessions priced at $50. Allows entrance to your workouts and an Athlete's Village brought to you by adidas x Les Mills.

Be first in queue to secure your spot as one of the first in the world to experience the reveal of a complete new workout.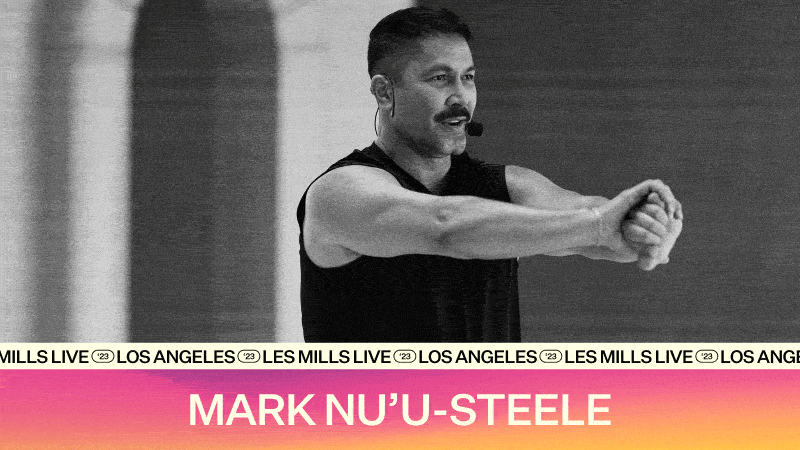 What to expect
Expect the usual suspects of any festival - the booming bass, the bright lights, the big energy, the sweaty selfies, you know and love the drill. Except instead of yelling lyrics and raising phone torches, you're synced up squatting with a sold-out crowd.
That aside, we recommend bringing the essentials: a change of clothes, drink bottle, sweat towel, and anything else you need to keep you in the zone. The rest, we've got covered. That includes all the equipment you could ever need for your sessions, and a secure bag drop area ready to store all your stuff.
Here are our top tips for smooth entry:
On arrival at the Los Angeles Convention Center head straight to the West Hall Lobby for registration – you must register on-site in person.
Please arrive with your ePASS handy.
When you scan your ePASS you'll receive your personalized wristband – no one will be able to access LES MILLS LIVE without a wristband.
Your wristband will be loaded with all the workout sessions you have booked. It will be scanned on entry to each workout and you will only be allowed entry if a green light shows.
Once you've registered and received your wristband you cannot change the workout sessions you plan to attend – so if you want to add more session you need to book them now!
Skip the queues
Attend the early registration on Thursday 27 July so you can skip the queues and use your wristband for immediate entry when we kick-off on Friday.
Important timings
Early registration: Thursday 27 July from 12:00pm to 7:00pm PDT
Friday 28 July: Registration opens at 7:00am PDT
Saturday 29 July: Registration opens at 7:00am PDT
Sunday 30 July: Registration opens at 6:00am PDT
Can't find your ePass? You will have received this in your registration confirmation email.
If you have lost your ePASS please email support@iticket.io and bring a valid driver license or passport.
Here's what you need:
Only bring the essentials: drink bottle, sweat towel, a change of clothes (you're going to get sweaty!) and something warm for between workouts.
Wear your favorite workout gear, but try and avoid bright colors or massive logos.
You don't need to bring a yoga mat or equipment – we've got that sorted!
You will not be able to take any bag into the filming studio but there will be a secure bag drop area for you to store your things. Please avoid bring big suitcases or valuables.
There are no showers, but plenty of toilet facilities.
When you enter the filming studio you need to be ready to work out (there's no room for wallflowers!)
There will be plenty of water to keep you hydrated, and food outlets to choose from.
Sharing selfies and videos during the workouts is great – but please keep clips under 15secs (for music licensing reasons) and use the hashtag #lesmillslive. If you get low on power we'll have charging stations to help keep you in action!
THE ATHLETE'S VILLAGE
Access to The Athlete's Village is covered by your LES MILLS LIVE ticket.
The Athlete's Village opens early (it will close immediately after the final workout of the day)
Friday, 28 July at 7:00 a.m. PDT
Saturday, 29 July at 7:00 a.m. PDT
Sunday, 30 July at 6:00 a.m. PDT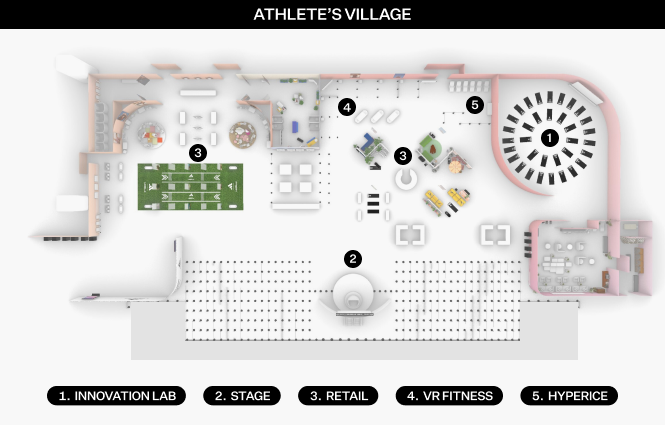 WHAT IS IN THE VILLAGE?
1. Innovation Lab - If you're lucky, you can see Les Mills' newest innovations before they drop on the scene. Hot tip: you might see some Shapes that take you on a mind-blowing TRIP (wink wink). Schedule has just dropped!
2. Stage - Every move syncs perfectly with the beat, with local artists and DJs creating a seriously joyful and exhilarating vibe (thanks Monstercat).
3. Retail - Try before you buy, with a concierge of pros to help you.
4. VR fitness - Game on! The best way to predict the future of training is to invent it.
5. Hyperice - Take a load off and recharge with some of the best recovery and mobility peeps in the business.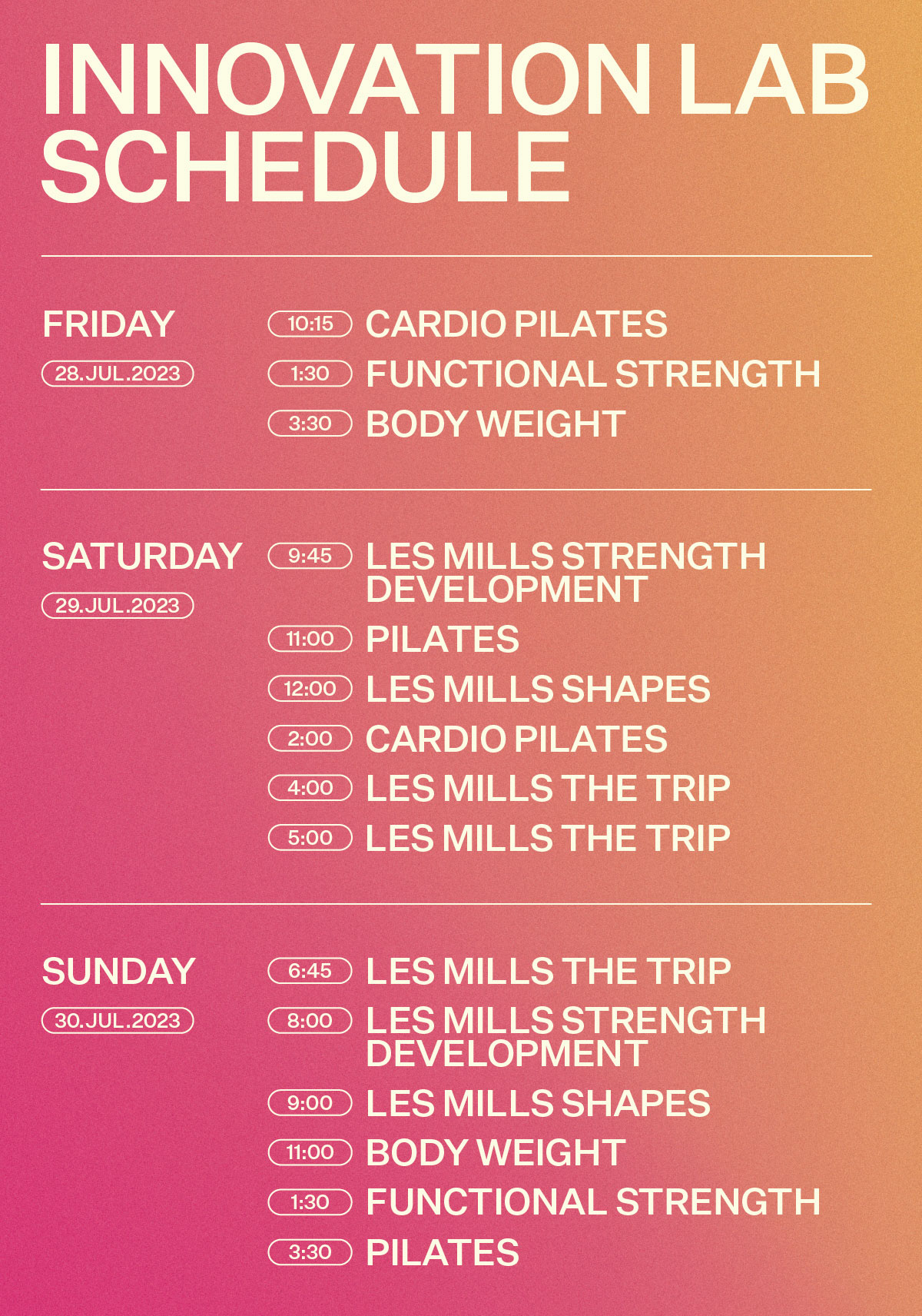 Innovation Lab Schedule
Get early access to Les Mills' Innovation Lab, featuring previews of the latest strength, Pilates and body weight programming. Spots are limited!
Bra Fitting Service + Shoe Testing will be available to book starting Monday, July 24.
Let the fun begin!
LOCATION
Los Angeles Convention Center 1201 S. Figueroa Street Los Angeles CA 90015
Accommodation
The Los Angeles Convention Center is walking distance from JW MARRIOTT! Secure your room at our preferred hotel at the special rate of $239 per night and you will be steps away from all the action.
Rates listed are based on single or double occupancy and are exclusive of any taxes or fees.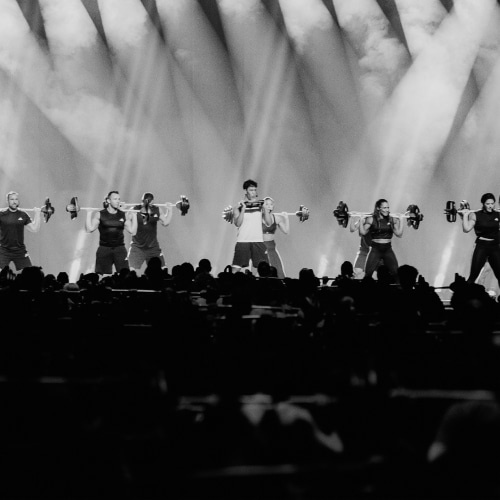 TRANSPORTION
CATCH A RIDE
You can avoid traffic and get to the Los Angeles Convention Center from Orange, Riverside, San Bernardino, Riverside and Ventura counties, as well as the Antelope, San Fernando and Perris valleys on a Metrolink train. You can then transfer to LA Metro for free with your Metrolink ticket.
Check out the schedules, download the Metrolink Mobile App or use the Metro Trip Planner. Bus Route F has several stops on Figueroa St. adjacent to Los Angeles Convention Center. For details on DASH service, go to ladottransit.com.
PLAN YOUR PARKING
The Los Angeles Convention Center has two parking garages, open from 5:30am - 9:00pm daily.
West Hall Parking Garage: entrance on W 12th St & L.A. Live Way (this will get you closest to the LES MILLS LIVE entry)
South Hall Parking Garage: entrance on S Hall Drive
Rates start at $25/ day. Get more details here.
Join us at LES MILLS LIVE Los Angeles
Subscribe to be among the first to hear of news when it drops around LES MILLS LIVE Los Angeles.
Thank you!
We have received your submission, and will be in touch on when the news drops around LES MILLS LIVE Los Angeles.
Error
{{validation.errorMessage}}