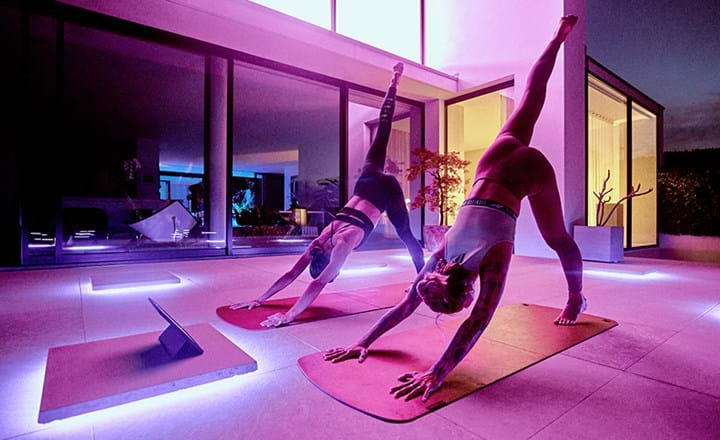 As clubs start their recovery, how can we harness the pandemic-driven digital fitness boom to attract new members?
It's a question many operators are grappling with as they fight to get their clubs back to full fitness. Tapping into digital solutions to engage consumers and boomerang them back to live workouts offers the blueprint for a booming club recovery.
With an estimated 375,000 fitness apps now in existence, digital fitness is bringing more people into the world of workouts – creating exciting opportunities for clubs to grow their membership.
Research from fitness facilities developer Alliance Leisure found 96 percent of consumers who tried a workout from a club during lockdown said they would consider using that facility when it reopened. By taking the club experience into people's homes through livestream and on-demand workouts, operators have the chance to reach huge swathes of the population who wouldn't typically visit a club and help them start their fitness journey.
But what will it take to transform these prospects into paying club members? What do these digital fitness users want from a facility? And how should clubs target them?
The answers can be found in a new, yet-to-be-released study of digital fitness user habits and preferences. The March 2021 research, comprising insights from 3,225 LES MILLS On Demand (LMOD) users aged 16-80, shines a light on exactly what digital fitness consumers want and how clubs can engage them.
We were treated to a sneak preview of the research – here are 8 key insights for clubs:
1. Mental health is a key motivator
While 77 percent of digital fitness users said improving their fitness was a key reason to exercise, the mental health benefits brought by workouts were deemed equally important. Boosting mental health (77%) and stress relief (75%) were both leading reasons why people are using the platform, reflecting the multi-faceted health benefits that motivate digital fitness users.
But the key motivators varied both by age and club membership – something for operators to bear in mind when creating targeted ad campaigns. Millennials said they're motivated by improving fitness and losing weight, while Gen X and Baby Boomers were most focused on maintaining their fitness levels. Maintaining fitness levels was deemed most important by digital fitness users who are also club members, while improving fitness and losing weight were primary motivators among non-club members.
2. Social media is the best place to find them
Aside from nailing the messaging, it's equally important for clubs to know where to find digital fitness users and what to offer them.
When it comes to seeking out fitness support – such as the latest fitness and healthy lifestyle news, trends and information – social media channels like Facebook (34 percent) and Instagram (33 percent) were the most popular destinations for digital fitness users, followed by alternative sources such as magazines, search engines and news websites.

And they don't want selfies or silly TikTok dances – digital fitness users are on the hunt for serious science-backed fitness content to help them hit their goals. The most popular topics they're looking for include:
Technique tips

Goal-specific exercise plans

Motivation & inspiration

Nutritional advice

Deals on equipment & merchandise

General health and wellness information
3. Equipment doesn't carry weight
While received wisdom holds that one of the main reasons for joining a gym is to gain access to equipment you don't have at home (not many abodes boast the space or sturdiness to house power squat racks!), this doesn't necessarily ring true with digital fitness users.
The amount of equipment they have at home varies widely, but many are already well-equipped. Almost half (41 percent) have purchased home equipment since taking out a digital fitness subscription, while less than a quarter (22 percent) want to acquire more equipment in future.
In terms of the types of equipment, most digital fitness users have small items like yoga mats and resistance bands, while two-thirds (68 percent) have a barbell and weights.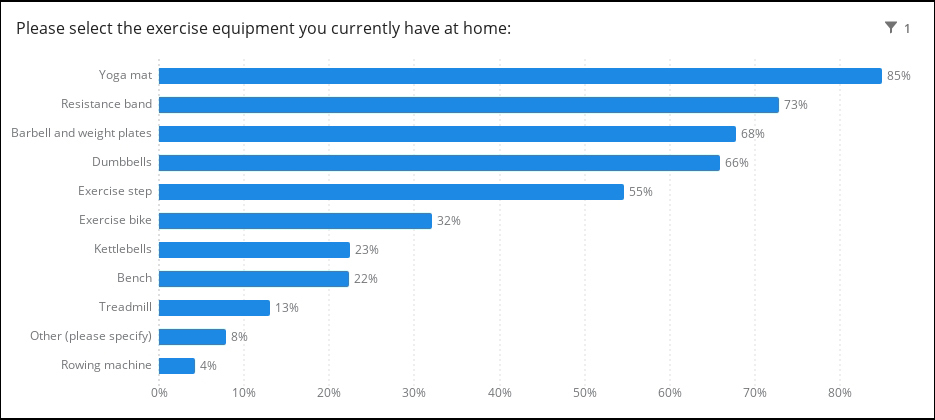 Roughly a third (32 percent) have an exercise bike, which they mostly use for programs like RPM™ and LES MILLS SPRINT™, situated in front of their TV to view on a larger screen.
Given the ubiquity of home equipment and the inclination towards class formats, the numbers suggest clubs would be best served emphasizing the unique experiences they can offer, such as the motivational powers of their Instructors and environment, plus the social connection members can enjoy, as these are the aspects which cannot be replicated in at-home workouts.
4. Tracking is very important to them
Perhaps unsurprisingly, digital fitness users love data and tracking their progress. 59 percent of respondents said they regularly track their workouts, with most also recording data (calories, heart rate, etc) associated with their workout.
The most popular ways of recording were:
30% – Manual tracking by taking notes, using an app or a spreadsheet

28% – Apple Watch

21% – Fitbit

12% – Garmin
With this in mind, operators should appeal to digital fitness users' love of data and progress by emphasizing the effectiveness of in-club workouts for accelerating progress. The Les Mills Groupness Study, which found that live group workouts deliver increased levels of individual enjoyment, exertion and satisfaction would be a prime study to reference, as would the fact that gym members are on average 14 times more active than non-members.
5. Omnichannel is essential
Whether you call it hybrid, blended, 'phygital' or something else, today's fitness consumers demand omnichannel fitness experiences that suit their lifestyle and enable them to work-out on their terms. From a digital perspective, the standout user expectations are high-quality workouts, convenience, and great Instructors.
And despite their fondness for digital fitness, offline activities remain a strong part of their training mix, with more than half of the respondents (55 percent) stating they're also members of a gym or fitness facility.
6. Users love live workouts
Although they're digital fitness users, live workouts in-club remain the first love for many of the study respondents – even those who aren't club members. Among those who belong to a club, some 61 percent said live classes were their favourite exercise format, while 28 percent preferred on demand workouts they can do when and where they choose.
Interestingly, 35 percent of the non-gym members also said live classes were their favourite exercise format, suggesting significant opportunities for clubs to convert them. This chimes with previous research from November 2020, when a similar survey of 9,000 LMOD users found that 63 percent of non-gym members were interested in trying live Les Mills classes in a club.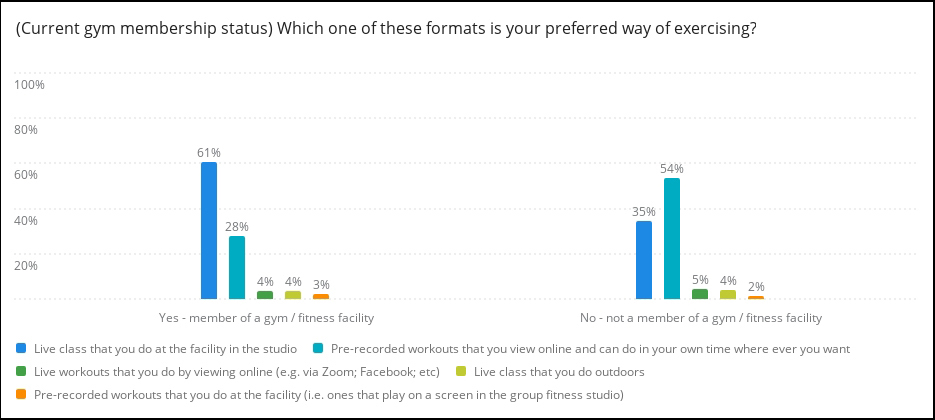 7. Clubs are expected to offer digital
Clubs that can provide high-class digital solutions to members will reap the rewards in terms of retention. Among users who have joined LMOD via their club, 95 per cent said they felt more positive towards their club for providing a digital component to their membership. So it stands to reason that digital fitness users yet to join a club will lean towards one that already offers a digital solution.
What's more, digital offerings play an important role in helping members to keep up their exercise habit and maintain motivation when they can't make it to the club. Almost half (47%) of respondents said they'd actually increased the frequency of their workouts during the pandemic, while just 18 percent reported a decrease.
8. Digital fitness users are loyal to their platform
The research found that digital fitness users (in this case LMOD users) are very loyal to their preferred digital platform. Just 13 percent of respondents also use another paid subscription option and a similarly low proportion (16 percent) currently use free online workouts from sources such as Youtube.
Digital is now undoubtedly a key pillar of club success, but it's the combination of this with live workout experiences that can give clubs the edge over digital-only fitness products. The crucial part is serving up high-quality on-demand fitness content and livestream classes that are motivating, fun, and results-driven. After all, Youtube is chock-full of free, average fitness content, so your club's offering needs to be world-class to keep the audience paying for your digital service.
LEADING YOUR CLUB BACK TO FULL FITNESS?
We've worked with leading clubs around the world to develop a suite of group fitness solutions to help future-proof clubs by expanding their reach in both the online and live fitness space.
GET FIT FOR THE FUTURE