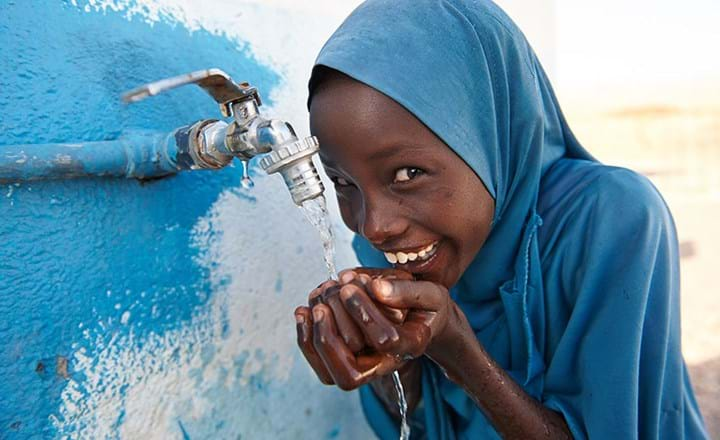 One of the best things about working in fitness is that ours is a win-win industry. Every single visit to a health club brings myriad benefits to the participant, while also supporting the long-term success of that business.
For many of us, this form of conscious capitalism is a big part of why we do what we do. It's a valuable contribution to society and helps bring passion and purpose to millions of lives.
But in a fast-changing world facing unprecedented challenges from climate change and inequality, is this enough?
Are we content to help people work up a sweat a couple of times a week, or is there more that we should be doing to create a planet which is fitter in every sense?
What if we could combine our members' love of exercise with an initiative that helps battle climate change and bring clean, safe and sustainable water to one of the poorest parts of the world?
The truth is, we already can. That's why Les Mills is working with UNICEF to complete two solar-powered water systems by raising US$5m to supply clean, safe and sustainable drinking water for children in the Amhara region of Ethiopia.
In 2017, we raised US$1.1m by running Workout for Water fitness fundraisers in over 65 countries worldwide to support UNICEF.
And in June 2019, we want to take things one step further. We'll be theming Les Mills quarterly workout releases around Workout for Water, to support clubs and Instructors in running a series of special fundraiser events around the world.
The events will encourage members to bring their friends along for the workout, helping to inspire more people to begin their fitness journey at your club, while showing their support for an important charity initiative. This means double the participants for the fundraiser and double the prospects for your club – it's a win, win.
Doing good for others is what our industry does best, and most clubs have a strong tradition and commitment to philanthropy. But in addition to the feel-good factor of uniting the community around a worthwhile cause, there are also myriad business reasons why it makes sense to support others.
For Philip Newborough, co-founder of ethical investment company Bridges Fund Management – which has funded a number of successful gym chains – businesses can no longer afford to overlook social impact if they want to be successful in the 21st century.
"In the 21st century, all businesses and investors should base their decisions not just on financial returns, but also on impact," he told Health Club Management magazine in a recent interview.
"They need to take into account the effect they have on their broader stakeholders: employees, the supply chain, the environment and so on. If you don't do this, then you're not serving society terribly well – and that'll ultimately undermine the value of the business."
"One of the great things about an impact-driven approach is that it tends to create a stronger sense of purpose…. Your employees get behind what you're trying to achieve, not just in financial terms, but also in terms of your impact on members and the population as a whole."
Making a difference
Among the many international health club chains to take part in Workout for Water 2017 was the Les Mills New Zealand collection of gyms. Almost NZD$20k was raised across the 12 clubs and National Office, including a company donation of $1 for every person who attended a group fitness class at its clubs on the day. This raised enough money to build 30 water pumps in East Africa.
In addition to the sizeable amount raised for charity, the clubs enjoyed a host of other benefits as a result of the initiative. This included 17 new members joining the chain, national TV and news coverage worth NZ$20k in Advertising Value Equivalent (AVE), plus a total estimated Instagram reach of 1.2 million from Workout for Water-related social media posts.
In the eyes of corporate social responsibility (CSR) and fitness expert Ray Algar, the commercial benefits a brand can realise through its support of charity initiatives is a reflection of today's socially-conscious consumers.
"I think there is a large pull-effect from consumers who are becoming deeply invested in better understanding the products and services they buy – the entire journey from production to consumption," notes Algar, who says modern club operators must move beyond memberships and P&L, striving for a greater social purpose to truly thrive.
"This, in turn, is catalysing organisations to act more 'responsibly' because they understand that their decisions and behaviours will be intensely scrutinised. I believe that customers, employees and other stakeholders increasingly want and expect a business with significant influence to use it for the wider social good."
So what's next?
Ahead of Workout for Water 2019, Les Mills is asking clubs and Instructors to set up fundraising pages, promote and run events, and encourage their club members and communities to fundraise alongside them.
Clubs and Instructors can choose when and how they would like to promote Workout for Water during the June Quarter of 2019. They'll be supported along the way with everything needed to succeed, including resources, downloadable collateral, social media guides and suggested timelines.
Clubs will support their Instructors to run the signature workouts during Workout for Water and promote the event within their venue using the resources provided.
So Save the Date, visit https://www.workoutforwater.org for all the key info and get ready to make a massive difference to thousands of lives by joining Workout for Water 2019.