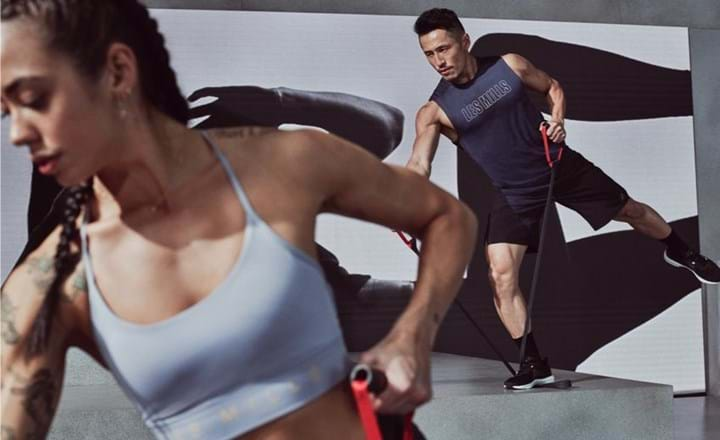 "To see things in the seed is genius."
So reads the quote from ancient Chinese philosopher Lao Tzu – one which features prominently in ClubIntel's new report International Fitness Industry Trend Report: What's All the Rage.
The sentiment, of course, is that those who can identify trends in their early stages will be best-placed to take advantage of their subsequent growth and mainstream adoption. And that's exactly what this annual report sets out to do: highlight the latest trends to emerge across the global fitness industry and the steps operators must take to capitalise on them.
Whether its the shifting power dynamic between international fitness markets, the group workout trends really taking off in clubs, or the technology trends which really aren't, there is much to unpack and reflect on in the 94-page report.
This year's version comprises insights from fitness professionals representing an estimated 11,500 clubs and studios across 20 countries. The report dives into trends across four categories (equipment, facilities, programs and technology), examining how these differ across club segments (e.g., boutique studio, budget club, luxury club, non-profit, etc.) and geographic regions, to provide macro global insights as well as those more tailored to specific types of club.
So what does the report tell us about the seeds being sown in today's global fitness industry? And which will take hold in the coming years? Here are six standout report findings on the trends that are driving a global boom in group workouts:
1. The 'compartmentalization of the club'
In-keeping with report author Stephen Tharrett's recent assertion that traditional multi-purpose clubs aren't catering to one community of 3,000 members, but rather "30 groups of 100" the research highlights the growing 'compartmentalization of clubs' with areas of a facility being increasingly given over to specific group workouts.
Functional training zones top the list, with a 42% global adoption rate, while stretching zones (40%), group cycling studios (35%) and mind/body studios are also on the rise, reflecting the growing popularity of yoga and group cycling workouts, particularly among Millennials and Gen Z.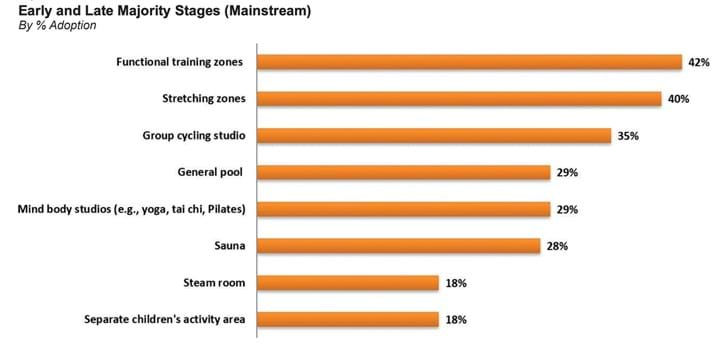 Equally telling, say the authors, are the niche workout trends that aren't catching on in clubs, despite attracting significant press coverage in recent years. Medical exercise areas are present in just 9% of clubs globally, while hot yoga studios (7%) and yoga walls (3%) are also rarely found.
"Each of these areas serves offerings that have received considerable press over the past few years," note the authors. "Yet operators have yet to implement them with the same degree of voracity to which they are promoted in the press."
2. HIIT's still hot – and leading the GX charge
Continuing its ascent to the top of the studio food chain, HIIT is listed as the most popular group workout in the world, with classes on offer in 56% of clubs, while small group training HIIT (for 6 people and under) is present in nearly half of clubs (49%).
Meanwhile, group cycling classes have a 50% global penetration rate (rising to 75% in commercial for-profit facilities), and pre-choreographed group exercise (such as Les Mills classes) can be found in 43% of global facilities.
"Seven of the top ten global program trends are group exercise-oriented (e.g., HIIT, cycling, bootcamp, pre-choreographed, and yoga), and the other three are training related (e.g., personal training, free weights and functional training)," write the authors.
"One can deduce from this how influential group exercise classes have become to delivering the member experience. The other key insight speaks to group cycling, HIIT classes/small group training and yoga as practically indispensable unless your facility is a boutique studio offering a different program protocol."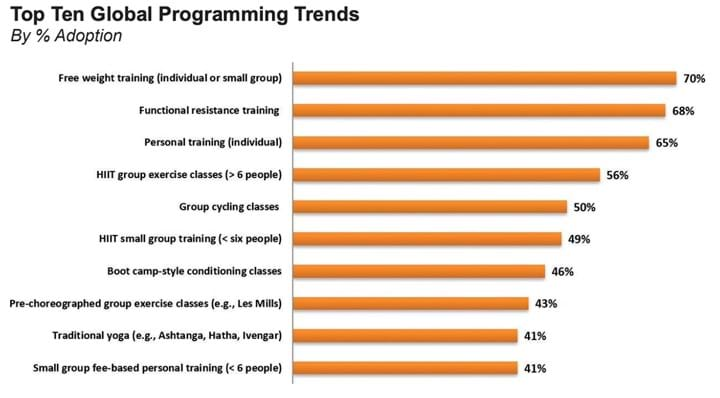 3. More programs are 'crossing the chasm' into mainstream acceptance
Invoking the Rogers Adoption Curve – first put forward by Everett Rogers in his renowned book Diffusion of Innovations – the authors chart the rise of group workouts and classify those which are now industry mainstays, versus programs close to conquering the mainstream, and those which remain niche.
Having passed the 50% adoption mark, HIIT and group cycling are categorised as being in the late majority stage of mainstream adoption, whereas those in the early majority stage of mainstream adoption and closing in on the 50% threshold include bootcamp-style conditioning classes, pre-choreographed group exercise and traditional yoga (such as Ashtanga, Hatha and Ivengar), as well as barre and equipment-based classes.
Programs yet to 'cross the chasm' and move past a 16% adoption rate include mind/body-based martial arts (15%) suspended yoga (10%) and EMS training (4%) – all of which remain niche forms of group workout at this stage.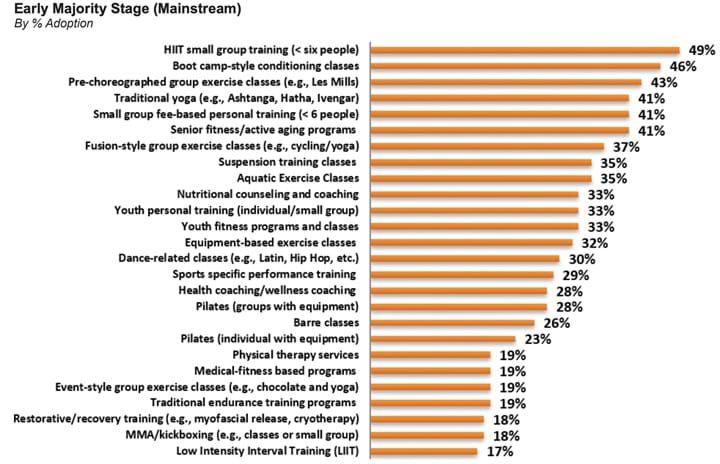 4. 'Digital Darwinism' sees clubs still lagging on the tech front
The report also examines the impact on clubs of 'digital Darwinism' – the term coined to describe the current zeitgeist where technology and society are evolving faster than businesses can naturally adapt.
The authors note "the speed at which fitness operators adopt and leverage technology will have a material impact on their future success" and warn that clubs which fail to keep pace will be at risk of extinction.
Although half of all clubs (49%) report using social media to promote their offerings, just 22% currently support online purchasing of memberships, while adoption of technology to support group workout offerings remains very much in its infancy.
Some 13% of clubs globally offer virtual group exercise classes in clubs, the report finds, while barely a third of this number offer classes that can be streamed beyond the four walls of the club, prompting a stark warning from the authors.
"Streaming and downloadable fitness content, such as those offered by non-industry players Peloton and industry stalwarts such as Les Mills and Wexer, has only been adopted by 5% of fitness operators," they write.
"As fitness moves from a brick and mortar experience to a digital one, operators will need to pursue these platforms more assertively to remain relevant."
5. The US is no longer the only trendsetter in town
After years of being the birthplace for global fitness trends, the US can no longer be considered the primary trendsetter for the industry, according to the report. It notes a marked power shift, with global industry trends now also emerging from Asia, Europe and Latin America, thanks to growing competition in all fitness markets that's forcing operators to evolve and innovate at a faster rate to stay ahead.
The authors report that this new world order means "Not only can trends emerge from any region of the globe, but the degree to which a trend is adopted is a consequence in many cases of the regional marketplace." Another key consideration is the demographic and cultural make-up of each marketplace, with factors such as age, cultural practices and income levels influencing people's preferences.