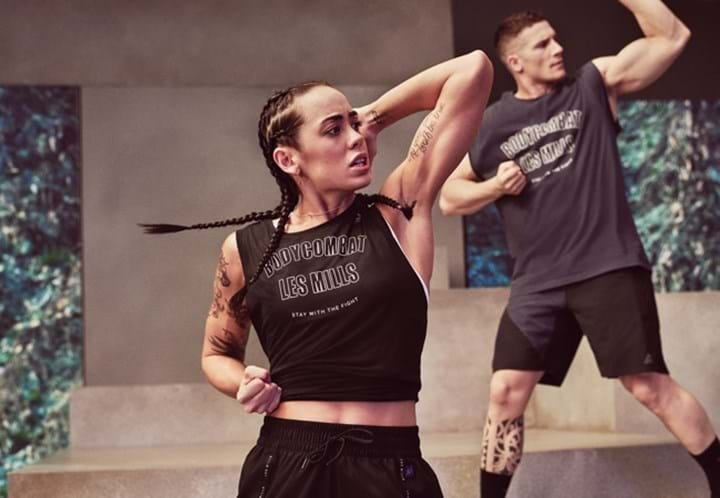 Situated in the heart of 'Hamburger Meile' – Europe's longest shopping centre – Holmes Place has been making waves in the German city of Hamburg for nearly two decades thanks to its passionate and pragmatic approach to group fitness.
Having been the first Holmes Place club in Germany to introduce Les Mills classes, the club today runs 10 such programs and continues to set the standard. Its blueprint for success includes an always-on approach to talent-spotting, regular training and development for its talented Instructor team, a resolute focus on data, and smart application of the findings to enhance the member experience.
For Felix Willimzig, who became Group Fitness Manager at Holmes Place Hamburg in Spring 2019, one of the biggest initial surprises was the success of the club's martial arts offering.
"I was amazed that martial arts-inspired classes work so well here," he exclaims. "When it comes to attendance figures, BODYCOMBAT is our most popular program by a mile.
"We offer five BODYCOMBAT classes per week and although our studio can fit 40 participants, our BODYCOMBAT classes are often oversubscribed by 60%.
"We change our timetable twice a year and even during the summer season when the beach beckons – the class is always fully-booked. It really is unbelievable!"
The packed classes pull in a broad range of attendees, with ages ranging from 18 to 81, and women making up 60% of participants. The huge windows that frame the group fitness studio from the street serve as a striking advert for the club and help to maintain a steady stream of new members, while smart use of Brand Central assets enables the club to maintain an equally impressive digital presence on social media and appeal to a growing cohort of Millennials and Gen Z.
Rewarding rockstar Instructors
Social media activity is also driven by the club's team of Instructors, who harness their own sizeable social media profiles to help promote their classes and the club's events. The willingness to use the power of their own brands to promote Holmes Place demonstrates the commitment of the Instructors to their club, and this is reciprocated through above-average wages and a host of other perks to keep Instructors motivated and engaged.
Marcus Müller, an Instructor at Holmes Place Hamburg and a Les Mills National Trainer for Germany, believes the Instructor team are one of the club's unique selling points and instrumental in its success.
"We have built up a first-class team at Holmes Place, consisting of 20 Les Mills Instructors who are all intrinsically motivated – brimming with fun and passion. In addition to myself as National Trainer, this includes two Presenters, three Tribe Coaches, two Assessors and two Trainee Presenters," says Marcus.
"Irrespective of the number of programs they're involved in, the Instructors take the time to script their releases every three months, ensuring attendees benefit from top-level coaching and consistently great fitness experiences. They also train hard to improve their own physical fitness and serve as genuine role models for our members."
Spotting top talent
With a strong reputation for taking care of its Instructors, Holmes Place Hamburg rarely needs to look very far to find new talent. 20% of the club's current crop were recruited directly from the class or the fitness floor, with Instructors regularly scouting their classes for participants with good technique and an eagerness to develop. This helps to bring on individuals who are already aligned with the Holmes Place brand and big advocates of the programs they end up teaching.
But guaranteeing the success of a program requires more than just top-quality Instructors, says Marcus.
"The perfect Group Fitness Manager doesn't just coordinate the class schedule and organise cover for cancelled classes," he adds.
"It's essential they understand what it takes to manage and inspire a team; Felix brings all of this to the table. He knows the importance of using metrics like club check-ins and class attendances to measure impact, as well as how to interpret them effectively to drive group fitness success. He measures well and he manages well – simple as that!"
PUNCH ABOVE YOUR WEIGHT
Want to learn how BODYCOMBAT's constant reinvention can help your club win the battle for new members?
DISCOVER HERE