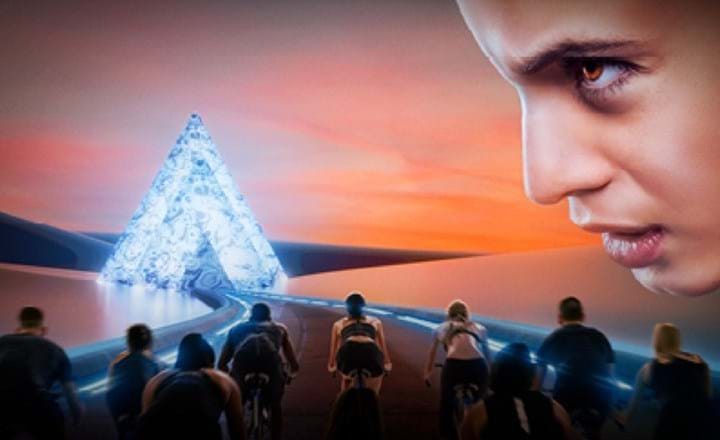 'Necessity is the mother of invention,' the great Greek philosopher Plato famously once wrote. Fast forward 2,000 years and the sentiment has never been truer, particularly for the fitness sector.
The 'happily-ever-faster' pace of technology and growing consumer expectations present a constant need for clubs to innovate to stay ahead of the competition, but this also unlocks fresh opportunities.
One of these is the resultant convergence between fitness, fashion, entertainment, theatre, gaming and music, blurring traditional lines of conformity and offering scope for exciting collaborations. Whether it's Beyonce launching her own line of gym clothing or tech giants like Apple doubling down on fitness-themed wearables, it seems fusion holds a significant role in the future.
Perhaps the greatest example of this to emerge from the fitness sector in recent years has been the advent of IMMERSIVE FITNESS™. This innovative concept combines the buzz of group exercise with stunning cinema-quality visuals to create a workout experience like no other.
The influence of this trend is starting to show up across the industry. This includes the theatrical trappings of the new amphitheatre-inspired 1Rebel Studio in London Victoria, fast-improving quality of Virtual Fitness offerings, as well as recent innovations around cardiovascular equipment (more on which to come). The catalyst, however, and continued flag-bearer of this trend remains the Les Mills class THE TRIP™.
Hailed by media outlets as the "future of fitness", THE TRIP has proved popular among clubs and their members alike, with immersive studio installations already established in 70 sites across 29 countries.
But what's driving this immersive fitness trend? How has THE TRIP paved the way? And what impact is it having on health clubs? Let's explore.
Origins of THE TRIP
The brainchild of Les Mills Jnr (Creative Director of Millennial Programmes at Les Mills International) and his friend Adam Lazarus, THE TRIP is an immersive group cycling class which sees participants journey through a dazzling array of virtual worlds displayed on a huge 270-degree screen in front of them: think pumping indoor cycling class in an IMAX theater.
"We loved projection mapping and the light shows you see during live music shows, so we wondered if we could bring these elements into a group fitness environment," Les explains.
"We saw where the fitness industry was going, we'd seen what Les Mills was doing, and we really wanted to create something that represented drastic innovation. Something that could make a Steve Jobs or Elon Musk, if they were in the room, sit up and notice."
Taking THE TRIP from that spark of an inspiration to a fully-fledged IMMERSIVE FITNESS experience required a large team of diverse talents – one which remains in place and has presided over all 14 TRIP releases to date.
Despite the obvious challenges in front of them, the experts Les approached to bring THE TRIP to life were swayed by the sheer audacity of the project.
"Knowing our work already, Les approached us to help him realise this idea of immersive exercise," says Mike Mizrahi, Director of Inside Out – a leading event production company which oversees both the creative and logistical demands of producing THE TRIP.
"We tried a few different classes and it became fairly obvious that the interactive nature of riding a bike meant we could literally take our guests on a wild ride. They would propel themselves through our worlds, uphill, downhill, flying through the air, interacting with the film throughout."

A brave new world
Each TRIP is generally based around a place (such as Santorini, San Francisco, or Joshua Tree) or a theme like underwater, inter-planetary, future dystopia/utopia. But wherever the journey ends up, the creative process always begins in the same place.
Music is integral to THE TRIP experience and Les will pore over thousands of tracks with the Les Mills music team to compile the perfect playlist.
"The playlists we create often don't make sense when you just listen to them," Les notes. "Individually they're great songs, but you can be left wondering how they work together. We've got an end-game in mind though, and once paired with the visuals it really does make sense. A tribal drum beat could enhance a jungle scene, for example, or a "Clashy" sound could match a metallic look and feel."
At the start of each project cycle, the creative team will meet in Auckland and Les will present his vision for the release, outlining storyline ideas, the music tracks that will feature, reference images and the basic structure of the choreography for that class.
Les Mills Immersive Product Manager Chris Richardson then sets about bringing the project to life, working with Mizrahi and Bruce Ferguson, Creative Director of Darkroom – a New Zealand-based design studio specializing in video and event installations.
"We allow ideas to flow freely at the beginning and by remaining flexible we often find our original ideas morph and take on a whole new level of creativity," explains Chris.
"Once we've settled on the main concepts, we create storyboards including references for material and colour palettes, graphic styles, animation techniques, sketches, and enhanced storylines."
While glitzy graphics seamlessly synced to the beat play a big part in the wow factor, it's the narrative that underpins the experience and is designed to keep people coming back for more.
"We've received a lot of feedback from the gyms around the world who run TRIP classes, which has helped us to hone our storytelling," says Bruce.
"Participants connect better with the right balance of abstract and real-world type visuals, for example. We've also found that, like a good film, each class should have an overarching theme and a strong connection between the beginning, middle and end.
"I started my motion graphic career as a VJ [playing live video graphics along with DJs on screens in clubs and festivals] so I'm really into this side of it. I see each Trip as a journey through music, like an immersive music experience."
With the narrative locked in, it's then onto the painstaking process of bringing it to life in computer graphics.
Each TRIP takes a little less than six months, with a team of seven at Darkroom's studio working tirelessly on the production, ensuring that every road, hill, turn and backdrop syncs perfectly with the music and workout. The need for four TRIP releases per year means the team will always be working on two at a time, with an in-house render farm working around the clock for most of the year to ensure each TRIP reaches health club studios in time.
What the health clubs say
SATS Stureplan, Stockholm
"THE TRIP is our star attraction. It's great for acquiring new members, it's great for retaining current ones and also serves as an excellent driver of additional revenue." Group Fitness Manager Anna Johansson
VSpace, Beijing
"To me there are two cycling programs in the world: THE TRIP and others. Technology, User Experience, high quality of training are main reasons I chose THE TRIP. I had no hesitation to launch THE TRIP in my gym and provide the best cycling experience in Beijing." Mr Zhang, General Manager and Co-Founder
Larkfield Leisure Centre, UK
"I'm really impressed with the TRIP cinematography and sound – I don't think anything else out there compares. I also like the high-quality content of the virtual programs. Our NPS has jumped from 48 up to 67 in the month since we've launched!" Martin Guyton, CEO of site operator tmActive
Fitopia Wellness Club, Belgium
"Both young and old take part in THE TRIP. And everyone loves it! THE TRIP has ensured that more existing members have started doing group lessons in general and indoor cycling in particular. THE TRIP has also attracted many new members. It has been a very good choice for us!" Marco Westerlinck, Service Manager
West Wood Clontarf, Dublin
"THE TRIP is fun, it's exciting, it's fresh and it's just something completely different that no other club offers in Ireland, we're one of the few clubs in the UK and Ireland that actually offers it. So people talk about it, there's a buzz around it, and when a new TRIP comes out, people are always like 'Wow, how does this feel?' and because it's so animated, you nearly feel like you're moving on the bike. It's a really, really exciting product." Tine Bogsted, Group Fitness Manager
Keeping pace
Looking at the current fitness landscape, it's easy to see why THE TRIP has had such an impact. With the rise of fitness apps, devices and online exercise solutions, members' expectations are increasing as quickly as technology evolves.

As clubs need to innovate to remain competitive and relevant to their users, the quality of content in their group exercise studio is taking on greater significance, particularly for younger members who value the experience over everything else.

"THE TRIP is a very exciting innovation and it is very now. A classic example of disruption – taking 1+1 and making 5," says Mike.

"We're living in interesting times with a real confluence of mediums. We are seeing reality/TV, video gaming/live events, immersive and interactive theatre. THE TRIP is an extension of this – a merging of cinema with fitness."

Chris agrees. "In the case of THE TRIP you are basically merging a feature length animated film with a seriously results based cycle workout – the only thing missing is the popcorn," he adds.
"There's still a heap to explore. We're looking at other ways we can supply THE TRIP to a wider audience, so more people can experience how engaging and immersive fitness can be."
Gateway to Live Classes
A particularly interesting aspect of the future of immersive fitness will be its impact on wider group exercise classes. Clubs which have installed THE TRIP have reported significant uplift in their overall group exercise attendances, with the big-ticket class attracting new audiences into their club's group fitness studio and its broad array of class offerings.
"People who've never cycled before, or who previously hated it, are now hooked," says Bryan Jarrett, who as Group Fitness Manager at TMPL in New York City installed THE TRIP.
"THE TRIP changes everything for them. We've seen members lose a lot of weight, because they're doing THE TRIP consistently and getting results. We've even turned some of them into TRIP instructors, they've become that passionate about the class!"
With this in mind, Les Mills and Stages Cycling hope to replicate this effect with the recently-announced Les Mills Virtual Bike by bringing cinematic content to the gym floor for the first time.
"We've delivered a bike that will provide industry-leading performance feedback combined with the best motivational content: LES MILLS SPRINT, RPM and THE TRIP will all be available, bringing cinematic fitness to the gym floor for the very first time," says Paddy Murray – VP of International Sales & Marketing at Stages Cycling.
"The added benefit of the Virtual Bike is that it will act as a gateway to increasing group cycling participation and this will be great for member retention."

So fun you forget to sweat
A large part of THE TRIP's success to date has been its ability to attract new audiences with a fun way to get fit – bringing results without them even realising how hard they're working.
The workout itself delivers everything you'd expect from a Les Mills cycling class. The programming has been designed for consistency and results, moving participants through the heart rate zones to ensure they're working hard (only 19% of the class is spent in either a light or very light-intensity heart rate zone). But as a recent Penn State University study proved, the cinematic content provides so much fun they forget the sweat.
"It seems inevitable that this immersive experience is the future of exercise classes," Mike concludes. "THE TRIP transports you somewhere so engaging that it transforms what could be a fairly mundane bike ride into a rollercoaster ride. It's a game-changer."