We caught up with Sarah to discuss what it takes to maximize your potential and how making the most of failure can get you where you want to be. It's something she's so passionate about she's penned the book, Extreme You.
In your book you've coined the term 'extremers' for people who are at the top of their game. Have we all got what it takes to become an extremer? And is it something we should all aim for?
Absolutely! An extremer is anyone willing to max out their own potential to the extreme, and everyone has the potential to do this. It is just a matter of understanding what your potential is – you need to think about your core skills and strengths, and what it is that you love. Once you have an understanding of what you want to achieve you can commit yourself to consistently developing the qualities you need to achieve it – that's how you become an extremer.
How do you know where to channel your efforts? How do you find your calling?
The one thing that I feel successful people do a really good job of is something I call "checking yourself out". Rather than reading text books or googling stuff, these people just get out there and have the willingness to try new experiences. It comes down to being open-minded and really throwing yourself into new things. With this experience you realize what you like, don't like, and really love – you get in tune with what makes you thrive.
Focusing on where you want to be is just part of the picture; how does focusing on your failures help?
If you haven't experienced any failures or mistakes that have led you to a place where you're not thriving, then you can't have that strong filter for what is right for you.
In my book I share my own failures and the stories of several people who have gone quite a long way in their career before they then realized that they simply weren't going to get to the level that they wanted to. Condoleezza Rice is a perfect example of this. While studying a classical piano major at college she realized she wouldn't ever be talented enough to play Carnegie Hall. At first it was a devastating loss, but she now credits it with helping her redirect and travel in a direction that led to her extraordinary success.
I've learned that you can't plan success. When I was in my twenties I went through life thinking that successful people had a very clear path – and a five year plan etc. But actually it's way more random than that. When I discovered that you can't really plan for success it was a real relief.
You're concerned we're cultivating a society of young people who fear failure – the 'woossifying of the western world'. How do you think we can counteract this?
There's been this incredible generational shift where we are increasingly questioning risk and essentially becoming more woossy. I believe this has a lot to do with what I call the self-esteem movement, which kicked in around 20 years ago when we started awarding kids trophies just for showing up, protecting them and making them feel good the whole time. By doing this we are not allowing children to experience loss and to figure out where they shine. Frankly, we're not giving children the chance to develop their own internal drive.
So, we should embrace the knockback?
The more knockbacks you have the better you get at dealing with them. I am now so much more comfortable talking about so many embarrassing parts of my failures because I've learned that they are part of the journey. But when you're younger it can be very daunting. You constantly think, "God, if I screw that up how will I ever recover". But you do recover.
Instead of spending all your time fearing failure, it is more important to digest it, learn from it, figure out what you would do differently, and then start to take steps forward – so that you're not stuck in a place of fear.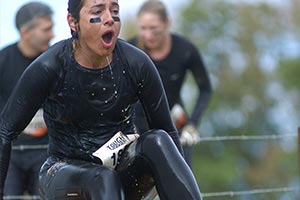 Being stubborn and humble are two traits that you feel are key to success. Can you please explain.
I was incredibly lucky to experience success at such a young age – I spent my 26th birthday at the Cannes Film Festival alongside Richard Branson. It was something that I never imagined would ever happen, and at the time it went flying straight to my head. But fast forward a year and I had been fired. The truth of the matter is, I didn't have the maturity or self-development to deal with it. I needed to have a much bigger sense of humility, self-awareness and understanding. I went through a period of real despair in my career, but it taught me to be incredibly humble, and to know that no matter what there is always a shitload of people who know more than me.
Who do you look to when you need inspiration/motivation?
I get a ton of inspiration from listening to and learning from other people. I find it very interesting seeing how people look at other problems and solve them. Right now I am listening to Bruce Springsteen's memoir – it's just fantastic, listening to someone who is one of the greatest rock stars on the planet talking about the struggles of being a broke twentysomething playing in dirty little bars.
Inspired by the suggestion that you might be 'lazy' you went from the kid who would barely finish the school cross country to marathon running … How?
I really struggled with fitness in my teens – I was never terribly good at sports and was just too lazy and unfit. I remember that when I was about 19 I attempted to run the Auckland Round the Bays [an 8km fun run] with my brother-in-law. I nearly died! Just three k's in I was wheezing and it was mortifying. Meanwhile my sister's husband is crushing it, probably hungover but still smoking me! That was the moment I went holy shit, this is embarrassing and I've got to do something about it.
I joined the gym and started doing Les Mills workouts, quickly becoming part of a cult of young people who loved group exercise and wanted to be there every day. Frankly, Les Mills made exercise a lot of fun, and was a huge part of my learning to develop a passion for fitness.
Now where do you find your fitness motivation?
When fitness becomes such an integral part of your life you don't need much motivation. So I don't feel I need a lot of motivation to stay fit, but I do enjoy setting goals – I tend to do a half marathon every year, a triathlon here and there, I'm doing [endurance event] Tough Mudder later this year. I generally find that setting goals is a great way to challenge yourself, break the routine and experience different types of training.
I deeply believe that maximizing your own potential starts with physical fitness. And I know from my own personal experience, and from that of many of the people who I spoken with, that the act of strengthening the body physically is key to building confidence and mental and emotional strength.
Sarah Robb O'Hagan is the founder of Extreme You, a movement to unleash high performance. As the global president of Gatorade she led its reinvention and turnaround, and she is the former president of Equinox Fitness Clubs. She has held leadership positions at Nike and Virgin Atlantic Airways and is now the CEO of Flywheel Sports. Sarah was named one of Forbes' "Most Powerful Women in Sports" and one of Fast Company's "Most Creative People in Business".
Follow the freshest thinking @fitplanetmag.