ZERO TRAVEL, FOOD AND ACCOMMODATION COSTS
"The majority of Instructors usually have to travel to join Initial Training, which can be time consuming, expensive and hard to fit into the everyday life", says Les Mills Nordic Trainer Elin Atlebond. "None of those things are a problem with an Online Initial Training!"
Instructors who have completed the Training agree. "I'd been looking at booking LES MILLS GRIT™ Initial Training for a while," says UK Instructor Fiona McKay. "As soon as I saw it was available online I booked it. My location always means long travel, hotel stays and eating out, so I was saving a small fortune."
It's a similar story for UK-based Lisa Kelly. "I'm a mum of two and to go away for the weekend is quite hard for me: I would have had to get the kids looked after, pay for a hotel the whole weekend and travel Friday night," she says. "The opportunity to do it in the comfort of my own home in [COVID-19] lockdown was absolutely perfect for me, plus it gave me something to concentrate on in my spare time."
WORK FROM THE COMFORT OF YOUR OWN HOME
Working in a space that feels safe and familiar can help you focus on absorbing the content of the module. "As a massive introvert, live training can be very intimidating, so I knew doing this from the comfort of my own home would be perfect," adds Fiona McKay. "The benefit of this being I was more engaged in the learning, and free to work at my own pace with the education supplied before and during the training." Another UK Instructor agrees: "It was very relaxing 'working from home' and I was therefore able to concentrate well, assimilating the information easily in a no-pressure environment."
"I think it's really beneficial for Instructors to do the module in a place where they feel secure and confident!" says Elin Atlebond. "They can do the training in their gym, home or office – somewhere they can relax."
"Even though my classmates and I never actually met in person, thanks to social media we have formed a bond and remain connected in our journey, cheering one another on!"
MORE PREPARED BEFOREHAND
Trainers are reporting that the pre-work required for the module means that all Instructors are showing up feeling more prepared for the course, which sets them up for success. "I'm seeing Instructors display much stronger foundations in technique and better understanding of the choreography," says US Trainer Meghan Hayes.
"Prior to training, Instructors send in a pre-training track of them teaching", adds fellow US Trainer Adam Bramski. "This means that Instructors are more prepared because they have already received content and applied it in their pre-training track." US Trainer Susan Laney thinks that the pre-training track "allows Trainers to have a better sense of where they can support individuals across the 5 Key Elements".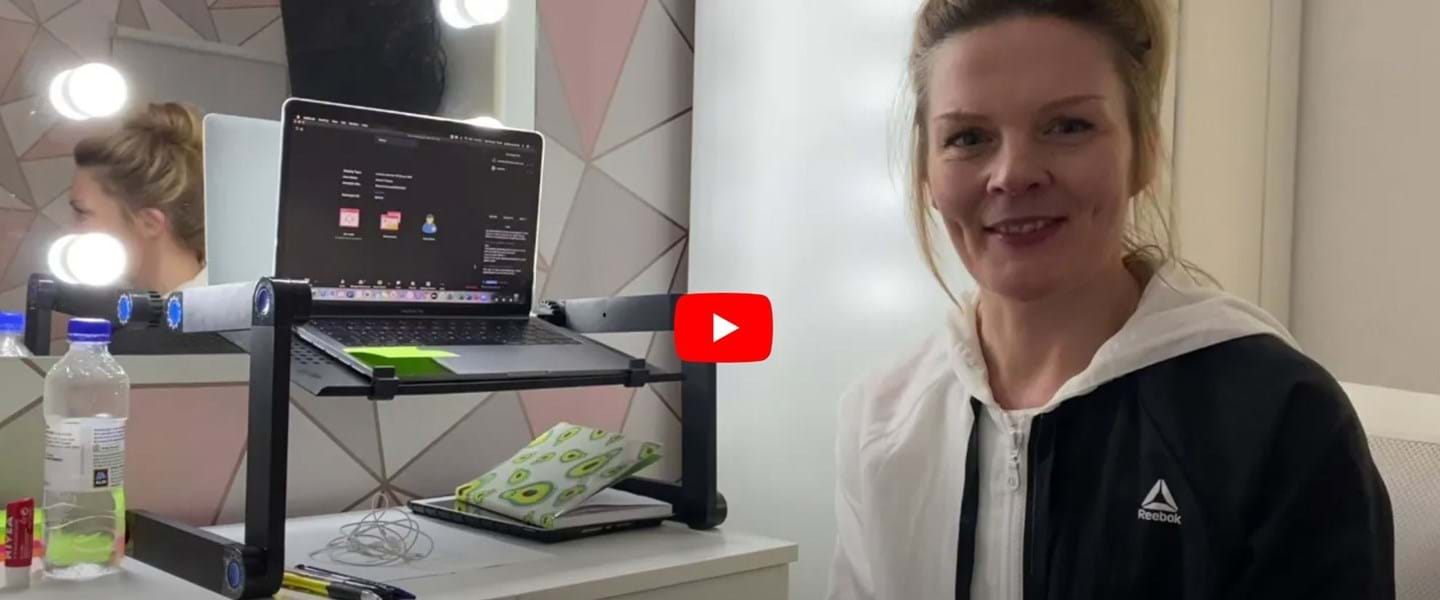 FEWER DISTRACTIONS AND MORE TIME TO DIGEST THEORY
Let's face it, there can be distractions in a live setting – whether it's the temperature of the room, others in the group, or just wondering where the nearest coffee source is! One UK Instructor says, "There was much less digression than normal live training modules and I felt my time was efficiently used." UK Trainer Lyndsey Morrison agrees, noting that "fewer distractions means the group can just focus on taking the content in".
As you would expect, the online course is less physical than the live version, which can also help with concentration. "Compared to my face to face BODYPUMP™ training, I feel the lower amount of practical content allowed me to digest the theoretical side because I wasn't as physically exhausted," says UK Instructor Sarah Rainsford.
"I didn't have to travel, so I wasn't tired," adds Lisa Kelly. "In my lunch break I could take the dog for a walk and get away from the computer for an hour, so that when I returned I was fully fresh for the afternoon. Normally I would still be in the venue and come back from lunch a bit sleepy and less able to concentrate."
"My location always means long travel, hotel stay and eating out, so I was saving a small fortune."
A MORE RELAXED PRESENTATION EXPERIENCE, PLUS ADDITIONAL TIME TO FILM YOUR ASSESSMENT TRACK
If you've completed Live Initial Training, you'll be familiar with the nerves that kick in just before your final presentation. So here's some great news: with Online Training there are no final presentations in front of the group!
"Because the presentations are filmed and not live in the group, there's a lot less pressure on the Instructors to 'perform' in front of people and I've found that the content and information being presented is landing better," says Adam Bramski.
"I really liked that there were no presentations during the two days of training to worry about," says a UK-based Instructor. "The track presentations as well as the little group activities you do on Initial Training are always really nerve-wracking for me and tend to be all I can focus on over the weekend. This then distracts me from fully absorbing all the education we're receiving. With these pressures lifted, the weekend became more about simply listening, asking questions and reflecting on what we were hearing from the Trainer and other participants. Filming is still nerve-wracking but you can control this more easily as you are in control of when you film, the environment etc... It also removes the pressure of having 'just one shot' at passing and being worried about messing up your certification because of nerves."
Once the course is over, you have an additional five days to prepare your final assessment track. "This gives Instructors time to let the learning land, practice it over a longer period of time and film," says Adam. "They can film as many times as they like and send in the take they feel is their best work. This teaches Instructors to be more resourceful, using ALL the materials provided and enables them to self-assess using the Technique Assessment Form so they can be confident they're sending in a pass. (I'm hearing almost all people are passing this video process!)"
"Instructors can film as many times as they would like and send in the take they feel is their best work."
STILL OPPORTUNITIES TO CONNECT
"I would love for Instructors to know that even though they are in an online space, there is still so much room to connect!" adds Adam. "It actually allowed people to be themselves more because they were in their own comfort zone."
Meghan Hayes points out that the connection in the online course actually starts much earlier than in the live format, with Trainer-Instructor contact and Facebook groups being established before the course commences. "Instructors are engaging with each other in the group, checking in on how learning their track is going, and helping each other out," says Meghan. "And in the actual course, we can do virtual high fives and thumbs up, plus we use the breakout rooms on Zoom so Instructors can connect with each other. We continue to engage after the trainings too. For instance on our Facebook page, they are all asking how they are moving forward and learning the next tracks or even how they learned their tracks. It's amazing!"
US-based Jenni Sommer agrees. "Even though my classmates and I never actually met in person, thanks to social media we have formed a bond and remain connected in our journey, cheering one another on. One Tribe!"
SO WHAT'S DIFFERENT?
No final live track presentation for the training outcome

Less physically demanding

More time to submit presentation track for the training outcome
"I thought it would be more different than it actually was!" says Elin Atlebond. "I ran the module pretty much as I would at a live event. My biggest concern before the education was if I'd be able to provide valid feedback to Instructors during the Technique Bootcamp, but I found it really easy to see and help them with their technique. One difference is that the drills usually done in pairs or small groups have been redesigned or replaced with another drill, so Instructors can do them by themselves (or in breakout rooms if the platform supports it). Also, there is no BODYPUMP challenge in the Online Initial Training, which makes it slightly less physical."
"Post-training, Instructors send in their Presentation Track for feedback and to receive their outcome," adds Adam Bramski. "This means they have a few days after training to apply and practice the concepts, rather than learning them in a weekend and trying them on the spot."
IS ASSESSMENT DIFFERENT?
The assessment process remains the same: within 60 days after training, submit a video of you teaching a full class. Please contact your local Les Mills office if your gym is closed to enquire about assessment at home options.
Online Initial Training is now available in most countries, in all programs. Book through your Instructor Portal, or contact your local Les Mills office.