BODYATTACK™ 108
The release starts off with an incredible nostalgic feel in the Warm-Up but turns things up in Mixed Impact. Be sure to watch out for some new innovations and running patterns in this track! Lisa loves the fun in the Aerobic track. We switch up the armlines to highlight the fun and the workout. Another highlight is Athletic Strength. We have a cool rotating Lunge and Stomp that will challenge your muscles and balance, good luck!
As you move into the second half of the class, enjoy the multidirectional challenges in Agility, this is a great benefit to your members so highlight it in your coaching. In the Interval Track, let go, enjoy the music and the new armline patterns – it's not the workout in this track, it's the experience. In our final peak, Power, each round is its own challenge so encourage your members to do what they can, making sure they take pride in whatever movements they can do.
BODYBALANCE™/BODYFLOW® 88
BODYBALANCE 88 is a unique experience with great contrasts in every aspect of this release: music selection, dynamic flow vs static and reflective poses, nine presenters to show that every teacher brings their uniqueness to the program and it just works beautifully. Oh, and a few hundred people in the Masterclass filming travelling from all over the world. Can you imagine when the whole room moving and breathing at the same time? Simply magical!
What about the release itself? What's different? What's new?
Tai Chi style Warm-Up: a building sequence that leads into big, dynamic fun with lots of mobility and balance work. This sequence is later repeated in Track 9.
We have two Sun Salutations to warm and mobilize the body further with Carry On and the mesmerizing "I Can't Get Enough" with striking cobras.
"Higher Love" is the epic sound for the Standing Strength – watch out for arm lines that will take your standing poses grow into a new space. #feelitall
A quirky and playful Balance track that will put smiles on everyone's faces, then two Hip Tracks: Standing Dancer's Pose with Mermaid's arms is back along with PNF stretches to open up even more. The Core tracks will not disappoint, taking strength and mobility to another level with "Walking On A Dream" and "Old School Is For Lovers" with Fireflies and Wild Thing poses to challenge and open the body. We slow the pace in twists with old favorite, "I Heard it Through The Grapevine", and then 9A revisits the Tai Chi feels with the song "Glory" and more PNF stretches to complete. We included "extra outro music" at the end of the Relaxation/Meditation tracks so you have gentle music on as your participants leave the class… we hope you love this and thanks for all you do!
BODYCOMBAT™ 83
Under the big lights in the epic historical buildings at Fox Studios in Sydney Australia, BODYCOMBAT Release 83 held center stage with hundreds in attendance. Drama, excitement, energy and electricity engulfed the room, cheers of "Kia Kaha" and high fives put huge smiles on everybody faces.
Release 83 has it all: high energized music with simple combinations to create an easy-to-follow, powerful workout.
Different striking movements, directions, switching stances and lateral jumps bring in the cardio element of BODYCOMBAT. We start with a slower-paced Warm-Up to mobilize the joints, warm the muscles and get a feel for the rhythm and strikes to set us up for gear change in the high-energy Brazilian Capoeira in Track 2.
Push-kicks, sprawls, power elbows and jumping knees all play a part in taking you through the journey towards the final Power track! And there's an 8-minute endurance-based marathon – which could go down in BODYCOMBAT history as one of the longest final Boxing Power tracks ever! So... save some energy!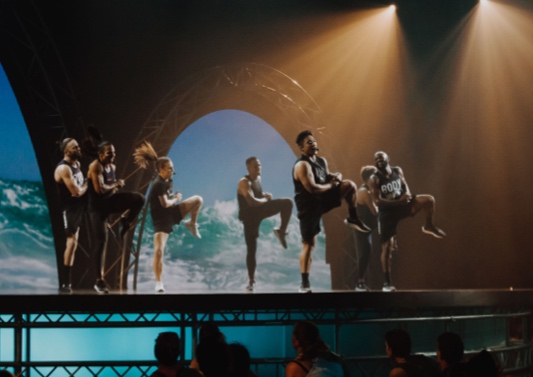 BODYJAM™ 92
Soca Soca Give Me Socaaaaaahh... Track 1 and, OMG, this is the song the selectors play, EV-ER-Y DAY! OK, these are the lyrics of the song, but it's meta AF 'cause it really is that song!
BODYJAM 92 is packed full of Hip Hop, huge huge huge drops with beautiful sideways to take you everywhere, starting with this amazing new Track 1, Big Bad Soca.
We get heavy for Isolations (ummm… don't we always?) then welcome to Groovy Soca – the queen of Bacchanal brings us the bestest and latest Track 3 of all time.
Then, just think of the best music in the world, and welcome to Hip Hop. Drops galore with Paise, all the old-school you know ("now, I just wanna love you!") before the best of 2019 hits with "Hot Girl Summer" (bummer coming next round), "Bounce Back", into "Truffle Butter"… whoop whoop yikes!
Bring the heart rate down with full SASS, before the second half is gonna challenge your cardio with strong powerful arm-lines into silky smooth motions, like having an arm wrestle with a stingray. My favorite is "Death And Desire" – that melody is just sublime – before the all-star takes us home with Retrograde, and you are gonna love every inch of it in your earholes. (That was super funny and clever until I realized that Smashmouth sings all-star, and not Sublime… Sorry, getting my 90s' Ska bands backwards…)
Finish the class with "How Do You Sleep": gorgeous vocals and sensual styles. Sounds like BODYJAM to me!
BODYPUMP™ 113
BODYPUMP 113 is athletic, high repetition, light weight resistance training. In this release we have dialled up the functional feel of key tracks, which adds a cardiovascular kick! You will definitely get your heart rate up to achieve calorie burn, muscle tone and shape!
Our Squat track "It's Gonna Be Alright" is cool and uplifting and we use the Squat with Calf Raise to increase the functional and cardiovascular factor. Triple extension of the ankle, knee and hip is pure athletic training!
Slow bar work and isolated Chest Flies create amazing tension training for the chest while a single Deadlift/High Pull prepares the body for a smooth and efficient Clean & Press in the back work. We also have Mountain Climbers in the Triceps… wait, did you say Mountain Climbers in the Triceps?! This pre-fatigues the shoulders and core to make our normal triceps exercises feel even more challenging than normal!
The Biceps track is pure fun and the message is that life is much better when we come together as one! Dynamic training in the Lunge track with functional rows will stabilize our posterior chain, while maintaining shoulder tension will target the whole shoulder joint with a sprint finish.
This is a modern athletic functional workout that will set the future 'bar' for this amazing program.
BODYSTEP™ 119
We kick off the workout with a dramatic opening, warming the legs with a lunge and squat pattern that we repeat in the Mixed Strength track. Get ready to "Ring The Alarm" because we create some serious heat in the legs and glutes right from the start!
The "Side Effects" are a super warm body as we move into the first cardio peak in the class to the much requested song, "Born This Way", where we celebrate your authentic you by giving everyone the freedom to move the way they want to: high, low or somewhere in between!
We "Get Loud" with a spooky twist in the Mixed Strength track. This is another great track that you can bank for your fun Halloween themed classes.
Next we jump, swing and propel to bring out the cardio peak 2 boss with "FWTB".
Check out the new Gorilla Squat with the kettlebell weight grip in Conditioning 1. You might have to shake your booty to momentarily take your mind off the insane leg and glute burn in this track.
The Party step is packed with sassy attitude to "Hustle", and then the Athletic Circuit has us cross training with 3 different movement styles.
In peak 3, we crack the whip to get us all reaching our final peak to "Circus".
Finally, we have circular movement patterns in Condition 2, and a salute to all the mothers out there, as we celebrate making it to the end of this kick butt workout to "Hey Look Ma I Made It".
CXWORX™ 38
This release offers exercises that test both our stability and core strength. A standout move in this release has to be in the combination of both Tracks 3 and 4. Moving with the Resisted Rainbow into a new innovative Deadlift with the band wrapped around the thighs is fun, effective and feels great.
The lyrics of "Hey Ya" in Track 6 challenge the timing and feel of each exercise. Moving slowly then fast never felt so good!
LES MILLS GRIT™ 32
Welcome back to another EPIC round of GRIT! The creative team have taken this workout to a whole new level. The structure of Strength and Cardio this round is called the 'Ladder System'. Not only is this structure innovative, but having reps to try and hit will hold you accountable and get you and your members working harder and faster than you usually would.
GRIT Athletic is nothing but pure fire this round! Revisiting an old friend and putting a fresh spin on it – these Tabata intervals will challenge you mentally and physically. It's no secret in GRIT that we love the Tabata method! Not only will Tabata training make you fitter, but it also helps you burn more calories both during and after your workout. Advanced options are also included for those who love the extra challenge.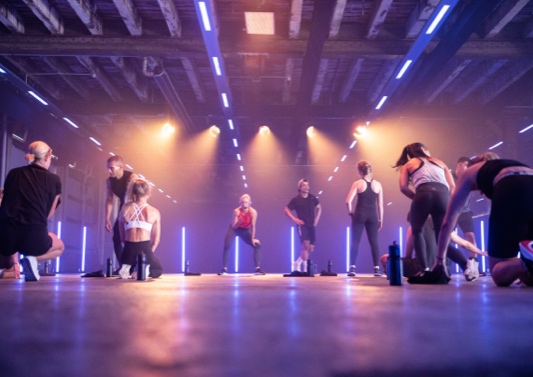 LES MILLS SPRINT™ 19
Sprint 19 is HIIT with a twist!
This release has four variations of the Workout Plan – we achieve this by interchanging the Mixed Conditioning tracks. The beauty of this innovation is that each variation delivers on the HIIT promise: they all feel different, and they keep our bodies guessing.
No matter the variation chosen, the workout kicks off with a fresh modern sound in the Accelerated Warm-Up to engage our bodies – legs, lungs, heart, ears, you name it!
From here, the Mixed Conditioning tracks build into a high volume of Work versus a low volume of Rest.
Mixed Conditioning 1 starts with 3x Power Intervals followed by 3x Sprint/Power Intervals, and we round it off with 2x Strength Intervals. The duration of each Work Interval is 40 to 60 seconds and Rest Intervals are 15 to 30 seconds. The 3x Sprint/Power Intervals are sneaky: they look harmless on paper but bite hard on the bike.
Mixed Conditioning 2 starts with the same 3x Power Intervals followed by 1x extended Strength Interval, and we round it off with 4x Sprint/Power Intervals. Much wider range in this track with Work Intervals of 25 to 160 seconds and Rest Intervals 5 to 30 seconds. The extended Strength Interval is almost 3 minutes and provides us with an opportunity as coaches to layer our delivery over a much longer working period.
LES MILLS TONE™ 09
LES MILLS TONE 9 is about experimenting with different training concepts to ensure everyone gets the best results from their workout.
There are multiple key take-aways of TONE 9 including the use of isometric holds, the benefits of steady-state training for baseline fitness and the cardio peaks to increase our fitness.
The workout kicks off with "Don't call me up" and "Post Malone" to get everyone warm. "Because we Can" is a class favorite: everyone wants to can can! Track 9's "Come on over" Cardio/Strength Track with the Heel Lift Squat with Chest Press is a highlight and "To Life" Track 14's Core track has the amazing feels of Thoracic Twist with a Figure 8 and the return of the Halo/Woodchop.
A super fun interactive core track is included to enhance the smile factor in your class. And always keep in mind, you have the choice to coach plates and bands as options or choose to mix it up. For example, use bands for a few classes and then plates. The switch-up can be one way to keep your classes fresh physically and mentally for your participants. TONE 9 is intelligent in design with plenty of innovations for a cross-training effect for "fit for life" longevity. Let's dive in.
RPM™ 86
RPM 86 is another epic release. With great music and choreography to match, the workout is a complete experience. The class opener is smooth and engaging. Here we set the scene, coaching all the basics with a focus on setting up our participants for the ride, coaching Position, Resistance and Pace with clarity.
In Track 2, there is an obvious energy lift. The song is fun and has a quirky feel. Bring attention to the longer efforts at the end of the last two blocks.
Track 3 is a really challenging track; firstly because of the choreography – there is a Climb/Attack and then a fast Racing phase. And secondly, there is little recovery. As the track is quite repetitive, with 4 identical efforts, so make sure you have a clear focus for each block.
Track 4 is a little 'out of the box'. The music is driving with a modern upbeat feel, a bit cool. It is smooth and has a cyclical flow to it. Use clear PRP cueing with the fast changes but also make sure your coaching doesn't overpower the music.
Track 5 is a big driving, heavy Drum 'n' Bass track with lots of cool instrumentals. There are 3 identical, difficult intervals. The first block has a big pre-loading phase with Climbing Resistance which will tax the muscles before the interval begins.
Track 6 is a feel-good Speed endurance track. There is lots of time to coach how to ride fast, so be sure to space out your cues.
Track 8 is just a wonderful track to celebrate the end of the workout. It's hard not to dance a little to this song! If the great rhythm makes you feel like clapping or busting out a little Shoulder Roll, then 'go for it'! If you feel it, show it.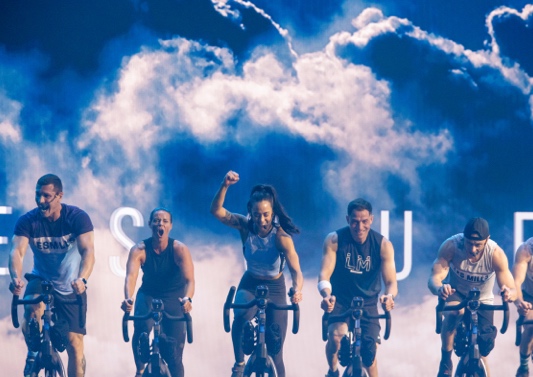 SH'BAM™ 39
SH'BAM 39 is brought to you by the Aussies who were among the first in the world to take this program through the roof, and you get to enjoy them for the whole of this release! Spanish Hips Sánchez became a token Aussie for the week, ha ha!
This release has plenty of funk and sass for everyone to have some and still have some left over! The Warm-Up sets the tone for knowing we are in the right place, before a cheeky rump shaker gets the cardio effect happening in Track 2. Then it's a basketball theme which EVERYONE can relate to that engages the class and lifts the feeling of success. Simple and sassy for the new SH'BAM classy!
THE TRIP™ 20: "Nemesis"
The first thing we notice about this release is the opening sequence – the graphics are a prelude to our experience and allow us to get everything underway before we get on our bike and officially start.
The next thing we may notice are the variations between the Masterclass animation and the final version we see in our club. We filmed the Masterclass with a version which was not quite ready for release so we went back after filming to create the final product. None of the changes affect the choreography or how the class was coached but they do enhance our opportunities to get immersed in the experience.
From here it's an action packed release and the workout factor is high!
We start with a series of climbs which are initially sedate and then gradually build in intensity. These are a great way to warm up.
As we head outdoors we are greeted with a foreign landscape matched to some great beats and this ultimately leads us to a competitive space…but exactly who or what are we competing with? Will you state the obvious or take a more subtle or metaphorical approach?
From the landscape we move to a cityscape which is home to a training facility. This provides an opportunity to take our fitness to the next level.
Then we progress to another series of climbs before we encounter our final challenge and a chance for redemption.
Highlights for many are the interactive nature of the HUDs – Heads Up Displays – and the intricate design led challenge of the jump track which had many audiences breaking into spontaneous applause.