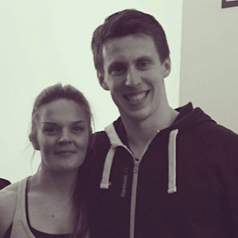 Tell us about your career so far…
2 years ago I became a BODYPUMP Instructor. Since then I've certified in several programmes. I am in my final year at the University of West Scotland studying for a BSc (hons) in Sports and Exercise Science. I am also taking a course in Applied Nutrition and Supplementation.
Wow. You are very busy. What do you find time for outside of Les Mills?
I enjoy CrossFit and have taken part in competitions.
Why did you decide to be a Les Mills Instructor?
At first, I wasn't sure whether I'd be able to be an Instructor because I've had a lifetime of weakness in my left arm, which was paralysed at birth. However, with years of physio treatment, I managed to build my strength to an effective level. After participating in Tim Meadows' BODYPUMP class, I approached him about becoming an Instructor and he encouraged me to go for it despite my condition.
Now, with over 2 years' experience under my belt, I view Les Mills Instructors as having higher professional standards than others. Les Mills offer a wider variety of programmes and development that allows Instructors to potentially earn a higher standard of living, and are in demand by the Fitness Industry.
The Instructors are also very supportive of each other. Programmes constantly change with updated releases, so you are always learning and challenged, and don't become complacent or stale.
Why did you decide to do Advanced Instructor Module (AIM) training?
I want to become the best Instructor I can, ensuring my classes are more enjoyable for the participants and more rewarding. This helps to maintain good class numbers. AIM taught me good technique for each of my programmes. I learnt to point out coaching cues in a different way and not to repeat myself at every class. My goal with Les Mills would be to become a Trainer in due course.
How do you feel since you've done Advanced Instructor Module (AIM) training?
It has given me more confidence in my classes and to be more analytical of myself so I can better correct and perfect my technique. I also find it helps with my vocal commands in particular.
What advice would you give to new Instructors starting out on their journey?
Get as many certifications from Les Mills as you can, push for as many classes as possible, and continue to learn and improve yourself. You are never a perfect Instructor and can always get better.
Try and team teach where you can to learn from other more experienced Instructors and get to know them.
Have you changed since you became an Instructor?
Being a Les Mills instructor has given me so much more self-confidence, maturity and belief that I can achieve things I put my mind to. I also feel a great deal of pride in being a Les Mills Instructor and it has made me understand that you can always better yourself and have fun at the same time.
Follow Ryan on Instagram @ryan_ferrie95