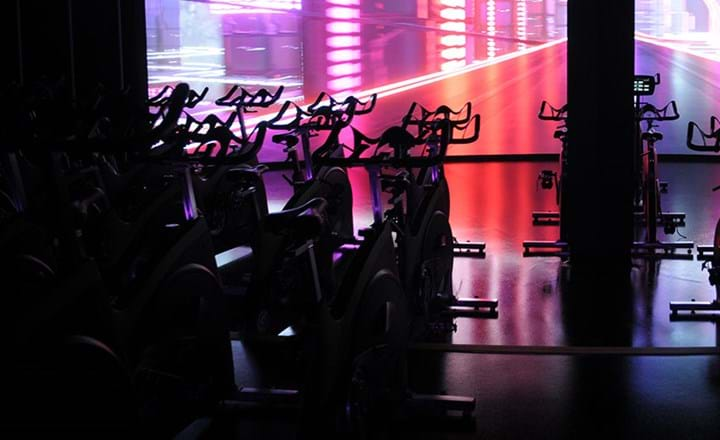 There's been a buzz surrounding West Wood Club recently, following a successful party thrown by the Dublin health club group to celebrate the launch of a host of newly-designed Les Mills studios and also Les Mills The Trip – a fully immersive cycling experience that takes riders on a journey through digitally-created worlds.
"We had champagne, beer, promotional videos, chocolate fountains, photographers – you name it," says Karen Polley, group operational manager at West Wood Club. "The launch was really key to creating awareness and excitement for these new Les Mills products."
Creating a community
Alan Leach, group general manager and director of sales and marketing at West Wood, says that 40 per cent of West Wood's members currently attend at least one of the 120 group fitness classes on offer each week. He believes this is down to the community atmosphere that Les Mills classes create and says it's great for retention.
"The foyer outside the studios is a hive of activity before the classes," he says. "Everyone gets to know each other and once they become part of the community, those people don't leave."
And it's not just the members who love Les Mills, the business owners are also fans. "Les Mills gives us a consistent product," explains Polley. "They have all the research and science behind what they do. They do the choreography and the music. We just bring in passionate staff, continually upskill them and make sure we're delivering it to the highest standard."
Since January, Les Mills THE TRIP has been the talk of the membership. "It really has brought more excitement into the club," Polley says. "We've been managing it carefully – we want to create excitement and make people want to attend, but we don't want to run so many classes that it becomes standard. We're keeping it slightly exclusive for now."
The new Les Mills offerings at West Wood are part of a €17.2 million development package that is being made in the high-end, luxury chain from August 2016 to August 2017.
The business, which has been in existence for around 30 years, also recently bought three Crunch Fitness clubs (no relation to US chain) and now comprises six clubs, all within Dublin.
With a €79 monthly membership and €499 joining fee, membership across the three original clubs was at 22,000 but has been brought up to 36,000 across the six clubs.
Leach says a huge part of the investment will go into the group fitness offering across all of the clubs.
"We're always investing and aiming to be the future of fitness," he explains. "We were already known for group fitness, so we decided to exploit that.
"Research we carried out some years back showed that our reputation was very strong in the area of group fitness, so a policy decision was taken to make this the main focus on our investment as the business grew".
"That decision has driven significant profitability and business success, as our studios and group classes keep our members motivated and coming back to the club," he says.
The Les Mills effect
This involved refurbishing old studios to turn them into the Les Mills immersive studios, with the cinema-scale screens and sound systems that are required to offer THE TRIP. The dedicated studios have now been rolled out into three of the clubs, with the other three soon to follow.
"Les Mills is a huge part of what we do," says Leach. "We decided about eight years ago that we wanted to be the number one destination in Ireland for group fitness. If you go back 10 years, our fitness classes would take place in average, wooden-floored, white-walled studios. Karen was behind the decision to renew those studios and make them part of the experience. We've put a lot of time, money and effort into that."
"Our first Les Mills-branded studio was a big risk," he continues. "But it went amazingly well – our numbers went through the roof, it had a huge impact on our social media and Google Analytics showed that, over a 12 month period, the number of people looking at our class timetables increased by about 110 per cent. That studio got us through the recession, and as a result, we decided to replicate them in all our other clubs."
This impressive impact on the clubs has not dropped off over time. In 2009, West Wood's three original clubs had just 21,000 visits to group fitness. In 2016, those same three clubs received 39,000 visits. The group's Net Promoter Score – a measure of customer loyalty – jumped from 14 per cent in 2014 to 39 per cent in 2016.
But the team at West Wood Clubs will not be resting on their laurels. "We truly believe when we come to work that we want to break records," says Leach. "More sales, more revenue, better retention, lower attrition and higher participation in classes. We want to be seen as more than just a gym."