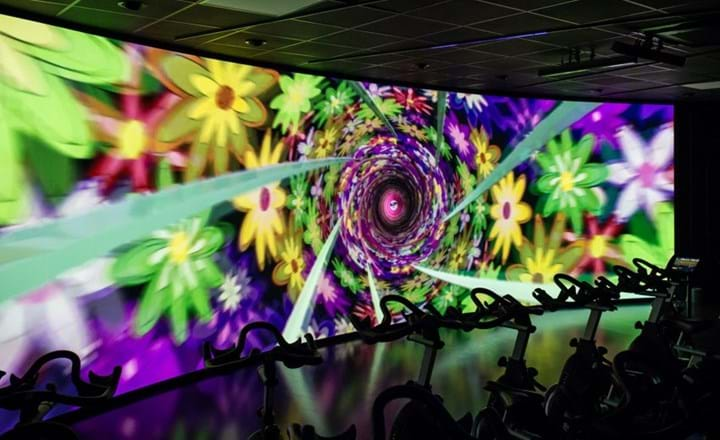 Whenever prospective members come to visit SATS Stureplan in Stockholm's trendy Östermalm district, the health club's staff have developed a sure-fire method for signing them up. They make sure the last stop on the tour is the IMMERSIVE FITNESS studio and within minutes they'll have acquired another member.
"It's like a secret weapon," explains General Manager Marie Nordin. "When we show people THE TRIP™ cycle classes in action during club tours, they always sign up as a member – it's a really powerful sales tool.
"As a GM who constantly needs to be thinking about key club metrics and sales targets, THE TRIP is my best friend."
Return on Investment
SATS Stureplan blazed a trail in 2015 by becoming one of the first clubs in the world to offer THE TRIP, and it's been maximising its investment in the futuristic fitness concept ever since. Members pay a 100 SEK (€10) premium on their monthly membership (which ranges between 350-800 SEK / €33-77 depending on benefits) to access THE TRIP classes – with the club running 27 each week – while a sizeable chunk of non-members pay €20 per class. The club further leverages THE TRIP to boost revenue streams by offering corporate bookings of the studio for 3000 SEK (€300) per class, which also helps to entice new members.
As a busy city-centre club boasting 7,000 members typically aged 30-35, SATS Stureplan needs to be able to service high volumes of members simultaneously, so it's unsurprising that the club takes its group exercise program extremely seriously.
With more than 80 classes on the timetable each week, including (BODYPUMP™, BODYCOMBAT™, BODYBALANCE™, BODYJAM™, and of course, THE TRIP), group exercise brings in 2,200 attendances each week, which is 36 per cent of total club visits. Average class occupancy sits between 70-80 per cent depending on the time of year, while occupancy for THE TRIP is well over 90 per cent, with snaking queues of 40+ people outside of the fully-booked studio a common occurrence.
"THE TRIP is our star attraction," adds Group Fitness Manager Anna Johansson. "It's great for acquiring new members, it's great for retaining current ones and also serves as an excellent driver of additional revenue.
"The queues of people outside our IMMERSIVE studio will invariably hop into another class, so rather than disappointing members who can't get in, THE TRIP actually helps to bring more members into our other group fitness classes as well. It's an excellent gateway."
Attracting new members
Aside from a strong social media set-up – where the cinematic visuals of THE TRIP help SATS Stureplan to stand-out in an increasingly crowded online fitness market – one of the main ways the club is able to entice new members onto its irresistible club tours is through a focus on launch events.
Every quarter when the latest version of THE TRIP is released, the club will stage a two-day launch event for members and guests. Back-to-back workouts are combined with giveaways and competitions to build a buzz both online and offline, while the club also uses these events as an opportunity to create new collaborations with on-brand partners such as nutrition, water and workout clothing suppliers.
Marie adds: "We find that launch events and free trials of THE TRIP are a great way to create excitement around the club and pull in the numbers – particularly at key points in the year like January and at the end of the summer.
"Les Mills is a very strong brand in Sweden. It brings us a lot of members who wouldn't come otherwise because it represents a series of workouts that they trust and admire."
"The scientific backing behind the workouts is definitely a key factor here. Our members are generally very knowledgeable, so the fact that we can demonstrate the science behind each session helps them to appreciate the impact and value of their workout."
Retaining Rockstars
Programs such as THE TRIP are central to SATS Stureplan's acquisition and retention strategy for members, and the same can be said for Instructors.
As the only club in Sweden that offers THE TRIP, the club has been able to amass an enviable team of Instructors on its timetable and is never short of candidates willing to step in whenever a gap appears.
"As a GFM, I really like my Instructors to be Les Mills qualified from the start," adds Anna, who is 8-months pregnant and still teaching BODYPUMP™ when we speak.
"There's a lot more for them to remember with each release, but the coaching and the structure help them to become a better Instructor while being able to have fun and set free their natural personality.
"Les Mills Instructors also have very strong connections – it's like a family and really quite amazing how these bonds form. As a result, we rarely need any new Instructors, because we have such a strong and engaged team who have developed great connections with our members."