The way the world relates to fitness has changed, and it's not going back to a pre-pandemic mode anytime soon. People are looking for flexible training solutions, and they either find them in the club they love, or they'll go elsewhere to get them.
That is why Les Mills powered by Move exists, to help gyms keep their members and gain new ones. This is the easiest and most effective way to have a professional fitness app with expert content and your very own branding.
Gym-goers know best. The pro equipment they need, the crew they love to hang out with, the team spirit, the live competition that drives them further… there are loads of reasons members will maintain their memberships, and having an exclusive member app is ranking on top of those reasons lately.
At first glance, it might seem conflicting to offer an alternative training solution that would keep members away from the club, but reality has proven that what happens is quite the opposite.
Don't worry about a distant future; the present of fitness is already hybrid, and there is a lot to be gained if your club can be the one go-to solution for both live fitness classes and home workouts.
Over 85% of people who enjoy exercise had already committed to a training routine that mixed home workouts with gym classes, and this was before Covid-19. It's only gotten better since, and the data, collected by UK Research Institute, is nothing short of impressive.
Move - Move together, grow together
Offering an exclusive fitness app to gym members has proven to be 5 times more effective at generating engagement. Some gyms that already took advantage of Move Virtual Studio saw retention rates nearing 80%.
Research also showed that the use of tech increased member's weekly activity by 86%, at the same time increasing the lifetime value by 90% and ultimately improving the club's revenue.
Why are hybrid fitness solutions so appealing?
Safety
Customers get to book their club visits via the app, assuring their spot is saved. Especially important if there are restrictions on the number of visitors allowed in the club's studios due to recommended social distancing.
Flexibility
Working hours and leisure time are no longer sticking to conventional schedules, and the 9 to 5 is long gone, especially with the growth of remote working. So it just makes sense that if your members want a BODYBALANCE™/BODYFLOW® class in the middle of the morning, they can get it from the comfort of their living room; or that the time that is no longer wasted stuck in traffic can be used in a late afternoon KICKBOXING® class at the gym. It's just a more convenient way to fitness, and that is always a plus.
Customers should sweat during class, not while trying to get there.
Variety
With Move, members get to access live-streaming classes via Zoom, on-Demand content from their club, and from leading fitness brands as Les Mills. The best possible way to assure they'll always find what they came looking for. Little things are as off-putting as thinking you'll get to do the class you love only to find out your schedules don't match. Now they always do.
Word of mouth
People trust reviews that regular users give when they understand that they have nothing to gain from sharing their experience other than speaking their minds. Via Les Mills Powered by Move, members get to know what others recommend, how many stars specific fitness classes have, how home workouts are ranked. This inspires them to give it a try, allowing for further commitment. The app's customization and recommendation features are also responsible for positive behavioral changes that benefit members and club owners alike.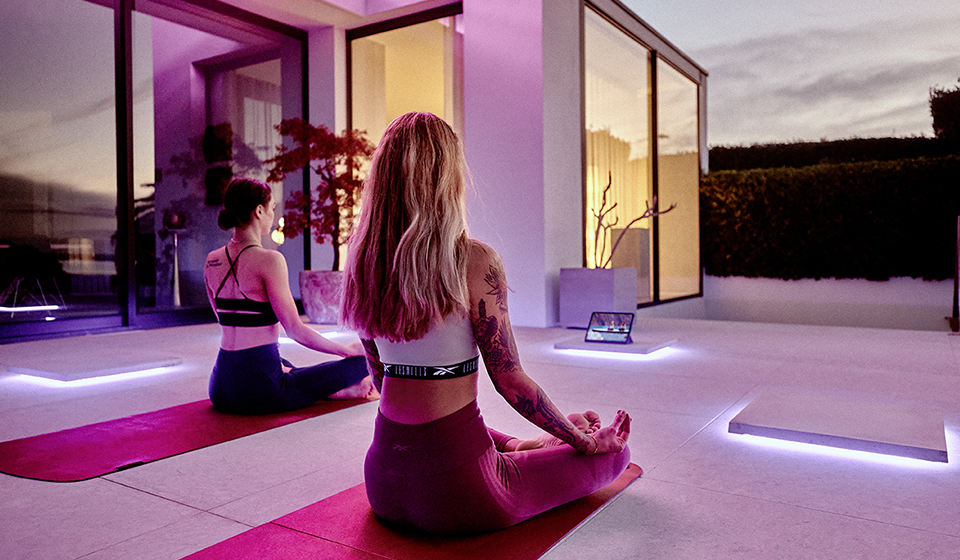 Tech solutions that go to the gym: they workout
By this time, you think it all sounds fantastic, but it would take a lot of work hours and team effort to integrate this into your existing systems. No worries, the seamless membership system integration comes with the package. Find easy tutorials to prepare your own club content, learn how to set up live streaming, find useful guides for digital content creation and FAQs to support operations through the entire process.
The setup of a Les Mills Powered by Move Virtual Studio is simple; it is easily deployable and with zero downtime. The use of member's logins and personal data is safe and secure. The upselling features allowed in-app assure gym owners an extra source of revenue, as they get to keep a share of all in platform transactions. Plus, they'll get to offer this additional service of an exclusive member fitness app as an inviting reason for newcomers to join.