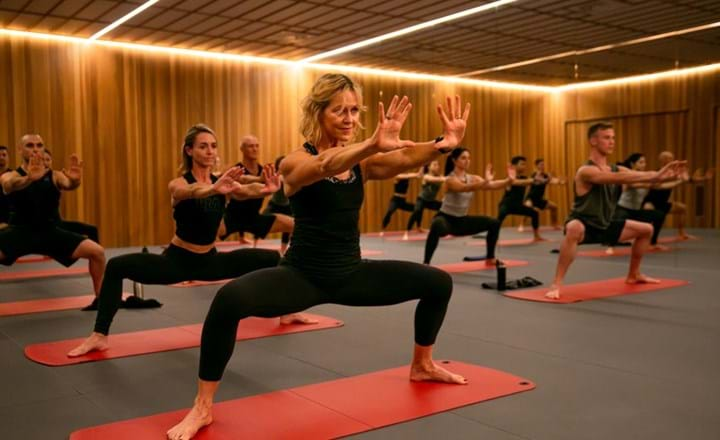 As a club operator, or even a fitness enthusiast in general, there really isn't anything more magical than witnessing the power of exercise to build social connections around a shared experience.
For those who experience it, the thrill can be enough to cultivate a lifelong love of activity. From an operator perspective, it can mean the difference between haemorrhaging group exercise fans or these members becoming the lifeblood of your club.
At the world's leading facilities group exercise can account for 50 per cent of all club attendances, with the social benefits of high-class group fitness driving huge revenues by keeping more members for longer.
Some 58% of members report being highly motivated by the social aspect of attending the gym, according to The Retention People (TRP). In addition, group exercisers are 26 per cent less likely to cancel memberships than gym-only members.
Meanwhile, the company's latest research report group exercisers who visit your club just once per week are 20% more likely to be loyal members (staying longer and referring friends) than those who visit 3 times per week and only workout on the gym floor.
Content is king
The numbers for social fitness certainly stack up, but it isn't quite that simple – you still need a world-class product to inspire your members.
Fitnesscamp Westerwald in Germany is one example. With experienced owners and a broad array of trainers, the club was well-placed to offer great programs but couldn't quite find the winning formula.

"We used to do it all ourselves, but we decided to no longer offer freestyle classes as we wanted greater consistency from the programs and our instructors," explains Alexandra Martin, co-owner and Group Fitness Manager.

"A subsequent benefit has been the constant support and advice that Les Mills provides us since we chose them as partners. They offer a comprehensive solution complete with fresh ideas that help us to attract a wide range of members – very important when you're out of the city and don't have a high footfall – and keep them through the social nature of group exercise which creates that sense of community."
Creating connection
As group exercise providers, it's vital we don't assume that individuals doing exercise classes together immediately form a close-knit group, no matter how big or small the group is.

To form a group we need cohesion, which has been identified by numerous researchers as being key to getting people to enjoy engaging in physical activity in groups. Creating and increasing cohesion amongst the people doing group exercise classes together is at the heart of all great group fitness experiences.

Through a raft of research, we know that group dynamics play an invaluable role in enhancing a person's feeling that they're part of a group when exercising. This important insight was evident through the Les Mills Get Fit Together study findings and the results of our research into the effects of CXWORX on medical students' stress levels and quality of life.

Following the Get Fit Together study in 2012, participants reported the greatest levels of satisfaction when they felt more involved in the group task. The trial of 25 sedentary adults found that effective group fitness workouts alone can produce the physiological and musculoskeletal health benefits that are vital to a healthy lifestyle.
Strength in numbers
Fast forward to 2017, and Dr Dayna Yorks from the University of New England College of Osteopathic Medicine found that study participants in a CXWORX group scored significantly higher in terms of stress-reduction and physical, mental, and emotional quality of life compared to those people who worked out alone. The case for group exercise continues to mount.
That magical sense of togetherness in group exercise can seem spontaneous, but it's a complex science which requires exact coaching to foster. Les Mills instructors are trained to use strategies designed to help people feel like they're working out as a true group with shared goals because we know this has a significant bearing on increasing their levels of enjoyment and satisfaction which ultimately improves attendance at their club.
Many of these Instructors are particularly effective because they themselves were inspired to begin teaching through the power of group dynamics. Take Les Mills Instructor Cheryl Williams (SPRINT, RPM, BODYBALANCE and GRIT) for example:
"I became an instructor because I was in love with group fitness," she says. "Every class I attended left me buzzing, happy and I became really fit as a result. I wanted to share how it made me feel with other people. I was fortunate enough to have the support of amazing instructors that encouraged me to take the step and change not only my life but others, for the better."
Digging deeper
Understanding the power of group dynamics and the influence these complex phenomena have on your members is what drives the Les Mills research team to invest in ongoing research into this area. To that end, we're embarking on a new study into groupness, working with Penn State's Dr Blair Evans to delve even deeper into the science of groupness.
'Groupness' is a term that relates to the level to which people feel they're working out in a cohesive group – in contrast to feeling like an individual despite being surrounded by others.
Measuring and understanding how groupness fluctuates between different classes and how that affects factors such as exertion, satisfaction and adherence, have so far yet to be measured. But we will soon do that.
In the coming months, we'll be sharing key findings from this study, so that we as a group of exercise providers can begin to unravel the mysteries of group dynamics and produce better group fitness experiences for all.
In an industry where members who make a friend at their club are 40% less likely to leave than those don't (TRP), the possibilities for clubs and their members are endless.
We look forward to sharing the findings of this study with you in the near future and furthering our knowledge of how to maximise the group effect.
View our research
To stay up to date with the latest research findings keep visiting the Les Mills website and to learn more about our past work check out
LES MILLS RESEARCH