As the old proverb says, "necessity is the mother of invention". When Dr. Dayna Yorks first arrived at medical school in Maine in 2013, she had a big problem. Group fitness classes were nonexistent on the University of New England College of Osteopathic Medicine campus, and she knew group exercise was necessary for her to maintain physical and mental health. What did this Les Mills instructor do about it? She not only brought CXWORX™ to campus, she simultaneously studied the effects of the class on medical students.
Now her research, published in the the Journal of the American Osteopathic Association is gaining worldwide attention, including coverage in more than 30 media outlets, for its overall finding that group fitness improves mental and physical wellbeing.
"Those who did at least one class a week had a statistically significant decrease in stress, and an improvement in mental, physical, and emotional quality of life."
Yorks has always excelled in sports. She played college softball (pitcher and first baseman) at university, and was chosen as captain in her senior year. When she graduated team sports ended, and Yorks felt something was missing from her life.
"I somewhat begrudgingly tried a BODYPUMP class on the suggestion of my dad. I would have much rather been lifting big weights on the floor! Turns out that I loved it!" she says. "Group fitness filled the void that was missing as I was no longer a part of a team. I started as an enthusiastic participant, then took the leap to become an instructor about 10 years ago."
Group exercise kept Yorks fit, provided her with social connections, and offered stress relief. "Exercise has always been my outlet, and by the time I started medical school, group fitness in particular was something I needed to feel grounded, whole, and alive," she explains.
Without a formal group exercise program at medical school, Yorks once again felt that void. "I infrequently taught free-style classes to small groups of friends in an effort to feel like myself. I'll never forget being in the [medical school gym's] locker room, and one of my friends said to me, 'Dayna, you need to figure out how to create an enduring group fitness program that will live on after you leave campus.' It was her suggestion that inspired me to do just that."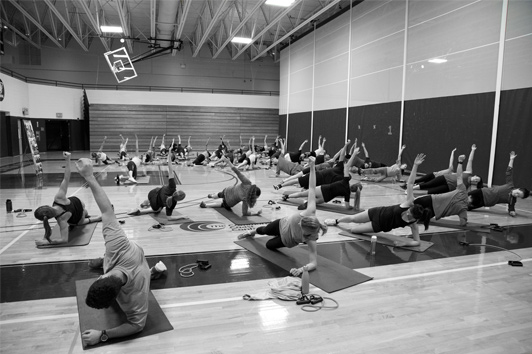 She did just that and much more. Yorks wanted to provide her fellow students with something lasting that would not only improve their physical fitness but also provide desperately needed stress relief. "Research has shown that incidences of major depressive disorder and generalized anxiety disorder are five-fold higher in medical trainees than their age-matched, non-medical counterparts," she says. "Additionally, many students and physicians suffer from burnout, fatigue, alcoholism, and even suicide."
The answer for Yorks was obvious. She set her sights on Les Mills. "I realized that if I could get the school to fund the license for a Les Mills format, then I could effectively lay the foundation for an enduring group fitness program. LES MILLS programs have a strong infrastructure – there are multiple Initial Training Modules across the country for new students to become certified, and instructors are provided with music and choreography, which ensures fresh sounds and safe, effective programming based on science. I chose CXWORX because it's only a half-hour long, requires minimal equipment, and I knew its focus on core and functional training would be relevant for future physicians."
Yorks also chose CXWORX because of its potential to affect the way these future doctors practice medicine. "The third leading cause for patients to seek care from a primary care physician is low-back pain, and many times, it can be treated with core exercises," says Yorks. "By affording medical students a class where they could experience core training first hand, it would hopefully carry over into their future practice as physicians. Research also shows that medical students who engage in physical exercise are more likely to encourage their patients to do so as well."
It was during a workout at the gym that her anatomy professor suggested she also consider a research project. "We both agreed that concrete data on the effects of group fitness on medical student wellness would be helpful in procuring continued funding for the future. I worked in research prior to starting medical school so I was familiar with the process."
CXWORX was a huge hit and was regularly attended by 70 students and staff. "I've never taught to so many people in a CXWORX class in my life," beams Yorks.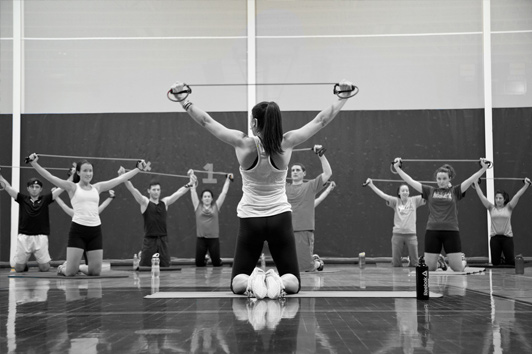 The focus of the research was two-fold: "We wanted to see if participation in group exercise, individual exercise, or no exercise would have an effect on the wellbeing of medical students." To that end, Yorks and her team hypothesized that:
Participation in regular exercise would yield decreased perceived stress and increased physical, mental, and emotional quality of life.
Participation in group fitness classes would yield greater stress reduction and quality of life improvement than exercising individually.
Bottom line? They were right!
"Essentially, we found that those who participated in at least one CXWORX class a week had a statistically significant decrease in stress, and an improvement in mental, physical, and emotional quality of life. Those who exercised individually showed improvement in mental quality of life, but no other significant changes were noted. This suggests that participation in group fitness classes could be a solution to improving the wellbeing of medical students."
The data showed the CXWORX group experienced:
12.6 percent increase in mental Quality of Life (QOL)
24.8 percent increase in physical QOL
26 percent increase in emotional QOL
26.2 percent decrease in perceived stress
"The individual exercise group had an 11 percent increase in mental QOL, but otherwise, no other statistically significant changes were observed," Yorks explains.
Without discounting the well-demonstrated benefits of working out individually, the study suggests the "group effect" does have a particular significance: "The possibility that the social aspects of group exercise improved QOL and decreased stress also cannot be discounted. The social component of group exercise is therapeutic. Furthermore, group exercise classes often use up-tempo music and choreography to make the class more fun and engaging. Bringing together medical students who are all going through similar stresses to work out and have fun may transcend the experience of working out on their own."
She has been both overwhelmed and thrilled by the media attention her project has attracted. "It certainly was not our intention to take the media by storm, nor were we expecting it," she says. "Having the study disseminated on such a large scale is also a gift. Our study advocates for a shift in medical education and training to address student and physician wellness, in particular through group fitness. The more people who can become aware of the need for this change and the power of group exercise, the better!"
Today, Yorks is completing residency training to specialize in physical medicine and rehabilitation. "I hope to do additional research in the future, potentially a similar project but for medical residents, which is arguably an even more stressful time in a physician's career."
While Yorks' schedule may seem daunting, she says it's well worth it. "It was towards the end of my medical education that I became a part of the Les Mills US Trainer team. So yes, juggling all of these roles is challenging! But I can't imagine my life without all of them. I do the best I can, lead with my heart, and realize it's okay to be 'hashtag perfectnever'."
TAKE FIVE
Medical students suffer above average stress-related depression and anxiety – making them an ideal study group

The study used Les Mills' CXWORX classes attended by 70 students and staff

Those who attended at least one class per week showed lower stress levels

Compared to individual exercisers, those in the group class scored higher for stress-reduction and physical, mental and emotional quality of life

It was hypothesized that the social component of group exercise in itself is therapeutic.

Dayna Yorks is a medical doctor and researcher who, as a member of the Les Mills US trainer team, helps inspire and upskill a growing tribe of group fitness instructors.