It's 8am on a Thursday morning when I arrive at The William Vale, a super swank hotel situated on the water's edge of Williamsburg, and it's already about 30 degrees. The 20-minute walk from my apartment has nearly killed me, and I arrive sweaty and flustered. Composing myself by exploring the surrounds, I take a few shots – this hotel a hipster's dream, and every inch is totally Instagrammable.
It's definitely the perfect location to announce Nina Dobrev's membership of the Reebok Les Mills tribe. As a champion of self-betterment, Nina's joined forces with the global fitness powerhouses to help women harness their passion, energy and confidence – and fall in love with fitness.
I'm ushered up a flight of stairs to the roof. We must be on one of the highest rooftops in the area, with a perfect, unobstructed view of Manhattan, plus Brooklyn to the north and south. It's a truly breathtaking space that's perfectly set up for a group BODYFLOW™ experience.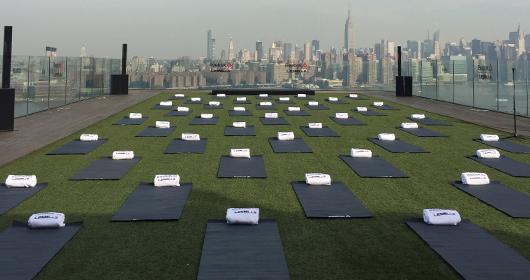 There's a group of us preparing to get our Zen on with Nina. We're standing on Reebok yoga mats with corresponding yoga swag. Nina rocks up with her puppy Mrs. Maverick in tow, and two of Les Mills' top instructors lead us through a fusion of new yoga, Pilates and tai chi. By this stage it must be 34 degrees and working out is proving tough. Nina is a trooper though, and probably completes more of the class than anyone else. She's also super flexible, and clearly fitter and stronger than I expected. Fortunately she and I manage to avoid suffering from sunburn and heat exhaustion – some of the others aren't so lucky.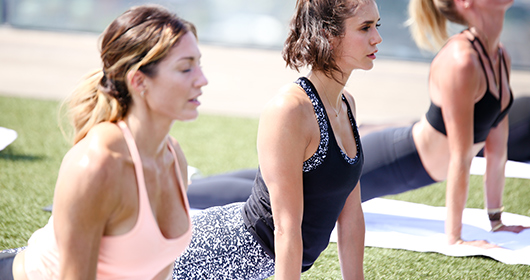 After BODYBALANCE we head to Westlight, a bar near the top of the building, for brunch and a styling session. Nina entertains us with some Q+A while we eat (the super healthy food is delish, clean and very on-trend – think mini avo toasts, paleo granola and egg white frittatas). Then all too quickly it's over. I'm not even finished eating (to be fair, I have been very busy Instagramming).
We hurry downstairs, into the Reebok + Les Mills bus, and are whisked off through the cobbled streets of Brooklyn towards the water. Then it's onto a barge that is seriously LIT, girl-power pop music is pumping and the whole gang is staging photo shoots all over the boat. The temperature has peaked at 36 degrees!
After a few laps up and down the Hudson, the barge ends up positioned somewhere between Manhattan and the Brooklyn Bridge. The views are incredible, Justin Bieber bangers are cranking, and it feels like a dance party is about to kick off – not a hardcore HIIT workout. Les Mills trainer Lissa Bankston takes the stage and prepares to lead the already hot and sweaty group through a LES MILLS GRIT ™ workout.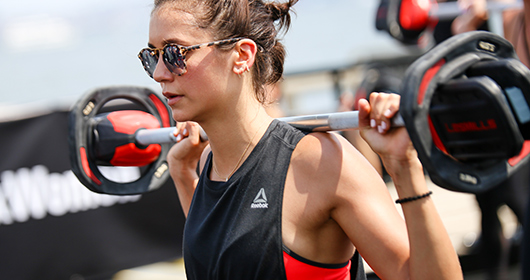 The sun is relentless and there is zero wind. The struggle is very real, but once again Nina is a trooper. I'm deeply impressed by how hard she works, and in awe of her tenacity and fitness.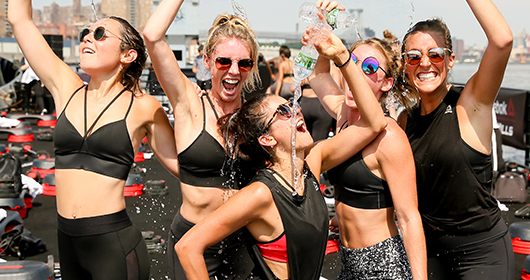 After a little post-workout relaxation and chit chat we head back to dry land, jump on a bus and travel back to The William Vale. In the comfort of the Reebok lounge there are some great snacks waiting for us: soft pretzels, chips and guac with salsa, plus rolled ice cream. It's a pretty sweet set up, there are even manicures and ear-piercing on offer.
Towards the end of the day Nina and I spend a few minutes one on one. I find out we're both Capricorns, which explains the determination and tenacity she's showcased throughout the day, and she describes how getting into competitive gymnastics as a young girl taught her how to work hard. "I started gymnastics relatively late, so I had a disadvantage going into it," she says. "The fact that everyone else was so much better than me made me work 95 times harder."
This dedication to physical activity is something that is now well ingrained, she says. "I have a mentality where I have to do something every day. I need to expend the energy." She adds that she doesn't just do any workout. "I like to do things because they are fun. I don't just work out to get results. I like to do it because I am enjoying it."
But that doesn't mean her options are easy. She's been a long-time fan of LES MILLS GRIT because the workouts provide a unique sense of accomplishment. "The intervals and moves are put together to challenge you to your max, so you really have to push yourself," she explains. "You have to push past what you think you can do, and just go for it. The accomplishment is deeper and more empowering because of the mental aspect, and you know how good it is for your body!"
Nina believes this is where exercising alongside others comes in. "Your tribe totally keeps you motivated," she says. "Working out with your friends also gives you a little competitive drive. It's fun to be challenged by others and even watch them succeed."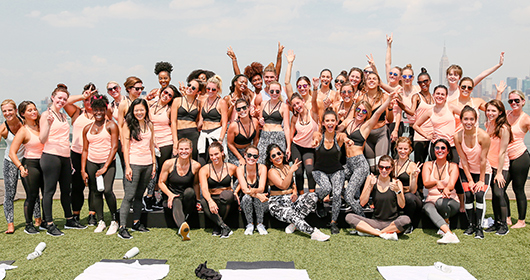 It's 8pm when my time with Nina wraps up. I Uber home (because it's a hard life being in Nina's girl gang for a day). When I finally look in a mirror I realize I'm more exhausted than I thought – basically, I'm a hot sweaty mess. I go to bed, wiped out, but inspired to get up and do another workout session tomorrow. It'd be great if Nina was there too, but I'll settle for slightly cooler temperatures.
Follow the freshest thinking @fitplanetmag.