Sarah Shortt: You guys have collaborated with Nina Dobrev and Reebok to create this dance workout. Can you tell us how it came about?
Rach: Nina Dobrev loves to dance! When she wants to work out, she'll go with her mates to a dance school.
Gandalf: She has a lot of dance in her life and she works on various dance projects. She's pretty amazing – she picked up the BODYJAM routine really quickly and danced live on stage with nine other professional teachers. She killed it and I know she had a great time - that's pretty cool.
What is the workout?
Gandalf: We've put together a 40-minute BODYJAM class that has been released free to BODYJAM and SH'BAM™ Instructors, and will launch on YouTube in October.
Rach: This is awesome for Instructors because you can absolutely use this to leverage your classes. Tell your members you're going to be teaching it in your slot, then they can practise it at home and learn the routine with me, Nina and Gandalf!
Gandalf: What's cool about this project is that people all around the world are now going to be able to try a BODYJAM class – and they'll see how cool the music is and how simple the choreography is, and they'll look for a class near them or maybe think about teaching it. It's going to get more people into the program, which is awesome.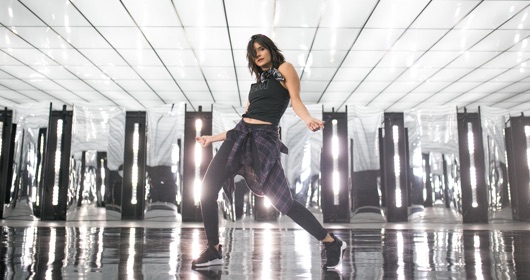 How is this different to a normal BODYJAM class?
Gandalf: Normally, BODYJAM is 55 minutes and has five stand-alone tracks, then two longer dance blocks. This workout is 40 minutes, and has three stand-alone tracks with one main Hip Hop block.
Apart from that it's basically the same. I chose all the music and I did all the choreography, plus I made two of the songs! At the start of 2017 I started playing around with my own music and was pretty crap for about a year, and then I kind of got good enough to start putting some of my own music into some Les Mills products… then the Nina workout came along and it was the perfect place to drop in two more songs I've been working on for like three months.
You used to teach together… what was it like working together again?
Rach: Awesome.
Gandalf: So hard (laughs).
Rach: We last worked together eight years ago – we used to teach BODYJAM together…
Gandalf: She was so easy to work with and it's been a long time since we danced together and taught together directly like that.
Rach: I was overseas in China for a lot of the choreography process, and when I came back to Auckland I went straight from the airport into a rehearsal in Gandalf's Wednesday night class. I was mega nervous! It had been so long since I taught BODYJAM and I didn't know where the teaching model is now…
But it was great because G had done all the choreography and music and it was wonderful to be back in that zone where I could just learn and deliver something again.
Gandalf: Whereas… my experience of learning someone else's choreography I think would be a nightmare! I'm so used to that headspace where I got from zero to 100 in the whole choreography process – I'm very used to that learning style. I can change something 50 times and get on stage that night and teach it without making any mistakes because I took all those 50 steps to get there. Trying to understand someone else's thought process and how they got to where they got to with the routine… that's a whole different story.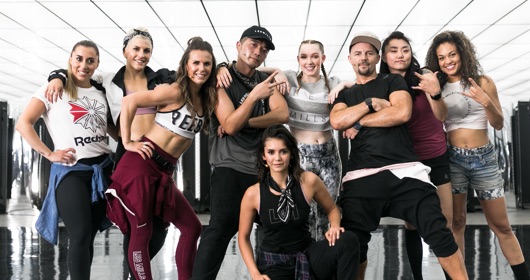 Let's talk about the clothing. You guys looked pretty slick on set. How did you achieve that look?
Gandalf: We took the Reebok Les Mills range – which is designed from an athletic standpoint – and turned it into streetwear. We got heaps of accessories, cut sleeves off, made small alterations. We incorporated all the Les Mills Reebok range into shoot and then just supplemented with cool Reebok stuff from the Classics range.
Rach: It's cool cause you can wear the same gear but individualise it to suit you. Cut it, layer it, design it into an outfit. We'd love to see how Instructors bring their own style to the range!
Gandalf: I was very glad I didn't have to wear a crop top in the filming.
Rach: I did (sighs).
Gandalf: They don't call her Lady Crop Top for nothing.
Rach: Nobody calls me that… (laughs)
Gandalf: The set was amazing. It was super glossy and styled up.
Rach: It's worthy of music video status. The lighting guy – Snoop Dogg?
Gandalf: Snoop Dogg was not the lighting guy.

Rach: The lighting guy is one of the most requested in LA – he's done a whole lot of music videos.
I said to G at one point, "G, I feel like J-Lo". I had a big kid moment, I was like, "Look at me! I feel like a superstar". I'd got tights and a crop top and a hoodie tied around my waist, and I had my makeup done and I was in a dance routine so it was as close to J-Lo as I was gonna get. And it felt pretty damn cool. It felt epic.
Any cool anecdotes from behind the scenes?
Rach: We had a great Uber ride.
Gandalf: Being in LA, we had to get in Ubers a lot. We were smashed from a four hour rehearsal. There were seven of us, so we ordered an XL and the guy did not get out of his seat to help anyone with their bags – he just kind of pointed at the seats in the back. So we filled this big Uber up. As he drove away from the kerb the driver turns the volume of this extremely banger track, Big Bank, to 111 decibels. This dude had subs in the back of his Uber – after listening to music all day, we went from this quiet peaceful place where we were all focusing on BODYJAM to this intense nightclub at 3am. And it was so wonderfully awkward. Cause I was in the front seat and the volume knob is like two centimetres away from my hand… and I chose not to turn it down–'cause a) I like that song and b) it was the kind of amazing moment in our lives that should not be taken for granted.
DANCE #LIKE NINA is released on YouTube on 1st October. BODYJAM and SH'BAM Instructors can exclusively teach it in their clubs from September 23 before it launches online.
Click here for more on the workout