Meet my grandpa, Varney Prejean. Varney is a 69-year-old spinning instructor and cancer survivor with the heart of a warrior. He isn't my biological grandpa, though. We met in 2017 during one of the first LES MILLS SPRINT™ classes I taught at Franco's Athletic Club in Mandeville, Louisiana. Varney introduced himself after class as the oldest spin instructor at the club. He said, "Having you as my Instructor is like I'm taking class from my grandchild!" Varney never had grandchildren of his own, and both of my grandparents passed away, so we've both adopted each other as family and share a very special relationship beyond our Franco's membership.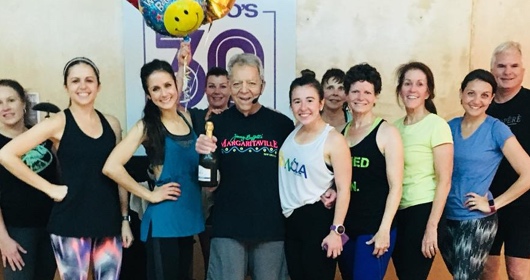 Varney has been on quite a journey. At age 26, he was diagnosed with Hodgkin's Lymphoma. After undergoing a splenectomy, six weeks of radiation and 18 months of chemotherapy, Varney beat the cancer, but the radiation treatment caused his heart valves to calcify. Ten years ago, he underwent his first open heart surgery to replace a calcified aortic valve. Two years ago, he had one kidney removed, and in July 2017 he underwent a twelve-hour open heart valve replacement surgery that left him fighting for his life.
Varney spent more than a month in the hospital post-surgery due to serious complications, including atrial fibrillation, pneumonia and near kidney failure. He was put on dialysis and a ventilator and doctors weren't confident he would make it. Four of his doctors said if he wasn't in good shape before the surgery in April he would probably be dead right now. I'm confident that group fitness saved Varney's life.
Varney's fitness journey started shortly after recovering from Hodgkin's Lymphoma. He started running the New Orleans Crescent City Classic (a 10k race) and fell in love with fitness. After five Crescent City Classics and over two decades of running, he no longer had the knees of a 26-year old, but he still had the energy and spunk to continue his fitness journey. A friend of Varney invited him to a spinning class. "It kicked my butt," Varney said. He immediately got hooked on spinning and started taking classes regularly in 2004. "I remember being the only male in the 9am spinning class. That was great! I kept asking what I had to do to become a spinning instructor."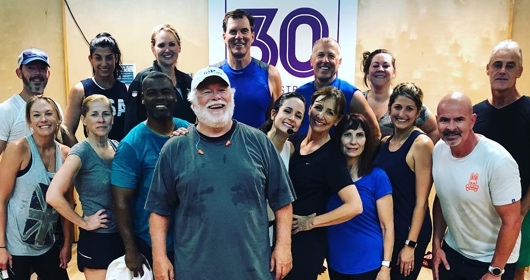 Varney attended a spinning course and taught his first spinning class in 2010. "It's really fun being the center of attention, but what I love most is interacting with the members during class." When Varney teaches, he blares his classic rock music, calls everyone by name and starts each class with a special quote: "You don't pay the price for good health; you enjoy the price of good health."
Even while on oxygen and confined to a rocking chair and walker, Varney continued to lift light weights to regain his strength. He was so weak that walking a few steps completely exhausted him. I'll never forget my frequent visits to see him during his recovery. He had his dumbbells close by his rocking chair and showed me all of his exercises and stretches.
Varney set a goal to get back to spinning class by December 2017. "Even before I went into my last surgery, I set goals that I would spin by Christmas and sub by April 2018." Varney made it back to spinning class and LES MILLS SPRINT class by December. He taught his first spin class on Friday, April 27, 2018, just nine months post-surgery. "I didn't kick butt back in December but now I am rocking the bike! I'm in better shape now than I was when I was 26."
I wanted to tell Varney's story in the hope of reminding you that health and happiness are worth fighting for, and that faith, family, friends and fitness will keep your heart beating even when it's ready to give out.
"What is health and happiness?," Varney asks. "It is a state of being and an attitude of the mind. The state of good health is one that is often taken for granted. Few people are fortunate enough to have experienced poor health at a young age. When it is experienced and overcome, then you attain a feeling of happiness associated with the appreciation of good health. Overcoming poor health is never done alone. It is done with the help and support of many special people. It is this victory that generates the attitude of happiness."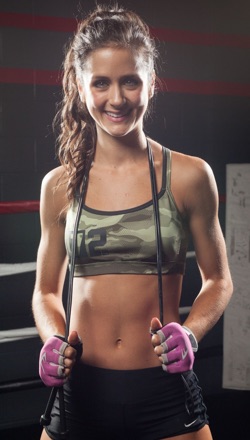 Courtney lives in LA, USA. She has been teaching since 2013 and is certified in BODYATTACK, BODYCOMBAT, BODYPUMP, BODYBALANCE/BODYFLOW, CXWORX and LES MILLS SPRINT.