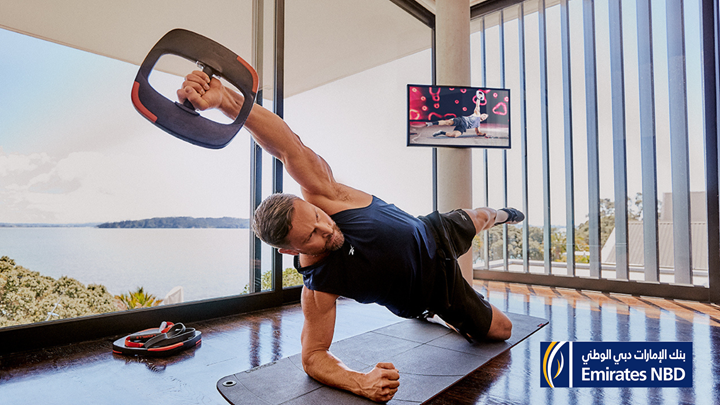 Livewell was launched in 2014, which is an integrated health and wellness program that aims at promoting a healthy lifestyle, well-being among the bank's one million plus cardholders.
Glen Stollery, CEO of Les Mills International - India, Middle East, and Africa, said "We are here to create a Fitter Planet. Our mission is very much aligned with Emirates NBD's Livewell program, making it easier for their customers to access superior health and wellness which is exactly what we do at LES MILLS+."
"The strong connection between health and motivation is very important to both us and Emirates NBD." he added.
For Emirates NBD card holders, Les Mills+ is now available as part of their lifestyle offers in the UAE and abroad, providing their customers access to 1,500+ on-demand workouts, including iconic programs like BODYPUMP™, BODYCOMBAT™, and BODYBALANCE™ as well as covering nutrition, stretching, recovery, mindfulness, and breathwork, delivered by the best trainers in the fitness industry that they can access anywhere at their convenient time.
As an ENBD Cardholder you can access the offer from the link below:
Les Mills | Deals | Emirates NBD
ABOUT LES MILLS
Watch the Les Mills Story: https://www.youtube.com/watch?v=JvDLrQ9TpxA
Les Mills is the global leader in group fitness and creator of 20 programs available in leading fitness facilities around the world. Les Mills programs include the world's first group exercise resistance training workout BODYPUMP™, BODYCOMBAT™ (martial arts), RPM™ (indoor cycling), BODYBALANCE™ (yoga), LES MILLS GRIT™ (30-minute high-intensity interval training) and the revolutionary immersive cycle experience, THE TRIP™. Each workout is refreshed and updated with new choreography and music every three months.
The company was founded by Les Mills – a four-time Olympian and head coach of New Zealand's track and field team – who opened his first gym in 1968 with the aim of taking elite sports training to the masses. Today, Les Mills workouts are delivered by 140,000 certified instructors in 21,000 clubs across 100 countries and are available as live, livestream, virtual and immersive classes, as well as via the LES MILLS™ On Demand streaming platform.
Follow FB: www.facebook.com/LesMillsMiddleEast
LinkedIn: Les Mills India, Middle East and Africa