Forget sticking solely to in-studio training or doing only your favorite workouts in your home gym, the concept of blended training experiences is very much on trend. The majority of movers now seek out a 60:40 mix between live and digital workouts and McKinsey research found the number of consumers with hybrid fitness routines grew 41% in the two years post-Covid. The study also found that movers enjoy significantly better results when they take a hybrid approach to exercise.
While live in-gym workouts continue to hold the prime position as the most motivating way to train, the shift towards more holistic exercise experiences is building and as a result, more people are embracing outdoor training to help their fitness flourish. Read on to find out three reasons to add outdoor exercise to your weekly routine – and five workouts that are perfect to do in nature.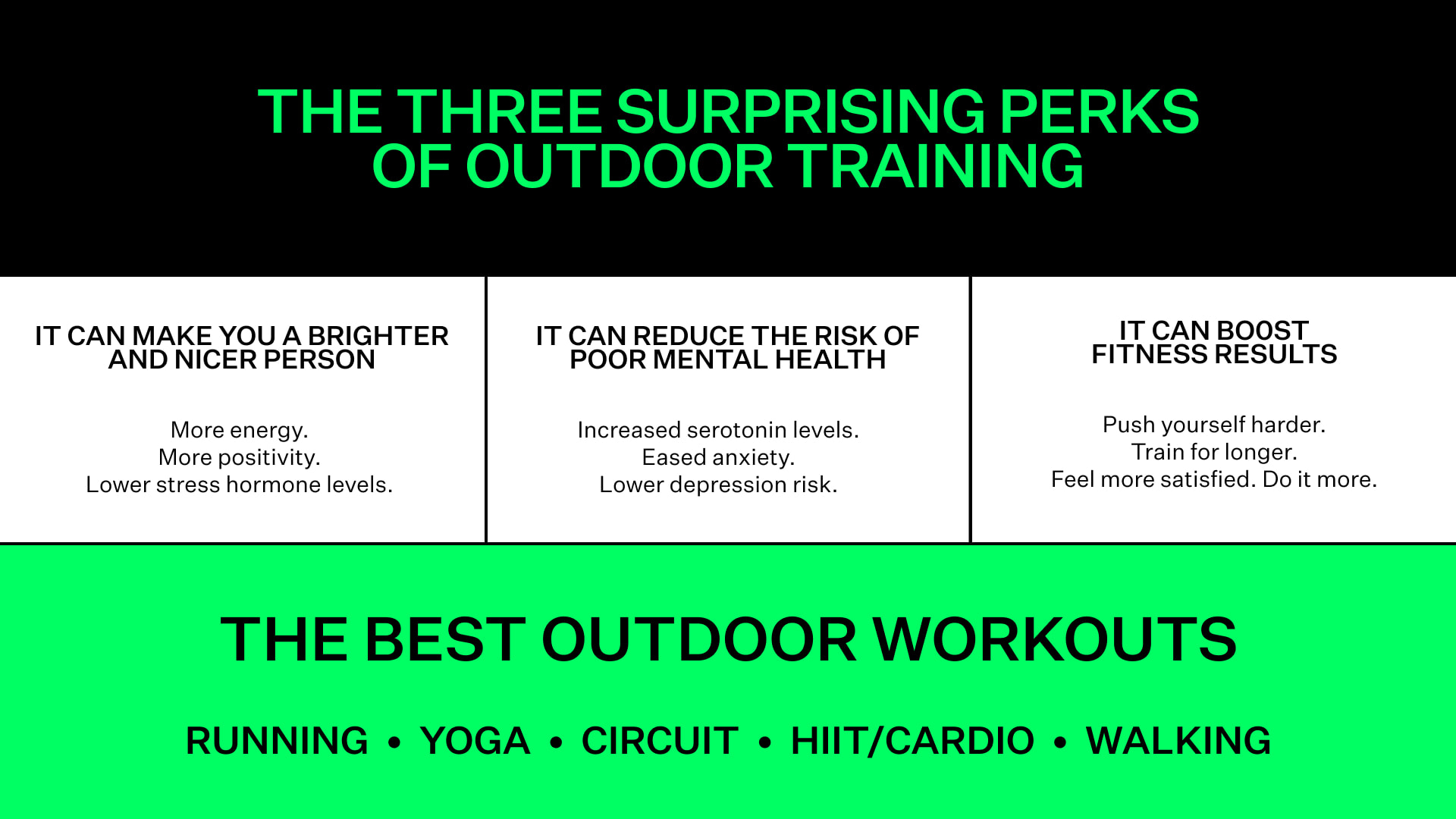 #1 EXERCISE OUTDOORS CAN MAKE YOU A BRIGHTER AND NICER PERSON
Working out outside has plenty of proven mood-boosting benefits. Scientists found those who work out in natural environments enjoy increased feelings of revitalization, more energy and greater positivity. They are also less likely to struggle with tension, confusion and anger. And you can enjoy the benefits quickly. Spending as little as 20 minutes in nature is shown to lower stress hormone levels and boost mood.
#2 OUTDOOR EXERCISE CAN HELP REDUCE THE RISK OF POOR MENTAL HEALTH
Because sunshine naturally increases serotonin – a hormone that affects your mood – it's not surprising that exercise outside can help fend off depression and anxiety.
Researchers found people who exercise outdoors at least once per week have about half the risk of poor mental health compared with those who are active in other settings. And with every extra weekly outdoor physical activity session, they reduce the risk of mental health issues by a further six percent. Outdoor exercise also helps mitigate the risk of seasonal affective disorder – a serious depressive illness that affects around 10 million people in the U.S. and many more worldwide. You can learn more about how exercise helps balance out seasonal affective disorder here.
#3 OUTDOOR WORKOUTS CAN BOOST FITNESS RESULTS
When you exercise out in the fresh air, it can lower your blood pressure and heart rate, which can make your workout feel less strenuous. As a result, you'll be more inclined to push yourself into a higher training zone. Interestingly, cyclists are known to burn more calories when riding outdoors due to wind resistance, and research shows runners burn more calories navigating outdoor terrain than they do on a treadmill. What's more, studies show when you exercise outdoors, you're likely to train for longer – outdoor exercisers appeared to do an average of 30 minutes more exercise than those who sweated it out indoors. Outdoor exercisers also reported more enjoyment, greater satisfaction and an increased likelihood of making a habit out of exercise.
Picked as one of the 2023 top health and fitness trends, Biophilia training sessions (nature-based workouts) deliver a holistic sensory experience – giving you the chance to take in the scenery, move in the breeze, feel the earth underfoot, and smell the grass and flowers.
IS OUTDOOR EXERCISE RIGHT FOR YOU?
Yes! Anyone and everyone can and should enjoy the benefits of physical activity in nature! After analyzing 10 studies from across the United Kingdom, researchers came to the conclusion that both men and women will enjoy increased self-esteem and improved mood after working out in a green environment. Younger people are most likely to see the biggest lift in self-esteem and men are more likely to enjoy a greater mood boost. Interestingly, those who work out in the presence of water seem to enjoy the greatest effects.
"Nothing beats training outdoors. You get fresh air, vitamin D and it just puts you in a really good mental space." Mark Nu'u-Steele
THE BEST WORKOUTS TO DO OUTSIDE
RUNNING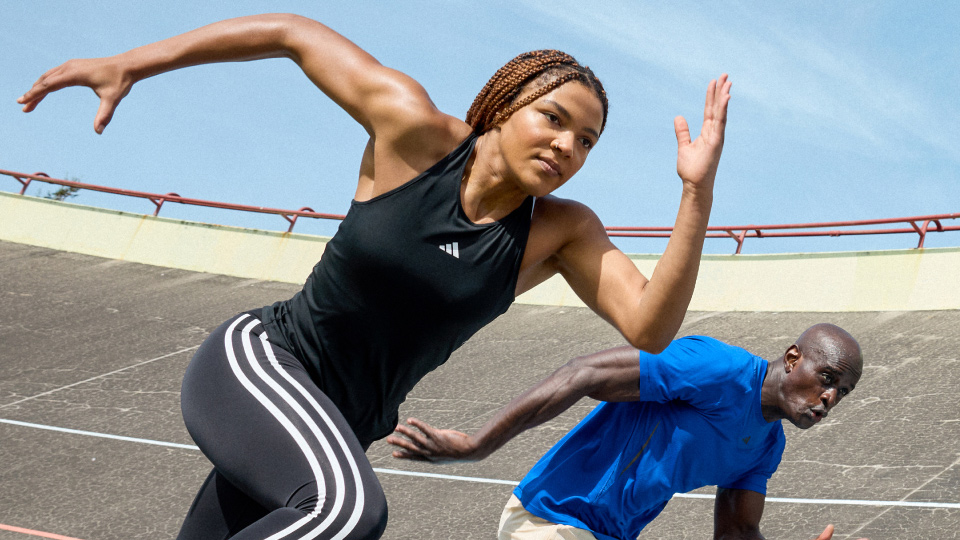 Running is undoubtedly the most popular outdoor exercise. 59 percent of active adults say that doing exercise outdoors, such as running, is their preferred way to stay fit and there are an estimated 621 million regular runners around the world. And that number is growing. In 2022 the number of runners who ticked off a marathon nearly doubled compared to the year prior.
Erin Maw, Les Mills Program Director, runs outside four times a week, "I LOVE running outdoors, because it's how I recharge. I give a lot of myself and my energy to my job, so running is what I do for me, it's my active relaxation." Erin's marathon training means she goes on pretty lengthy runs, but you don't have to run for long distances to enjoy the benefits. Mark Nu'u-Steele, Les Mills Creative Director, and his daughter Kaylah-Blayr Fitzsimons-Nu'u, Les Mills Trainer, often add short runs into their training routine. "We're not 'built' to run, so 3km is good for us. Sticking to short runs ensures we don't injure ourselves when we lose form from fatigue," says Mark.
Need help to find the motivation to run? Grab your headphones and try the LES MILLS RUN audio workouts. There are options for beginners right through to advanced runners.
OUTDOOR YOGA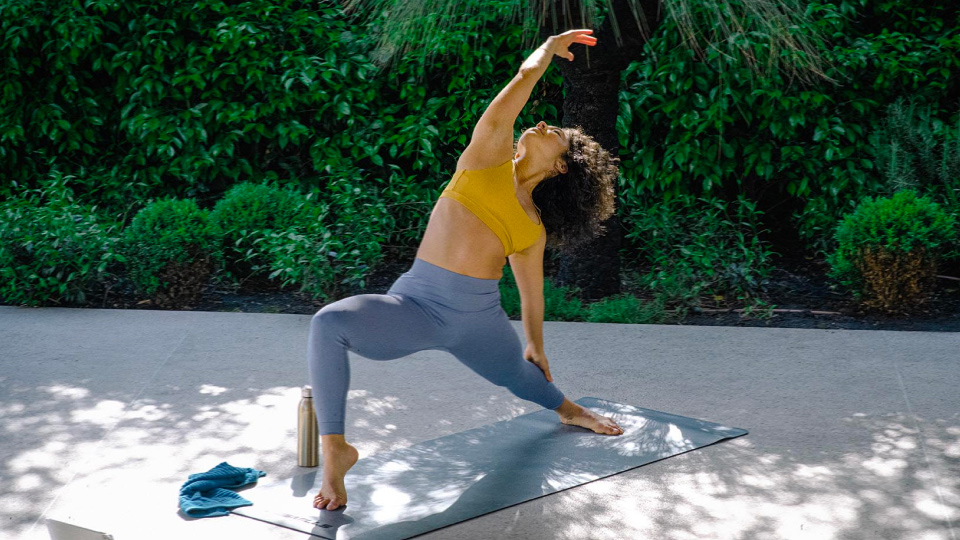 Yoga and nature are the perfect fit, you don't need much space or any equipment, and being out in the elements really awakens your senses, which works wonders for your mind and body.
"BODYBALANCE outside on a beautiful day can be pretty magical," says Erin. "I don't do it enough, but I wish I had more time to add outdoor yoga into my schedule!" If yoga is not your thing, functional stretching sessions could be ideal. On days when he's physically exhausted, Mark Nu'u Steele says a LES MILLS STRETCH™ session out on the deck always hits the spot: "I could spend up to two hours doing functional stretches outside, I love it."
OUTDOOR HIIT AND CARDIO WORKOUTS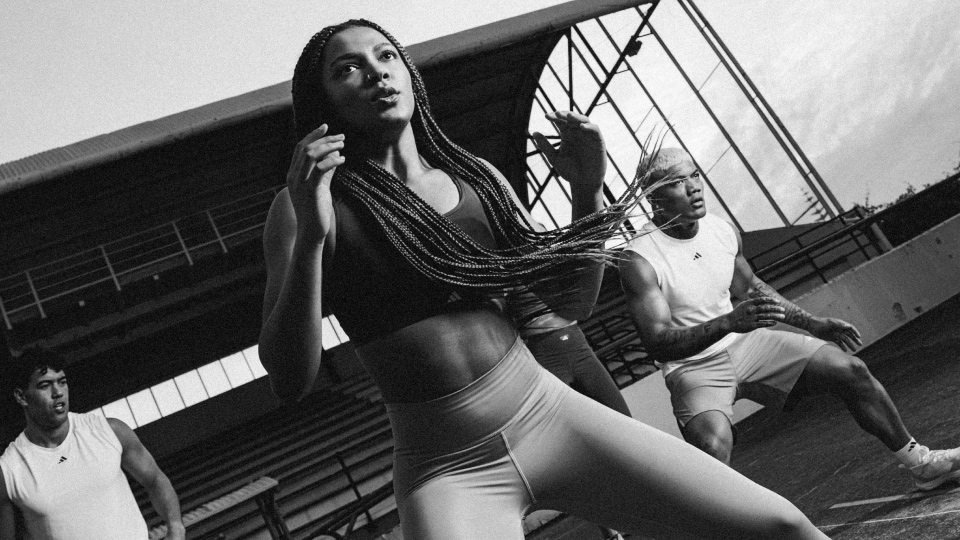 High-intensity interval training is the fastest way to build fitness. You can do it anywhere, without any equipment and you're guaranteed to get hot and sweaty – so being out in the fresh air is a winner. "A tough LES MILLS GRIT workout outside can give you a fantastic buzz," says Erin. Mark is also a fan, often joining daughter Kaylah-Blayr for an alfresco LES MILLS GRIT workout. Mark and Kaylah-Blayr also look for any opportunity to do BODYSTEP out on the deck too. "We know the calorie burn and how much we sweat during BODYSTEP, so if the weather's good, smashing out a BODYSTEP workout outside is a no-brainer," says Mark.
"Exercise is not always about going faster or harder. It's just about being consistent – and that's why I love the convenience of being able to work out outside on the deck." Kaylah-Blayr Fitzsimons Nu'u
OUTDOOR CIRCUITS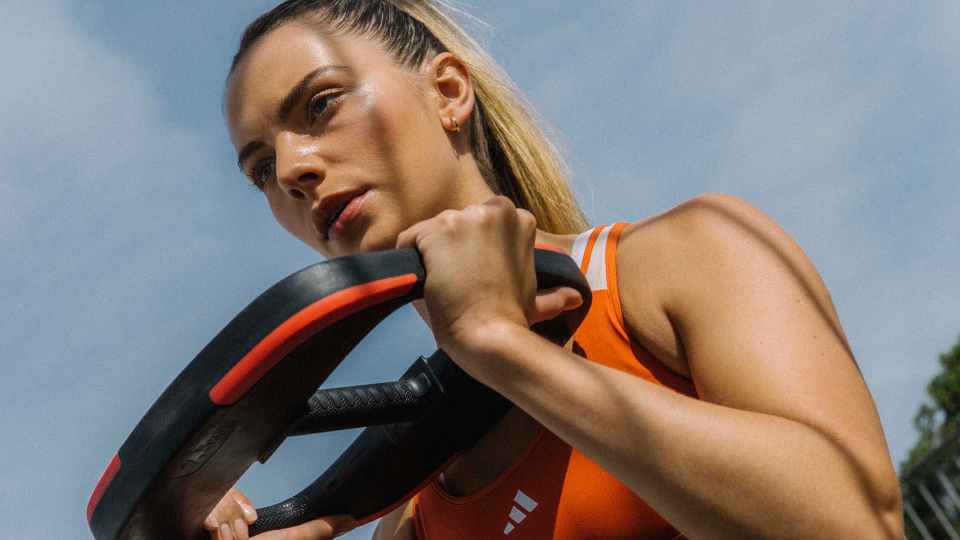 Circuit training can be a great way to build strength and improve cardio fitness outdoors. New purpose-built outdoor studios are popping up in gyms all over the planet, which makes it easy for gymgoers to enjoy the motivation of live group fitness alongside the unique benefits of alfresco fitness. If you're not training at a gym, you can visit an outdoor fitness park, or simply set up your own stations. Mark and Kaylah-Blayr often use their at-home SMART TECH equipment to set up a multi-station circuit outside. Exercises like bench presses, shoulder presses and squats are all firm favorites.
LES MILLS+ gives you access to 2000+ workouts that you can do any time, anywhere – so it's a perfect option for outside exercise.
WALKING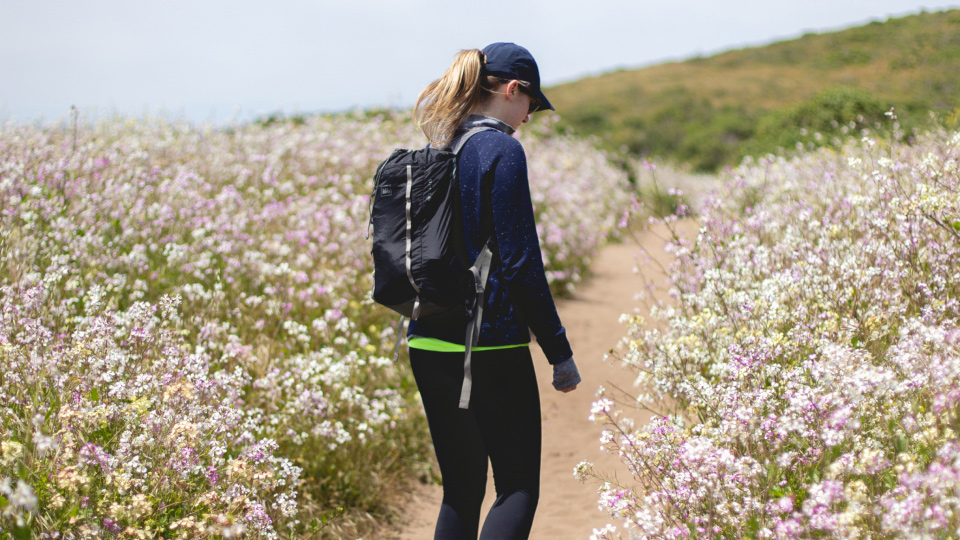 Whether it's a brisk walk or a relaxed stroll, venturing outdoors for a walk does amazing things for your health and wellbeing. Les Mills Program Director Rachael Newsham walks outside for at least an hour each day. "My walking allows me to dream, it's like planning time and active meditation. I love that I can zone out and just be in touch with nature. Sometimes I have no podcasts, no music, no nothing – I'm there just walking. Other times I'm listening to podcasts to educate myself, or listening to my music for new workouts."
DON'T FEEL LIKE WORKING OUT?
There is plenty of evidence that simply sitting in nature can work wonders for your wellbeing. This is where the practice of forest bathing comes in. Japanese researchers found those who spent as little as 20 minutes sitting in forest settings had lower cortisol levels, lower heart rates and lower systolic blood pressure than those who stayed in their urban settings. The forest dwellers also had increased immune function – which remained impressively strong even one month after returning to their urban life.