Have you ever had a moment where you've massively failed in an area you normally excel in?
This happened to me in 2010 when I started an exercise group for beginners and nearly everyone failed. 90 percent of the people ended up quitting or getting injured. What's worse, the experience would have reinforced their thinking that they will never like or be successful with exercise. This made me face the reality that I didn't know how to help non-exercisers win with exercise. I was an award-winning, internationally recognized fitness instructor and I had a massive gap in my skillset – I sucked at helping beginners.
This hard-truth moment shifted my career to a place where I became obsessed with helping people who aren't moving to fall in love with exercise. This obsession has led me to help thousands of people not only introduce exercise into their lives, but create a lifetime love of it.
The benefits active people experience are huge. When you are active you are fitter, and healthier, you feel great about yourself, inspire others, and get to live a life full of enriched experiences.
People who already have a lifetime love of exercise all share similar traits. They have a movement they love, they are part of a community around that movement, they have growth journeys with their movement (often within their community), they have a strong identity with health and fitness, and they feel dissonance when they aren't exercising.
Understanding this is one thing, but the big question is; what does it take for non-exercisers to go from disliking exercise, feeling insecure exercising, not having time for it, and shutting the door to it, to a place where they love it? I believe there are three essential early steps.
The first three things a beginner must do when starting their exercise journey:
1. Decide to make a change
When it comes to introducing exercise into your life, there's always a good reason not to start. You're too busy, you're going away soon, your family needs you, your body has issues, and so on. If you aren't exercising, do some of these thoughts sound familiar?
Here's the thing, you're always going to have reasons not to start. While these reasons may be valid, they will always be there preventing you from starting, which means there's a chance change will never happen.
The difference between people who exercise regularly and those who don't is that regular exercisers prioritize it. Exercisers have busy lives too, they have families, careers and demands on their time, but they have learned how to make exercise a priority.
The first part of your exercise journey is deciding to take the first step to prioritize exercise. Change will never happen if you don't decide to make change now.
2. Avoid the mistakes most beginners make
There are millions of people who have decided to make a change to their health and fitness. They go down a pathway they hope to be successful with, and within a very short time they have quit and given up.
Unfortunately, these people do everything wrong when they start! They do too much too quickly, make it too hard, set unrealistic expectations, and create experiences that are unenjoyable and extremely challenging, so they feel like a failure. All of this makes the idea of doing exercise unappealing and pushes them away.
There are so many pieces to the puzzle that need to be put together to create a long-term exercise lifestyle, but knowing what to focus on first is so important. The first thing to think about should always be; how exercise will practically fit into your life most easily and realistically.
It is important to learn the things you need to do before you even start moving, as this will remove barriers that push you away from doing the movement.
Questions to ask yourself:
How will I practically plan my exercise sessions into my week?
How will I remove the mental and physical barriers that will prevent me from doing my sessions?
How can I set myself up so I can guarantee that I will feel successful when I exercise, both physically and mentally?
For example; Ask yourself, could you plan three 15-minute easy walks this week? Does this feel realistic and easy? This is the kind of level you should aim for when you first start. Remember, your focus is on learning the practicalities of how to fit exercise in, in the most realistic and easy way possible, which leads to my last point…
3. Make sure you measure the right thing
You may be thinking; 'I can definitely fit three 15-minute easy walks into my week, but what kind of results is that going to get me?'. You're right, three easy walks probably won't create a huge amount of physical change. But the first part of your journey isn't about physical change, it's about building a habit in the easiest and most realistic way possible. The only thing you need to measure is: 'Did I do the things that are creating my habit with exercise?'
If you measure your physical results in the early stages of your journey, you may feel like you are failing or wasting your time. You're not. You're doing great work building the first part of your fitness foundation.
Once you have learned this first practical step, you will progress to the next step and start to experience massive physical and mental change. BUT, it will only come once you have the habit in place. So, to reinforce this key message, in the first stage of your journey, only measure and reward the actions that are creating your habit.
So think about it …
If you committed to making a change today, put your focus on building the habit in the easiest and most realistic way possible, and only measured the things that build this habit, could you be successful in the first part of your exercise journey?
I guarantee that if you start your exercise journey with a focus on these three areas, you'll be building the key foundation needed to fall in love with exercise. If you really want a lifetime love of exercise, you can get a plan that understands how to do this and wisely guides you on your journey in my book 'I Will Make You Passionate About Exercise'.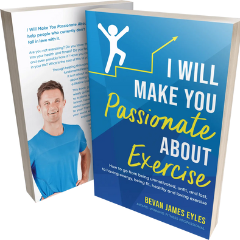 'I Will Make You Passionate About Exercise' is a practical step-by-step approach to getting started in exercise by Bevan James Eyles. It has been written to safely and wisely guide someone who is doing absolutely nothing to start a lifetime love of exercise. www.passionaboutexercise.com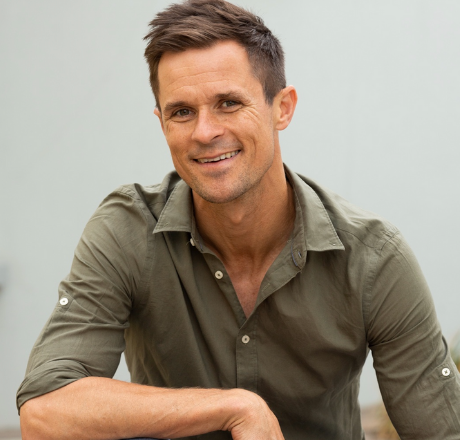 Bevan James Eyles is a New Zealand-based fitness industry leader, group fitness instructor and regular presenter on LES MILLS releases. He has completed eight Ironmans, run numerous marathons and half marathons, and now coaches everyone from elite athletes to beginner exercisers on how to smash their goals.
Bevan's podcast, The Bevan James Eyles Fitness Behaviour Podcast, is available on iTunes and Spotify.
Keen to work out with Bevan? Try BODYATTACK #109 or BODYATTACK #105 on LES MILLS+.