WHY DOES BODYCOMBAT WORK?
BODYCOMBAT™ features a science-backed combo of some of the most empowering and effective martial arts moves. The addition of motivating Instructors and amazing music is what pushes you to your true training potential. The workout is based on the science of Cardio Peak Training, which involves maintaining your heart rate at an aerobic training base (between 60 and 80 percent of your maximum heart rate) with interspersed peaks of intensity (pushing you to 85 to 90 percent of your max). This specific blend of steady-state and high-intensity builds cardio endurance, and also drives the transformative fat-burning effects associated with high-intensity interval training.
"I love how BODYCOMBAT lets me expel my energy in a fiercely empowering way. It's like nothing else!" Rachael Newsham, BODYCOMBAT Program Director
HOW MANY CALORIES DO YOU BURN DOING BODYCOMBAT?
You can expect to burn an average of 570 calories* during a 55-minute BODYCOMBAT workout. You'll also build cardio fitness, tone and shape the arms, back and shoulders, train your legs and condition your core.
WHAT EXERCISES DO YOU DO DURING BODYCOMBAT?
BODYCOMBAT features moves from Karate, Taekwondo, Boxing, Muay Thai, Capoeira and Kung Fu. But don't fret, you don't need any martial arts experience – during the warm up you'll be coached through all the different movements. You can expect to power through invigorating sets of hooks, jabs and uppercuts, and there are plenty of kicks and high knees too. You'll also benefit from functional training moves such as lunges, squats and push ups.
"It's high-energy fun and there's quite an array of different movements … punching and striking, and lower body movements like kicks, squats and lunges too." Dan Cohen, BODYCOMBAT Program Director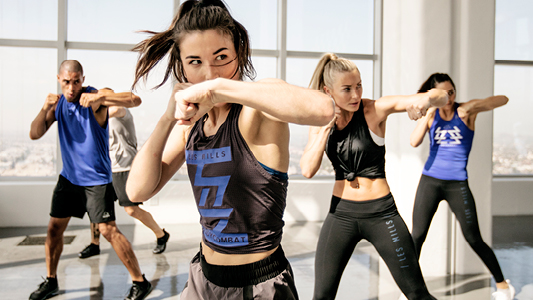 DOES BODYCOMBAT REALLY GET RESULTS?
Not only is BODYCOMBAT a calorie killer, it truly is a full-body workout that builds upper and lower body strength and delivers phenomenal core training. Research shows that, compared to the common crunch, moves such as front kicks and fast alternating jabs are superior – and the core training you get during a BODYCOMBAT workout is equivalent to 1700 crunches.
HOW FIT DO YOU NEED TO BE?
In BODYCOMBAT there are options to suit every ability and your Instructor will coach you through all the moves. When you're just starting out it's a good idea to just do the first three or four tracks of the workout. And remember, it might take a few sessions for you to get a feel for it – but you'll soon be hooked!
"You don't need to be a martial artist, and you don't need to be super fit. There are so many options and modifications, so it's great for anyone and everyone." Dan Cohen, BODYCOMBAT Program Director
HOW OFTEN SHOULD YOU DO BODYCOMBAT?
For awesome results we recommend you do BODYCOMBAT two to three times a week. Add a couple of weights-based workouts and some core and flexibility training into the mix and you'll shape and tone your body in no time.
DAN COHEN'S TOP TIPS FOR BEGINNERS
Dan Cohen BODYCOMBAT Program Director
Do what works for you. Take rest and recovery as you need to
Listen to the Instructor and look for the options and modifications
It's okay to pull back on the intensity and power – you can kick lower or punch slower
If you need to, stop and watch for a couple of reps until you feel comfortable with the move
After you've done a few workouts, choose one area to focus on, like kicking. Find a height where you can kick with control and then start to challenge that. You don't always have to kick higher, just kick with more precision and good technique.
WHAT DO YOU NEED FOR A BODYCOMBAT WORKOUT?
You don't need any equipment. It's a good idea to wear supportive shoes and comfortable workout clothes (avoid tight shorts as they can really restrict your moves). You'll also need a drink bottle and a sweat towel.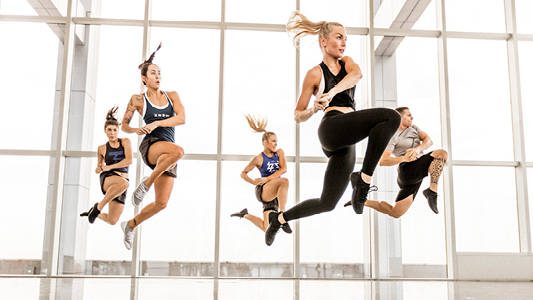 CAN YOU DO BODYCOMBAT WHILE PREGNANT?
It's not a good idea to do BODYCOMBAT while you're pregnant. During pregnancy the release of hormones such as oestrogen and relaxin can result in joints being less stable – so the kicks in BODYCOMBAT may adversely affect the hip and pelvis.
CAN YOU SUGGEST A SONG FOR BODYCOMBAT?
Yes absolutely! Please visit our Suggest a Song page. We look forward to seeing your suggestion.
HOW DO YOU BECOME A BODYCOMBAT INSTRUCTOR?
The first step to becoming a BODYCOMBAT Instructor is to connect with a club or your local Les Mills team. We'll then provide you with plenty of training, you'll get assessed and then you'll be ready to lead your own classes. You can find out exactly what it takes to become a BODYCOMBAT Instructor here.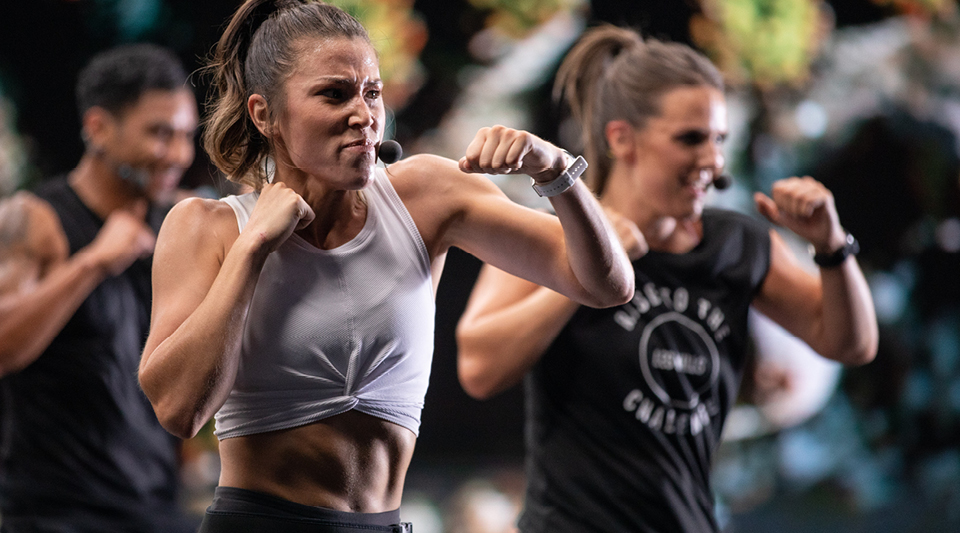 WHERE CAN YOU DO BODYCOMBAT?
You can find a BODYCOMBAT class near you here. Alternatively, check out LES MILLS On Demand and do BODYCOMBAT anytime, anywhere.