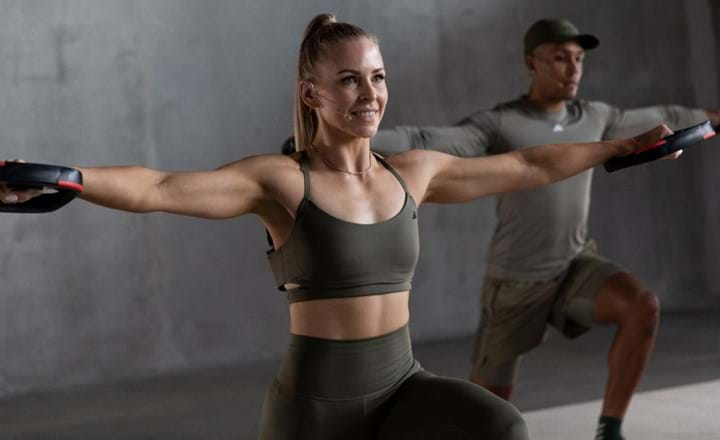 Emma Hogan (EH): Erin, you're a hardcore HIIT lover, regular runner, you lift lots of heavy weights and love to dance. What inspired you to start exploring another way to train?
Erin Maw (EM): There were three things. Firstly, I've been obsessed with modern Pilates workouts for the better part of five years. 'HIIT' Pilates, sweat Pilates, Barre body classes … I love exploring them all and I wanted more. Secondly, my running coach recommended I do yoga to help with recovery. I knew this was a good idea, but I wanted something a little more intense. And finally, I travel a lot, so wanted a challenging full-body strength workout that I could do with next to no equipment.
Of course, I wasn't only thinking of myself. I knew low-impact strengthening and sculpting would be something many others like me would value – and that Pilates is a trend people want more of. And Les Mills didn't have a program to satisfy the growing demand for this dynamic boutique-style training. Until now!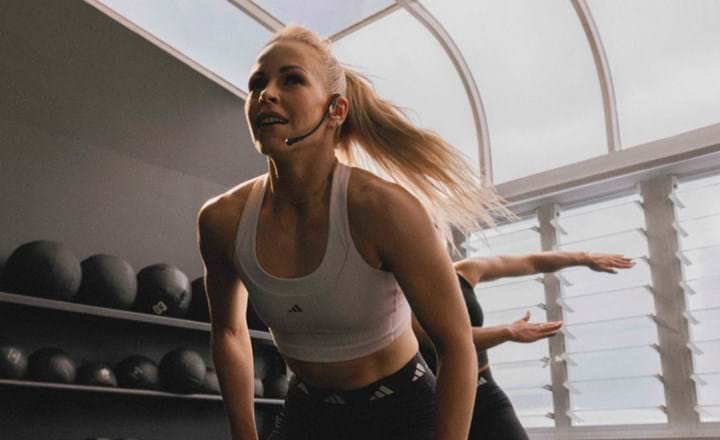 EH: How was LES MILLS SHAPES informed by those trends you identified?
EM: I created LES MILLS Shapes because I know that Pilates and Barre are globally trending, especially with the younger generation. You only have to look at Instagram or TikTok to see all the influencers hooked on Pilates. Modern Pilates is definitely heating up the fitness scene.
Our research shows that choice is so important for younger members, which is why we wanted to create a program that blends the best parts of Pilates, Yoga and stretch workouts. But it's not just younger members – LES MILLS Shapes is accessible to all abilities and allows participants to find their own hot spot and really challenge themselves.
EH: What types of members has LES MILLS SHAPES been attracting?
EM: I know not everyone loves the idea of strength training with a barbell. Barbells and weights can be quite intimidating and there is still the misconception that lifting weights will build big bulky muscles. LES MILLS SHAPES is great if you want to avoid the intimidation of the barbell, but still get that full-body strength feeling.
Young movers who are looking for boutique on-trend workouts are going to love LES MILLS SHAPES. But they're not the only ones. This workout has options for everyone and you can progress at your own pace. It's really all about finding your hot spot and making it work for you.
I have heard so many times "This is the workout I never knew I needed" and also "These are the exercises my physio always tells me I should be doing." And I've been surprised by the number of men enjoying it. The workout targets the areas where males aren't always strong, such as the glutes, glute med, and adductors. Because the movement patterns really focus on these areas, males will really notice the benefit.
EH: Tell us about the testing and development that went into creating LES MILLS SHAPES.
EM: When this was just a seed of an idea, I started working with two physiotherapists: Rob Lee, who was a Les Mills technical consultant and Maddie Dylan, a physiotherapist and mat Pilates Instructor. I also worked with Head Trainer and presenter Sarah Baron, who comes from a professional dance and ballet background and is a reformer Pilates and barre Instructor. Bryce Hastings, a physiotherapist and Les Mills Head of Research, also fed into the development. Having this expertise and credibility was essential as I wanted to create something innovative but needed to ensure it was something that Pilates purists would still enjoy.
After lots of testing and refining in the Les Mills Lab, we did months of live testing in Les Mills gyms across New Zealand. The feedback was overwhelmingly positive and attendance numbers were super strong. Trials in our New Zealand clubs have confirmed it's attracting Gen Z and 92% of participants said they would recommend the class. And among Instructors, 94% said they would continue teaching LES MILLS SHAPES, inspired by its originality and intensity. It's definitely a game-changer.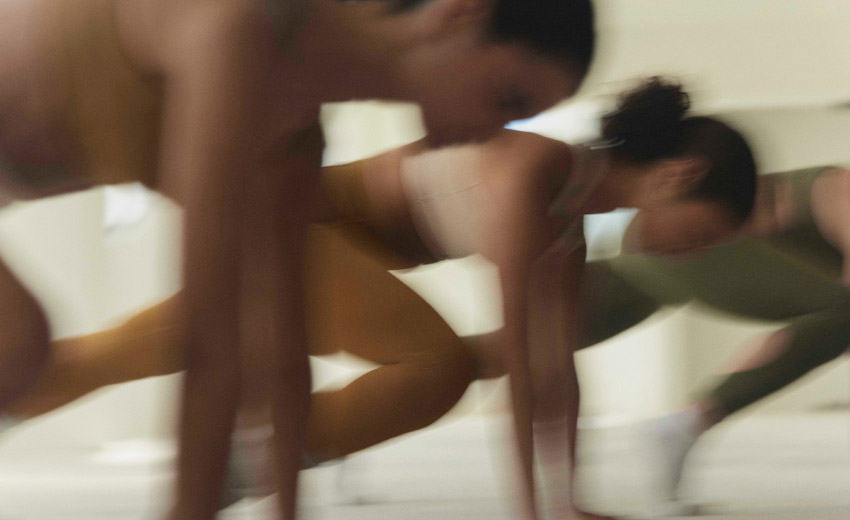 EH: What else have Instructors fed back about LES MILLS SHAPES?
EM: It's playful! This is an intelligent workout that's well-structured and set to really fun music. Once you understand the structure, it's easy to learn and easy to teach, because the structure doesn't change. Everything is in intervals of time, so you don't have to learn specific choreography to music. You just change the exercise when you hear the bell. It's progressive and intuitive, so you start with one exercise, then you quicken the tempo, and then you progress it in terms of intensity.
And best of all, it's super quick for instructors to upskill and get certified. In fact, you could be teaching within a week. And you can hit the ground running with six workouts up your sleeve to deliver from the very start.
EH: LES MILLS SHAPES fuses Pilates, barre and power yoga. What happens when you blend them together? Are there exponential benefits?
EM: It's fair to say we've taken the most challenging aspects of Pilates, barre and power yoga, synergized them and fused them together in a way that's brought out the best of each.
This means there are unique Pilates movements, the principles of barre (a.k.a. lots of pulses) and innovative additions such as sliders and weight plates during power yoga.
The intensity of the power yoga is great, and the movements are athletic and great for toning, conditioning and working on strength and stability. I really pushed the boundaries and my own level of creativity. I challenged myself to make something unique and the result is a boutique workout like nothing you've ever done before.
EH: What can you expect during a typical LES MILLS SHAPES workout?
EM: This workout sculpts and strengthens all areas of the body through small, controlled movements and repetition. Low-impact and grounded, but high intensity – it hits four out of five on the intensity scale.
Each workout starts with a focus on breath and mobility, to bring awareness to our neutral spine and gentle warming of the body. We then go straight into our core series to activate the core, and we stay grounded throughout the glute series to activate the glutes.
Then, when we're nice and spiced up and warm, the standing series begins. This low-impact cardio feels more dynamic and integrated. There is a focus on the legs, and then the upper body.
When we land at the strength series there are two options, so you can choose based on the equipment you have on hand. Strength series option one makes use of sliders, mimicking the movements you do with a Pilates reformer. There are three tracks; the legs, the upper body integrated with core, and then the glutes, so we end up working the whole body.
Strength series option two is a power yoga-inspired strength block where we mix power yoga moves with weight plates and pulses to add more resistance and really challenge stability and strength. Each workout wraps ups with some serious glute burn, and ends with some quick glute stretching.
EH: How is LES MILLS SHAPES different to other LES MILLS™ workouts?
EM: Workouts like LES MILLS CORE™ and BODYBALANCE™ also use some elements of Pilates, but the intensity and Pilates focus is much stronger in LES MILLS SHAPES. We feature authentic Pilates breathing and elements of reformer Pilates with the sliders. You feel it in your full body, not just your core, … and as I've mentioned before, it's intense! For context, LES MILLS CORE is three out of five on the intensity scale, but LES MILLS SHAPES hits four.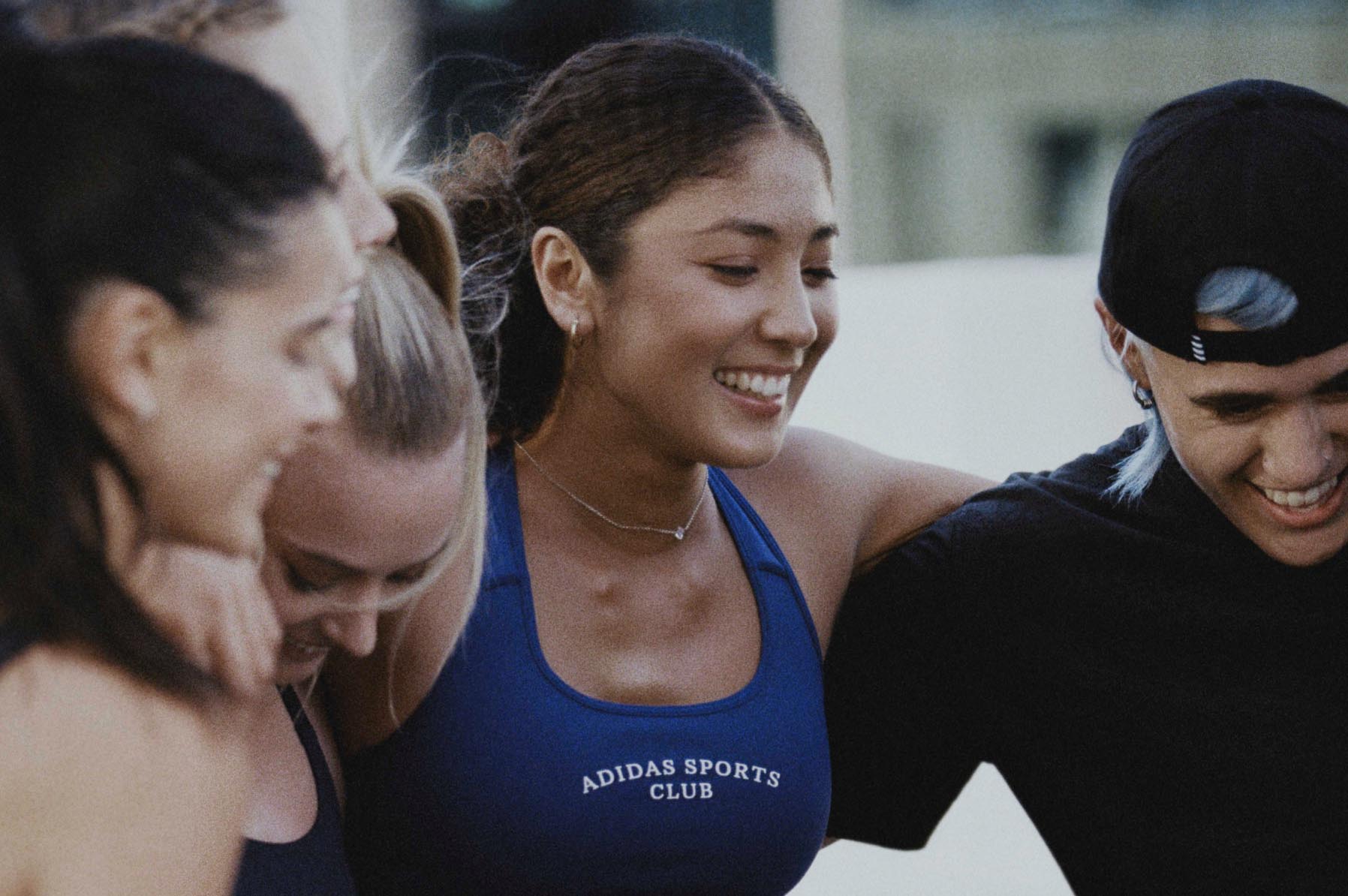 EH: What makes LES MILLS SHAPES effective?
EM: Because it's so targeted. When you do other exercises, sometimes you can miss a specific muscle group. But with this workout, we target the glute max, then we target the glute med, then we target the inner thigh, so we don't miss anything. We're fatiguing one specific area, then we're fatiguing another specific area. And we're engaging lots of intrinsic and accessory muscles that we wouldn't work doing compound exercises like squats on a rack. The other reason this workout delivers is due to the high-rep moves being sequenced to the music. The moves are intense, but they feel fun. And that's what keeps you coming back.
EH: How have you personally benefited from adding this workout to your routine?
EM: Oh man, I feel so strong now! My abs are so strong and as a runner that feels so good. Research shows that having a strong core makes you a better runner. I haven't done any tests myself, but I really feel the benefits. Right now the strength in my abs is incredible and my glutes are a lot stronger too. And I love having a strengthening workout I can do on the go without needing a barbell and weights!
READY TO WIN NEW FANS?
Breathe new life into your timetable with LES MILLS SHAPES – a brand new boutique workout designed to delight the next generation.
DISCOVER MORE